I am rather surprised, and in truth ever-so-slightly-disappointed when I arrive at Wiltons to be informed that I am not required to wear a tie. I assumed that this would be a pre-requisite to getting into the building. The doorman smiles and says it's not essential any longer, then ushers me through into the venerable dining room.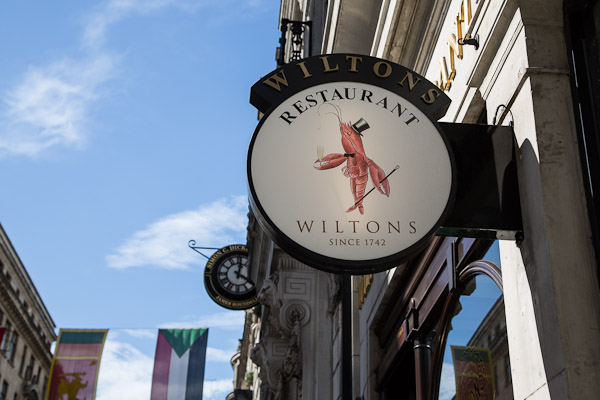 Rules in Covent Garden may claim to be the oldest restaurant in London, (it opened in 1798), but Wiltons must be the oldest in essence; it opened as a simple shellfish stall in 1742 and has been operating as number one restaurant to the Establishment since 1840.
As you glide through, past the doorman, into the soft-carpeted dining room, there is the most palpable sense that you are leaving behind a world of vulgarity, of hashtags and reality TV, and entering an altogether different sphere. The tone is that of the gentleman's club, of staunch Conservative principles and undeniable elitism but here, for a quiet, stolen couple of hours from the mania of modern life, I care not a jot. Dining at Wiltons is an experience to savour.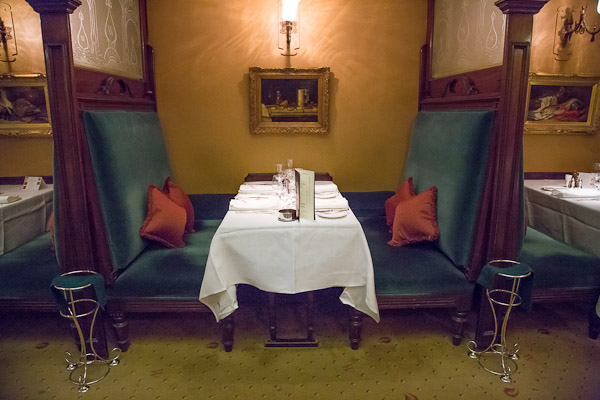 My guest, who is wearing a tie, and I, are led to one of the much-coveted booths toward the back of the dining room. The room is carefully lit, so that that the bespoke-suited diners are bathed in warm light. The dining room is effortlessly elegant and perhaps the most comfortable in London, the only bright flashes of colour come from the mint green outfits the waitresses sport, reminiscent of an antiquated nurses' uniform…a little kink for the older chaps, perchance? Once seated, we are presented with menus.
Said menus present all manner of refined pleasures: treasures from the deep and bountiful offerings from the field and farm. The focus is, of course, on the deep. Wilton's is known for serving the finest Dover Sole in England, but for meat-lovers to dismiss the restaurant as just a seafood restaurant would be a foolish crime. In Autumn, when game season draws in, nowhere (apart from perhaps the aforementioned Rules), offers a wider range of seasonal rarities, and throughout the year, the solid silver meat trolley groans around the carpeted rooms filling the air with delicious scents of roasting treats.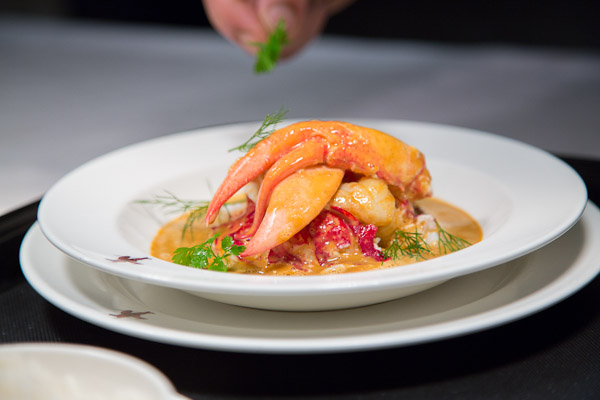 My guest – a gourmand extraordinaire – goes down the contrarian route and chooses a piece of esoterica to begin. Whilst I await my 'safe option' of hot potted shrimps, Douglas is presented with a bowl of chilled beef consommé…chilled beef consommé – when was the last time you saw that on a menu?! His choice proves prudent; never have I tasted such deep, sonorous, bovine intensity in a cold brown soup. What a thing to be eating in 2013. My hot shrimps are delicious; the butter warm, comforting and fragrant and the shrimps toffee-hued and flavorsome.
My guest seems to have been somewhat mesmerised by the silver trolley and after enquiring as to its contents and finding them agreeable, chooses the roast Dutch veal. On the plate, this slightly resembles a smart school dinner, but I figure this may be the point. It tastes superb, the veal is mild and soft and pink, as this guilty pleasure should be. The jus is, like the consommé, marked by its rounded depth.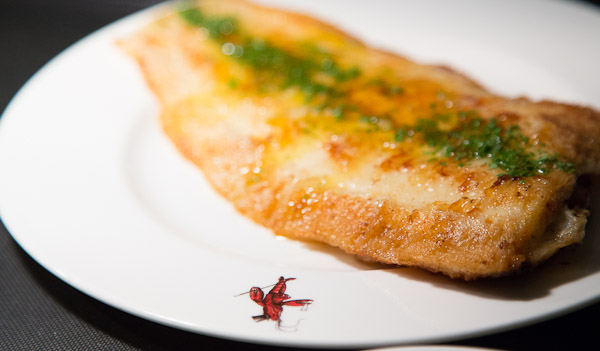 I feel the Dover Sole is the only appropriate way to go, and I opt for it to be cooked meunière – in the style of the millers wife – beautifully dredged in flour and fried in butter with lemon and parsley. This is a classic dish of relative simplicity, but it ranges from the disastrous to the transcendental depending on the quality of fish and skill at the stove. As you must have expected, here it falls into the latter category. It is huge, it glows deep caramelised brown on the crisp exterior, which gives way to steam and pure white flesh within. Simply served with Jersey Royals, a side of spinach and a glass of Meursault, this is a dish that's as close to perfection as you could hope to find.
Before the mint-clad waitress will bring us a pudding menu, she insists we indulge in a round of savouries. The savoury course is a superficially bizarre, yet ultimately magnificent relic from another age, an intense gateway course to indulge in, before sliding into soporific charms of pudding. I rather fancy the Scotch Woodcock – creamy scrambled eggs topped with anchovy fillets, but I figure I'll never make it through dessert. We decide instead to share a fortifying slab of Welsh Rarebit and a glass of young red Burgundy, a combination which did, indeed, somehow stimulate the appetite.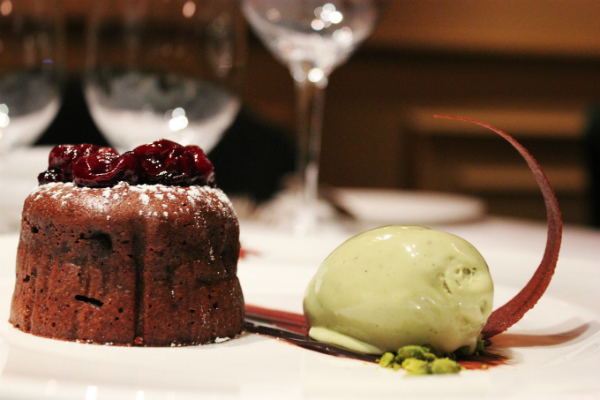 I finish my meal with a Coffee Cambridge cream, praline, hazelnut shortbread – a divine arrangement. The Coffee Cambridge Cream seems to be the antiquated label for crème brûlée and this one has a sweet, Camp coffee core, a highly pleasurable and entirely old school ending to a magnificent meal.
Wiltons is a place of legend, which has played and continues to play host to legions of legends. It is that rare, special thing – an institution that remains entirely unchanged, resolutely, as-ever-was. I would dine here on a weekly basis (like the great Michael Broadbent M.W.), if only I could pull together the funds. This is a masterful paean to that which has been all-but-lost from British life.