I used to live in East Sussex. Four and a half years passed there, during which I got married, published my second and third books, had my daughter and spent a very great deal of time in the pubs and restaurants round Lewes and Brighton. But life changes and I moved to Oxford in 2019. I have never regretted my decision, but nonetheless my family and I returned to East Sussex for a holiday recently, to renew auld acquaintance and to see what was happening in the post-pandemic world. And I had a not-so-secret mission of my own. I wanted to go to Burnt Orange in Brighton.
I was a great admirer of the other restaurants in what has loosely become a group, all operated by Raz Helalat. The Salt Room and The Coal Shed in Brighton are two of the classiest, most fun places that I remember going to in the city, and the London Coal Shed is a fine addition to the metropolitan scene, too. But Burnt Orange promised something entirely different from the fish and grill-heavy menus that Helalat's other venues specialise in. Opening in June 2021, it asked, with a rhetorical flourish, 'Is it a restaurant? Is it a bar? We're still not sure.' It called itself 'the grown-up hangout that's open all day and just the right amount of night.' An investigation had to be made. I would visit, and see what was what.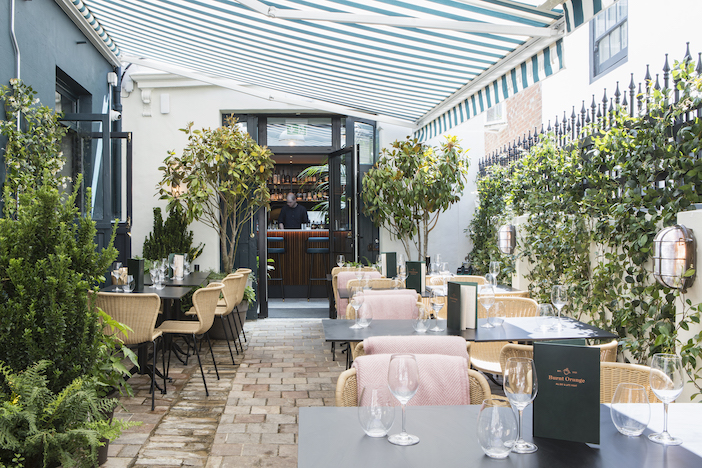 My partner in lunching was none other than Gustav Temple, editor of The Chap magazine and something of a local celebrity in his own right. We arrived in Brighton to no more than mild fuss – a young man solemnly nodded to Gustav as we walked towards the Lanes, where Burnt Orange is located, and I was informed that he was 'a chap' – and then we took our places in the charming outdoor terrace, a stone's throw from the seafront.
Our arrival fortuitously coincided with lunchtime cocktail hour ('a solemn requirement in my house', Gustav upbraided me, when I mentioned that such things usually took place in the cinq-à-sept period in mine), and a delicious little number, the Bazaar, mixed gin, pomegranate juice and honey syrup to exhilarating effect. Gustav merely chuckled behind his Stone Beach Sour, which muddled rum and date and maple syrup. The consequences were very fine, and we relaxed into our non-restaurant, non-bar visit.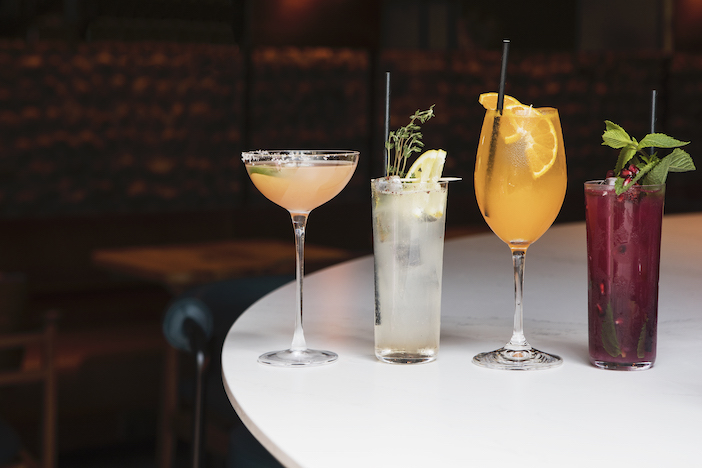 We decided to do away with the tiresome necessity of choosing dishes by ordering all of the menu. Well, not quite; we may be trenchermen but we're certainly not walruses. Instead, we plumped for 'the Burnt Orange experience', a selection of the restaurant's most popular dishes, which costs a more-than-reasonable £35 a head and gives an overview of the Middle East-influenced small plates menu that the establishment specialises in.
We knew that we were in good hands from the outset, as flat bread with sesame brown butter and roasted garlic hummus were joined by calamari fritti and lamb shoulder 'cigars'. 'Sometimes, a cigar is just a cigar', Gustav opined wisely. 'And sometimes, it has beautifully tender lamb inside it. On the whole, I prefer the lamb variety.'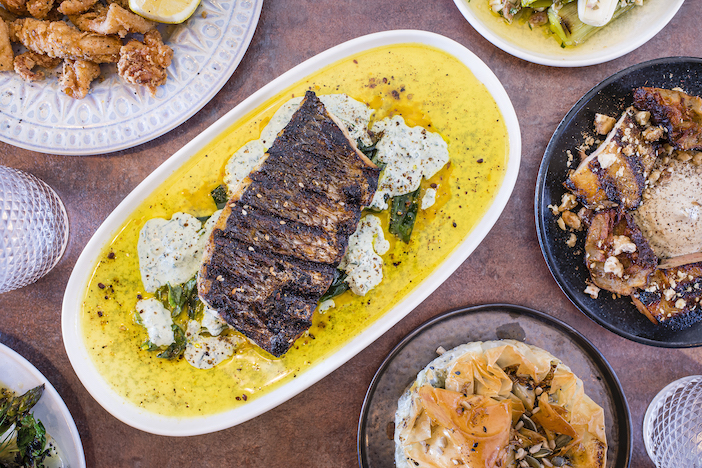 We called for a bottle of Vermentino, which was zesty and light and pleasant, and moved onto the mains and sides. Pork belly shawarma, flamed sea bream, miso aubergine and skillet-baked potatoes with sheep's cheese, to say nothing of sides of lemon aioli and zhug; oh, happy days. Some people would have been complete by this point, but Gustav and I glanced at one another.
A final push through desserts of superb lemon tart and a wonderful chocolate mousse-esque creation, accompanied by two of their takes on the espresso martini (the cognac and date syrup-based 'espresso date'), and then we are replete, jocund and sublime. Gustav solemnly doffs his hat to the excellent staff, and then we head out into the afternoon sun. 'That', he opines with the air of an expert, 'was something rather wonderful.'
Readers, I could not agree more.
Burnt Orange, 59 Middle Street, Brighton, East Sussex, BN1 1AL. For more information, including menus, gift cards and bookings, please visit www.burnt-orange.co.uk.
Photos by James French , Paul Winch-Furness