Eight in Bath takes the concept of a boutique hotel to miniature town-house perfection; eight rooms with an acclaimed dining room serving just eight delicious plates. Nabbing a table on any day of the week is something to be pleased about following unanimously glowing reviews in the six months since they opened, and I for one would be only too glad to celebrate any occasion here. Due to popularity the snug downstairs also accommodates diners on weekends.
Despite it's central location, just a bell chime from the glorious Bath Abbey, Eight could easily be missed due to its tucked away situation on the historic, pedestrian North Parade Passage, just next door to Sally Lunn's, the famous Bath bun shop which is supposedly the oldest house in the city. Yet discovering Eight, guided by a glowing old fashioned street lamp, is half the charm and sets the tone of intimacy even before you enter. Dating from the 1400s, the interior is a blend of period charm and contemporary glamour, with a reception area boasting floral wallpaper and natty lighting in the dining room.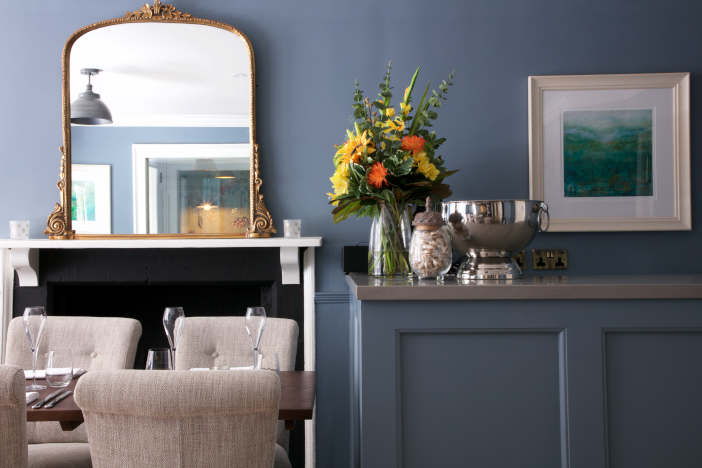 With a window seat looking out onto said cobbled street, well pitched background music and lighting that's low enough to be romantic, but not so dim that you can't read the menu or see the face of your companion, it's a smart affair appreciated by seasoned travellers and discerning locals. The attentive front of house are a further asset, the domain of Nathalie Brown who co-owns Eight with her partner Chef Fred Lavault who meanwhile ensures consistency and passion in the kitchen. Having both worked in London before running a restaurant in Aix-en-Provence for five years, they fell in love with Bath on selling the business and returning to the UK. It seemed like destiny when they discovered that Aix en Provence was twinned with Bath.
In this new venture seasonal menus celebrate the finest produce from the South West, while Lavault's cuisine showcases classical French technique in an accessible, modern style. With every dish designed to fall somewhere between the size of a starter and main, we opted for two a piece, choosing which to begin with. Each has its own expertly chosen wine pairing suggestion, while the bottle prices (many under £25) are reasonable enough to ensure you can find a favourite, in our case a fine Rioja Reserva.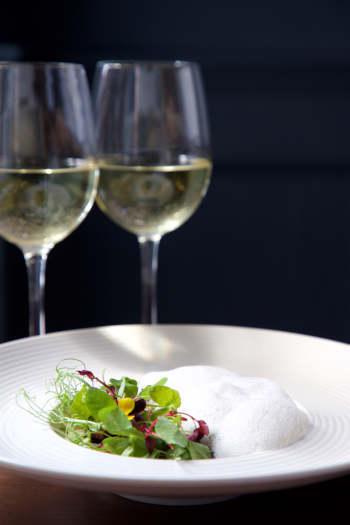 An expertly made butternut, sage and goats cheese raviole, enticingly disguised beneath a goats cheese and Parmesan foam and delicately placed flowers, united fine pasta, the tang of cheese and a creamy melt-in-the-mouth accompaniment contrasted by the texture and flavour of hazelnuts. Whilst I'm not usually a fan of emulsions or foams, this dish was characterised by, not only the big reveal of the raviole, but the richness that followed when once the light and airy cheese melted into the leeks, creating an unctuous introduction to Eight's fine dining.
More impressive cookery followed with a technical second course of ballotine of rabbit, retaining its moisture within air dried ham and enhanced with a flavoursome apricot stuffing. Partnered with two purées, carrot and cumin (you can't have rabbit without carrot) and a sweet and silky pea version, fried potatoes that were in effect posh chips, all dowsed in a glossy rosemary jus, this is comfort food elevated to something truly special. A finale of flourless chocolate cake with custard ice cream and a decadent warm white chocolate sauce made for one very happy diner.
Small yet perfectly formed, the pocket-sized Eight is a wonderful addition to Bath's independent dining scene, and being a short walk from the station, with direct trains to and from London Paddington, is sure to become a popular weekend bolthole for foodies searching for something unique and characterful. For myself, I'll be suggesting 'Dinner at Eight?' when date night comes around, not only the perfect time to dine, but the perfect place.
Eight in Bath, North Parade Passage, Bath BA1 1NX, England. For more information and room and dining reservations please visit the website or telephone 01225 724111.