I have been to too many restaurants in which good ingredients and excellent service are sacrificed at the altar of a 'concept' to be wowed by an establishment that smugly announces that it has a USP that nowhere else has other thought of. Naked restaurants, al fresco restaurants where all the food is sourced from around your seat, restaurants in the dark, restaurants in which the menu is decided on the night by the chef; all have existed, or at least have gone a long way towards existing.
Which is why I was pleasantly relieved that the 'concept' of Embers in Brighton – in which all the food is cooked over an open wood fire – was both a sound and appealing one. This was not some modish piece of chicanery; we expected excellent food and fine drinks, and we were not to be disappointed. It rejoices in the slogan 'fire and friendship'; well, there are plenty of both to be found.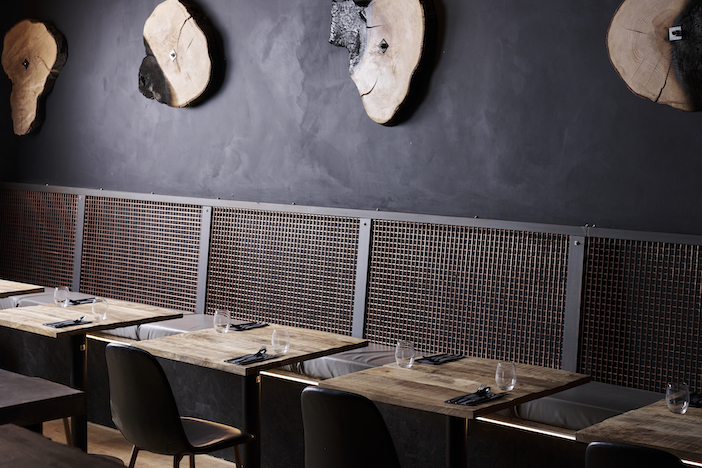 Situated in the midst of the Lanes (check your Google maps, finding it can be tricky), Embers is an elegant, dark-painted room, with a mixture of seats at the bar – perfect to watch the chefs do their magic with fire up close – tables for two and a couple of much-coveted banquettes at the front of the restaurant.
We settle in and order a couple of the house cocktails – a very fine, punchy margarita and one of the house cocktails, 'The Ember's Own', a rye and cognac combination which comes complete with looks like a bubble on the top. Once popped, the bartender's alchemy is shown in its glory; the bubble drifts away in a cloud of smoke, and the cocktail is joyously infused with it. It is an early, and accurate, indication that this will be an exceptionally good meal.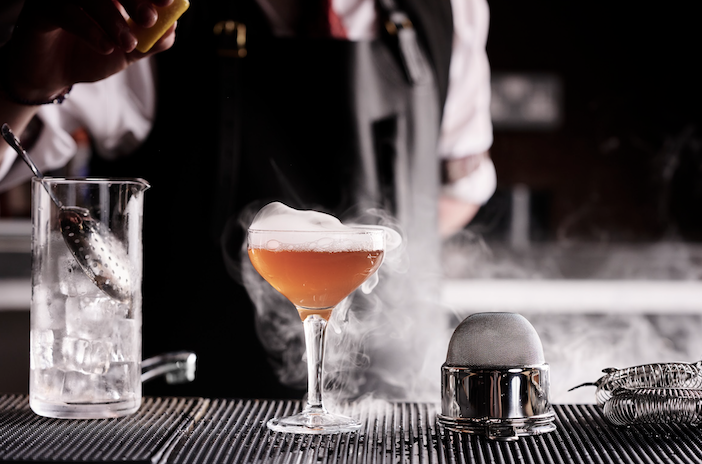 We order wisely, and possibly too well. Small plates come when bidden and all are exceptional; marinated cucumber is finely set in dukkah, a flamed sea bass is presented all but plain bar some salsa rosso, a chicken leg seems to have come from a particularly large bird, so comprehensive is its helping of meat, set in context by honey butter and pul biber aioli, and my wife raves about a potato salad that somehow manages to make new potatoes seem the most thrilling thing to eat, thanks to a coal oil emulsion, pickled mustard seeds and crispy shallots. With a couple of glasses of English white wine (the Hidden Spring Bacchus), it's an exceptional, daring and wholly successful combination. But the piece-de-resistance is yet to come.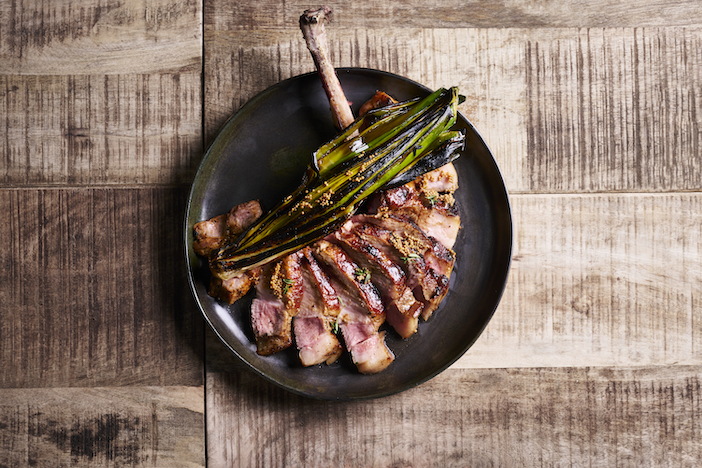 What is modestly billed as a 'pork tomahawk' arrives on our table, festooned with a kind of fish caramel sauce and flourishes of crackling. It's essentially a kind of porcine chateaubriand, and every bit as delicious as that sounds; accompanied by a bottle of excellent Corvina red, it is so succulent as to be almost insatiably moreish. My wife is defeated after a couple of mouthfuls, but I press on, my appetite piqued by the sheer brilliance of what's in front of me. I am undefeated, and the truly gluttonous side of me wishes that it was more than 500g, for the sheer challenge of it. Oh, it was good.
We're still in the market for desserts, and their version of a Rolo – which combines chocolate, caramel and burnt bitter ice cream – is as delicious as everything else we've tried. But I am a man who likes to push boundaries, and so the banana split with a parsnip and rosemary ice cream (yes, you read that correctly) must be ordered, and, in my humble opinion, it's even better than the Rolo.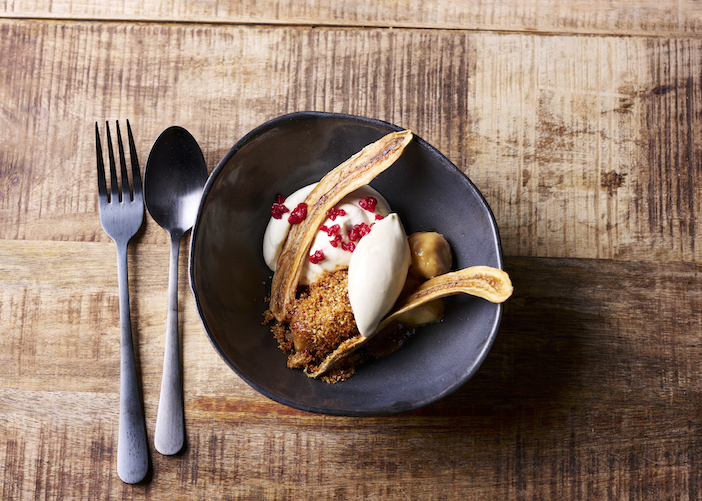 It all makes for a superb, innovative and comprehensive lunch. Embers is deservedly making waves (rather than burning bridges) in Brighton, and on the basis of everything that we tried, it deserves to take its place at the forefront of a very demanding city's culinary success. Long may it continue.
Embers, 42 Meeting House Lane,Brighton, BN1 1HB. For more information, and for bookings, please visit www.embersbrighton.co.uk.
Photos by David Charbit