We discovered the mother-and-daughter-run Falmouth Bay Seafood Cafe during our Cornish break at The Lugger Hotel. My chap had left me in charge of finding somewhere to dine on our last night and thankfully the 143 reviews on Trip Advisor turned out to be spot on – praising Valerie Thomson for her outstanding preparation of the finest seafood, partnered with her daughter Vicky's warm and welcoming front of house.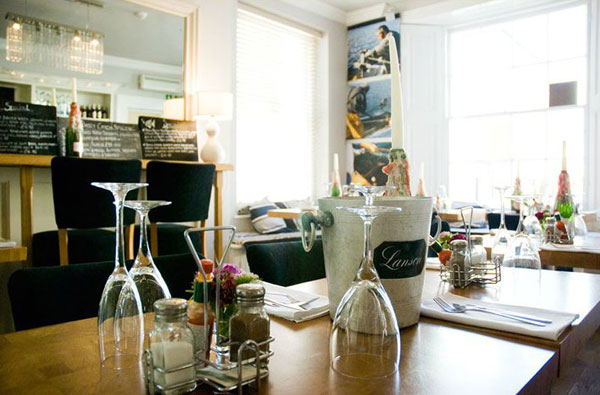 Slightly confused to find the restaurant premises housed in the same Grade II listed building as a ladies' clothing boutique, we followed a party of four who clearly knew their way around, and managed to avoid strolling down the corridor towards a rather scary mannequin advertising the latest West Country fashions. We found the interior of the restaurant intimate, yet comfortable, with blue stripe banquette seating, a chiller cabinet filled with fresh oysters and lobsters, and tables decorated with champagne bottles as candle holders. But the main focus is the open fronted kitchen and being able to watch Val, calmly and lovingly cooking, just as you imagine she does for her family and friends.
The Falmouth Bay prides itself on sourcing sustainable fish, refusing to serve lobster and crab out of season. The summer menu, plus daily blackboard specials offered an extensive seafood selection and it was hard to resist peering at other diners' choices with such tantalizing aromas wafting by. Our starters were met with similar 'mmms' by the next table and we wasted no time in attacking, should I say decapitating, the prawns and langoustines coated in a heavenly marinière sauce which we ravenously dipped our French bread into. To quote a well-known slogan, 'it was finger lickin' good.' It's just a shame they don't provide finger bowls. The light zesty Oyster Shack Chilean Sauvignon Blanc (£16.95) was reasonably priced and the perfect accompaniment.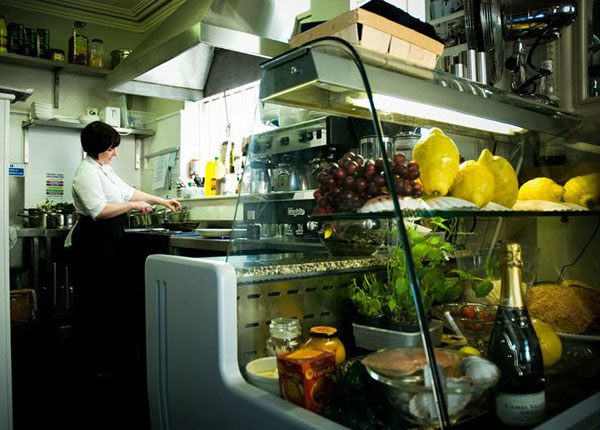 With Val the only chef in the kitchen and only one waitress, it was something of a leisurely affair, which suited me just fine considering how much French bread and garlic butter I'd just consumed. I would have been disappointed had this apparently cosy restaurant been turning tables and hurrying us on our way. Quite frankly I'm surprised there wasn't a queue at the door.
My main of wild lobster and crab with mango, strawberry, organic salad leaves and a basil mayonnaise was a combination not to be scoffed at – a plate of summer's most delectable offerings. The waitress returned with all the necessary instruments to prise the succulent lobster claw meat (and extra napkins) as my chap meanwhile made use of knife and fork. He had plumped for hake with samphire, cockles and mussels and could hardly bear waiting for me to take a photograph of him salivating before delving in and managing to get a healthy dribble of sauce on his shirt front – the test of any good meal.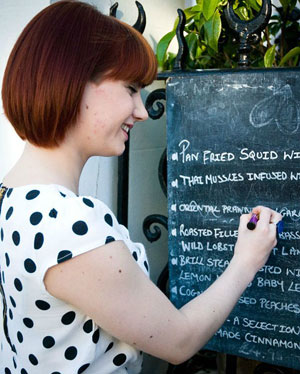 When it comes to dessert everything at the Falmouth Bay is homemade and almost always accompanied by a very large scoop of clotted cream. My chap had been eyeing up the homemade chocolate fudge cake on the specials board all evening but couldn't deny that my treacle tart, with the perfect zesty edge to counteract the sweetness, was a delight rarely matched. I almost did a cartwheel when Val was kind enough to supply me with the recipe.
This was exactly the sort of place we always hope to discover on such an adventure – no frills, just good food and ambiance. Self-taught, the many cookery books on display, including Leith's Cookery Bible, emphasise the passion this lady has for food. With last orders around 8.30pm, Val, a vivacious and rather glamorous host outside the kitchen, enjoys making time to chat to her customers – in summer a welcome combination of regulars and new faces. She explained to us how the previous family business had supplied oysters to many of the finest London restaurants, when the landlord unexpectedly sold the land, putting them out of business in the process. Luckily Val had already begun the Falmouth Bay Seafood Cafe and therefore decided to put all her energy into making it the success it is today. Good old Cornish Fate.
Already my chap had declared this would be the best meal we would have in Cornwall and he turned out to be quite right. It would be unimaginable to return to the West Country without a visit. Next time we'll make sure we sample Val's famous oysters with a glass of champagne in the garden overlooking the Truro River.