James Lawrence leaves the crucible of London's dining scene and explores the best of food and drink in Cardiff, Bristol and Bath…
If the hype is to be believed, London is really the only true place a discerning gastronome would head out for a scintillating culinary adventure. Of course, landmarks such as Le Manoir, L'Enclume and Gidleigh Park receive their share of media attention and praise, but ultimately most of us are guilty of viewing London as the epicenter of the gastronomic universe. This, one could strongly argue, is a fair summation, but holding that thought too close to our hearts runs the risk of negating the incredible diversity of produce, and great restaurants found across the UK.
This ingrained bias towards London's food scene constantly rears its head. I overheard a conversation in Mayfair's Cecconis recently, where the adjacent table's diner opined that "Of course, it's utterly pointless eating out anywhere but London in the UK nowadays." His less than loquacious wife just starred longingly into the abyss, suggesting this was a well worn observation. However, this sulky blancmange of an individual did inspire me to ponder just where I had my enjoyed my best meals of late in Britain. And the answer is undoubtedly in Wales and the South West. Based on my culinary adventures over the past two months, I can vouch for the fact that your chances of eating a superb meal in Wales and the South-West of England have never been better.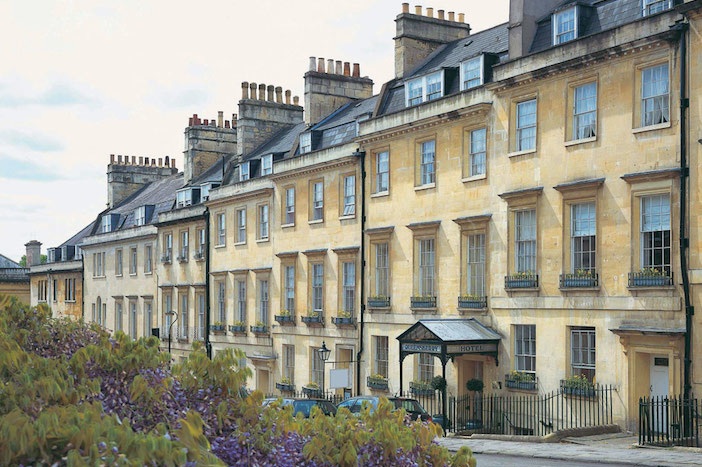 Of course, the South-West and Wales have long been known as regions of good food: I defy any right thinking individual to name a finer source of fresh seafood in the UK than Devon's coastline. And aside from the number of top chefs that reside there – Nathan Outlaw, James Sommerin and James Wilks to name but a few – the region benefits from some of the best, freshest produce in the UK. Anyone who has tasted divine Welsh Salt Marsh Lamb or visited Bristol's increasingly popular famers market on a Wednesday afternoon can vouch for that. But most importantly, top chefs like Wilks and Sommerin continue to make the most of what's available and give visitors a lasting and positive impression of British food. So from brilliant gastro pubs, Michelin-starred restaurants to delis and farmers markets, Wales and the South-West are now an undeniably attractive place to delight your taste buds. The following places have all impressed me of late:
Wales
Best gastro pub: The Pilot
No other gastro pub in Cardiff, or indeed Wales gets the balance so right at the Pilot. Its answers the naysayers who shout that the gastro pub movement forced out the longstanding mainstay of British pubs; people who just wanted to relax with a pint after work and not have a wine list thrust upon them. For without wishing to descent into cliché, the Pilot does manage to be all things to all men: relax in the front section with a well earned post work libation or head to the back for keenly priced, brilliant food. Located in the upmarket Penarth district of Wales' proud capital, Cardiff, the pub was busy even mid week – always a good sign. Your charming host Phil will explain the blackboard choices – no printed menu just a list of specials which change regularly. Expect such seasonal delights as roast pumpkin soup, confit of duck with braised red cabbage, matured rib-eye steak and pork loin in a cider jus with leek mash. Add into the mix a great selection of wines and craft beers, friendly staff and you have a top counter for best foodie pub in Wales.
67 Queen's Road, Penarth, Cardiff, CF64 1DJ, Wales. Tel: 02920 710615. Website.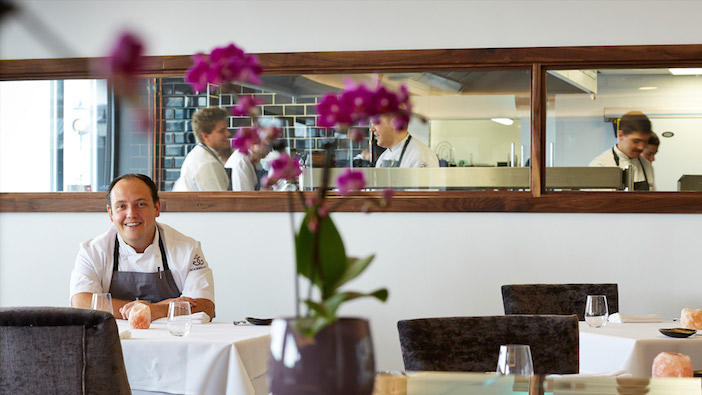 Best fine-dining: Restaurant James Sommerin
A trip to Cardiff wouldn't be complete with a visit to James Sommerin, the city's most recent and exciting addition to Wales' growing fine-dining scene. The pedigree alone of head chef and proprietor James is enough to tempt you inside; after being shortlisted for Young Scottish Chef of the Year, James returned to Wales and poured his heart and soul into The Crown at Whitebrook, earning his first star in 2007. But, flying solo for the first time, the question remains: does his inaugural restaurant live up to the high standards James espoused throughout his previous career? Well, judging by a recent visit, the Welsh chef deserves to remain an important part of Wales' top gastronomic firmament in years to come. The whole experience felt slick and polished, but without the pretension that can so often plague fine dining establishments. Our host's cooking was refined, playful and bold, making use of the finest local ingredients to spectacular effect. There are no a la carte options, just a range of tasting menus depending on how avaricious your appetite is – five, seven or ten courses respectively, including a lunch and vegetarian menu. James' playful approach to food comes across in dishes like Langoustine infused with the potent flavour of tonka bean (illegal in some counties), meltingly tender welsh lamb rib with sweetbreads, and poached and seared chicken breast and pine nut purée. Desserts? I don't want to spoil the surprise. The wine offering is also suitably extensive and diverse – we went for the good value glass pairing option.
Perhaps the only slightly underwhelming aspect of James Sommerin is the décor; a formulaic, Gordon Ramsay-esque pastiche of grey-ochre walls, velvet chairs and a window box into the busy kitchen. But ultimately, the main attraction is James' cooking and that most definitely didn't disappoint. Expect great food expertly presented and executed, rather than food that teeters on the edge of a nervous breakdown. A star surely beckons.
The Esplanade, Penarth, CF64 3AU. Tel: 02920 706559. Website.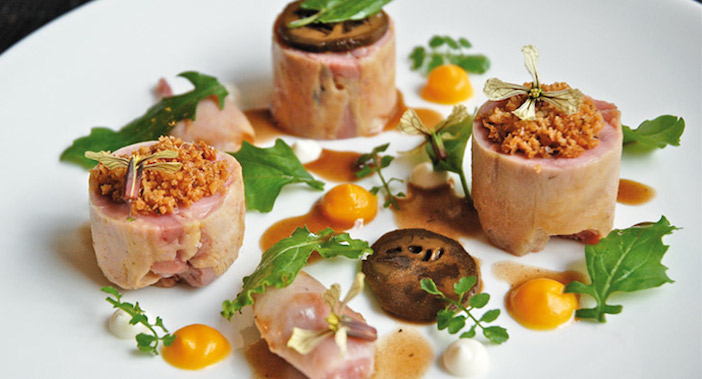 Bristol
Best for a lively evening: Hotel Du Vin
I realise that the inclusion of a restaurant that forms part of a larger group, albeit a very polished and respected restaurant group such as Hotel Du Vin, may strike readers as slightly odd. But, in terms of offering an attractive package of delicious, no-nonsense comfort food, great wine selection, service and a lively atmosphere, nowhere in Bristol has yet to touch Hotel Du Vin for me. The setting and mood are simply perfect; a lovingly restored sugar warehouse offers the comfort of an intimate French bistro, with the obligatory soft romantic lighting adding a touch of je ne sais quoi. Start your evening in one of their extremely comfortable sofas in the bar area, before proceeding to enjoy an unashamedly hedonistic feast that would make even the hardest Gallic critic happy. The highlights are numerous, but my favourite dishes include: Tempura oysters, onion soup, Shetland scallops, Bouef Bourgouignon off the bone, fillet steak and the moreish Hotel Du Vin Cheese and bacon burger on a toasted brioche bun. The place is seldom anything less than packed in the evening, but thanks to an army of well trained staff, service is marvelously efficient, courteous and professional. The wine list, as you'd expect, complements the proceedings nicely and is varied and large enough to please everyone. And yes, there are plenty of options from outside Le France.
The Sugar House, Narrow Lewins Mead, Bristol BS1 2NU. Tel: 0844 736 4252. Website.
Best, simply, for food: Wilks Restaurant
Few restaurants in Bristol could ever hope to compete with Wilks. Their marketing mix is spot on: original, high-class cooking, a relaxed, informal atmosphere, and most importantly, very fair prices. But then, this family-run restaurant benefits from a maestro chef running the show; James Wilks has worked in some of the best kitchens in the UK and over the channel, including Gordon Ramsay's Aubergine and the 3 Michelin-starred Michael Bras in Laguiole. His first solo project opened in 2012 to massive acclaim, and was awarded its first star soon after. Thankfully, however, Wilks is definitely not resting on its laurels and continues to offer mouthwatering cuisine, professional service and a dynamic wine selection, presided over by James' charming partner and maitre d' Christine. James is clearly not interested in fickle gastronomic fads – deconstructed crumble anyone? – Rather, he adopts a precise, imaginative approach to his cooking without being over-wrought or conceptualised. A quick glance at his menu confirms this fact; Lyme bay lobster & langoustine ravioli, wild duck breast with red wine risotto, whole grouse with girolles and red Russian kale and the now legendary blueberry compote meringue, which is an obligatory dessert choice, trust me! The black truffle pomme puree is also a must sample. All this exquisite food is complemented by smooth, unobtrusive service and plenty of affordable wines by the glass. In fact, it's hard to believe just how good value Wilks can be – a three course lunch Wed-Sat is £20 ahead. So if this venue of superlative cooking has a drawback, well I certainly can't see it.
1B Chandos Road, Bristol, Avon BS6 6PG. Tel: 0117 9737 999. Website.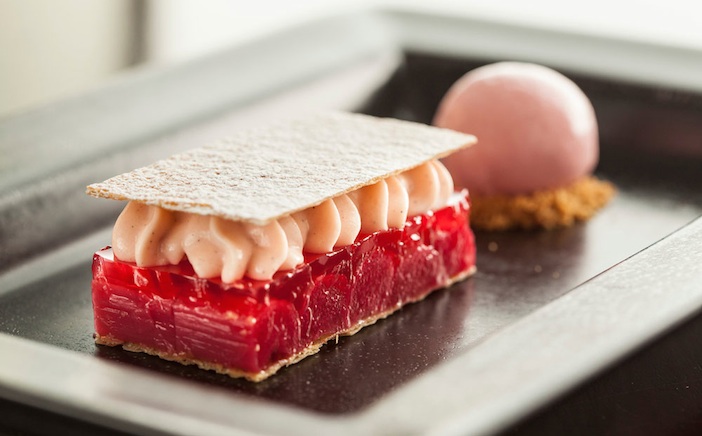 Bath
Best fine dining: Olive Tree at the Queensberry hotel
For such a relatively small city, Bath is very well endowed with superb restaurants, including the Michelin starred Bath Priory and the headline grabbing Menu Gordon Jones, both of which merit a visit. My favourite den of good food, however, is the Olive Tree, hosted inside Bath's leading boutique hotel, the Queensberry. Head chef Chris Cleghorn is one of the region's greats, having built up a deserved reputation for precise, mouth-watering cuisine executed with flair. But, there's no hint of pretension and the staff are warm and engaging rather than starchy and formal. The key to Cleghorn's culinary flair is his unwavering obsession with only the finest, seasonal ingredients, "everything else rests on this foundation," he says. With this arsenal of great produce, he crafts such delights as; crab lasagne, mousse and bisque, scallops with marinated cauliflower, cumin caramel, apple and celery, Halibut with Parmesan gnocchi and beetroot and tarragon risotto. Dessert wise, well, again I don'y want to spoil the surprises ahead. But what of the wine at this gastronomic space? The Olive Tree won the 'AA England and Overall Wine Award 2014-15' this year, a well-deserved recognition of sommelier Joss Roussane's impeccable eye for great value, diverse and interesting wines. Whereas most wine pairing options are sorely disappointing, Roussane has chosen a superlative selection of wines to accompany your feast, including a zesty Godello from Galicia and a velvety Rioja. Undoubtedly the best wines list I've come across in the South-West.
7 Russell St, Bath, Bath and North East Somerset BA1 2QF. Tel: 01225 447928. Website.
James travelled to the south-west from London with First Great Western. Singles are available from under £25 each way. For more information on routes, services and to book tickets visit the website.