Of all the places in Britain that you're mostly likely to find a slice of all-American excellence, a nondescript stretch of the A420 somewhere between Oxford and Swindon would not, usually, be very high on the list. But welcome to Mollie's Motel & Diner, the first in what is intended to be a group of reasonably priced motel-diners throughout the country (there is another in Bristol, and one is intended to open in Manchester this year) that have been dreamt into being by Nick Jones and his Soho House compadres. The idea is that those who would cavil at Soho Farmhouse prices up the road can enjoy a similar experience for a fraction of the cost, and enjoy a superbly crafted experience that carries all the hallmarks of his company's excellence. But does it work?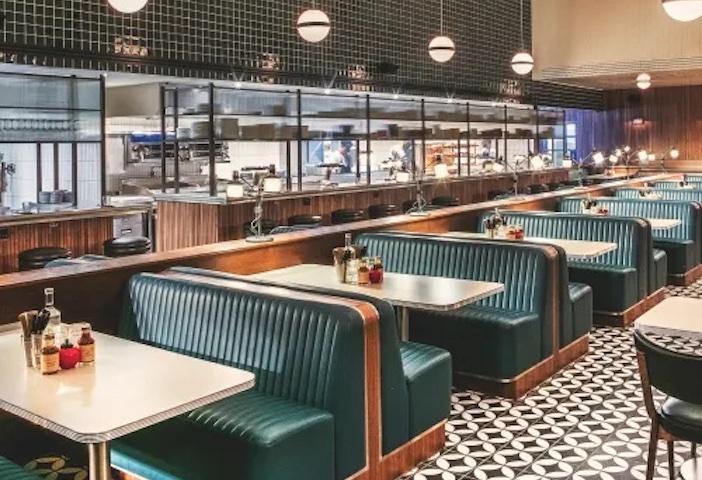 Leaving a bus on a wet Tuesday lunchtime, the sight of Mollie's – looking like a quintessential American diner – lifts the spirits, and then walking in to find an inspiring spectacle, grander and lighter than you might expect but nonetheless fully aware of its heritage and influences. The greeting is warm, and the booths spacious. Then we're given copies of the menu, and we have a realisation that, in these cash-strapped and budget-conscious times, that prices here are exceptionally kind.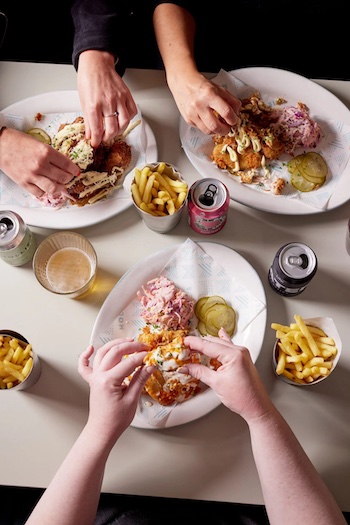 Cocktails cost £8.50 apiece – and they're very fine indeed, with a superb Old Fashioned and a sublime Espresso Martini the equal of anything you'd get in Soho Farmhouse at twice the price – and most dishes are inexpensive; starters (or 'small plates') are all well below £10, main courses struggle to break the £20 and most of the burgers are around a tenner. It's not quite a giveaway, but it represents superb value for money.
Our splendidly cheery and helpful waitress Katie knows the menu inside out, and guides us with the aplomb of a Virgil. Beginning with fried pickles – 'frickles' – and jalapeno cheese croquettes, we embark upon an odyssey through American comfort food staples, lightly Anglicised; popcorn chicken and sweetcorn fritters, spatchcock chicken and rib-eye steak, sides of mac and cheese and coleslaw and hot dog, fries and milkshake (an enormous milkshake) for our daughter.
Everything is superb, with the popcorn chicken a particular highlight, and a remarkably generous portion for a mere £7. But generosity, in every sense, is a hallmark here; as we sip glasses of South African Sauvignon, we are continually asked if we have everything that we want.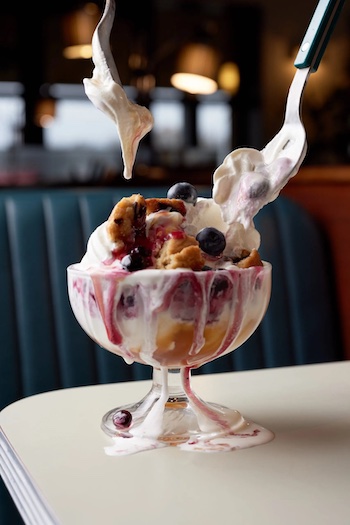 "Do you have room for dessert?" In truth, no, but it would be rude not to. Each of us plumps (very much the operative word by now) for our chosen treat; I am steered towards an excellent chocolate and salted caramel tart, while my wife opted for a soft serve with chocolate. Both were superb, but, not for the first time, we were comprehensively upstaged by our daughter, who ordered the knickerbocker glory of dreams; far too much for one person, the riot of ice cream, jelly and custard that defeated even her was the near-platonic idea of this pudding, and one of the best I can ever remember tasting.
There is nothing of any note round Mollie's, save the motel, and I felt a brief twinge of envy for those lucky souls who could collapse into one of their comfortable beds after a repast. But it was back on the bus to Oxford for us, thoroughly sated by one of the most unpretentiously enjoyable meals we've enjoyed in aeons. Or, in my daughter's considered critical estimation, it was, indeed, "the best day ever."
Mollie's Motel & Diner is on the A420 at Buckland, a 20 minute drive from the centre of Oxford. For more information, including details of the Soho House designed rooms, the general store, and Mollie's app, please visit www.mollies.com.