Pompette, n (French). Meaning: tipsy, tiddly, squiffy
While my wife and I were walking up to Summertown in North Oxford, we ran into a friend of hers, a charming and fiercely intelligent woman whose ability to talk, quite literally, nineteen to the dozen reduced me – hardly a wilting violet in the loquaciousness stakes – to inarticulate utterances of 'ah', and 'is that so?' On one of the few occasions that I got a word in edgeways, I told her that we were visiting Pompette, Oxford's most acclaimed new restaurant, for lunch. She smiled approvingly. 'Oh, you'll like it there', she said, with a happy grin. 'It's London good. Not Oxford good, London good.'
I knew what she meant. Although the standard of dining in Oxford has improved immeasurably in recent years (see my earlier reviews for proof), there is still the undeniable truth that the sort of innovative, buzzy, bistro-brasseries which open in London at the rough rate of one a week are seldom to be found in this city, which still favours the tried and tested. Browns on Woodstock Road – once a trendsetting and brilliant place – goes through the old routine but with little enthusiasm or originality these days. So our hopes were high that husband and wife co-owners Pascal and Laura Wiedemann, respectively the chef and front-of-house here, could pull off something spectacular.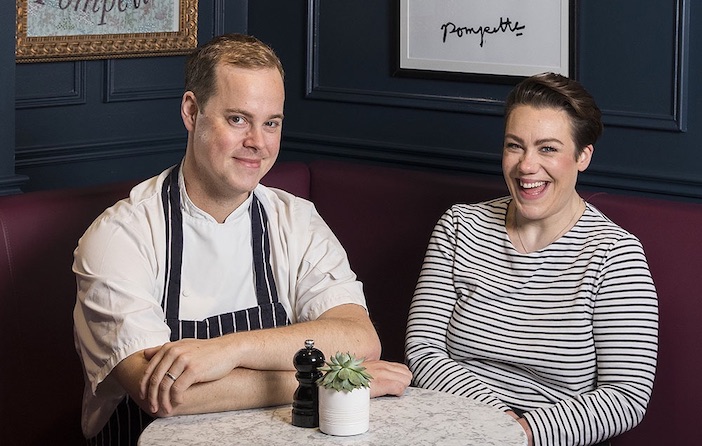 Early word had been good – glowing early reviews from the Rayners and Corens of this world had led both to excitement and much interest – and I'd enjoyed Wiedemann's cooking in his London restaurants, the ever-excellent Terroirs and Soif, so this seemed to be the apotheosis of a slam-dunk. Yet caution still held me fast. I'd been disappointed by other establishments displaced from the capital, often because of unavailability of good staff and ingredients: was this to be more of the same?
The answer, thankfully, is 'no'. I have no reservations about Pompette – it is one of the best restaurants I've been to all year, and the best meal I've had since Mike Robinson's The Woodsman in Stratford-upon-Avon. It shares certain similarities with Robinson's restaurant – an interesting location; fantastic food done with flair and chutzpah; entirely reasonably prices for the quality and integrity of the whole experience – but this is entirely its own beast. From your entrance into the stylish room, a kind of reinvented nod to a provincial bistro, to your giggly and exhilarated departure a few hours later, almost certainly in a state of 'pompette', this is something quite special.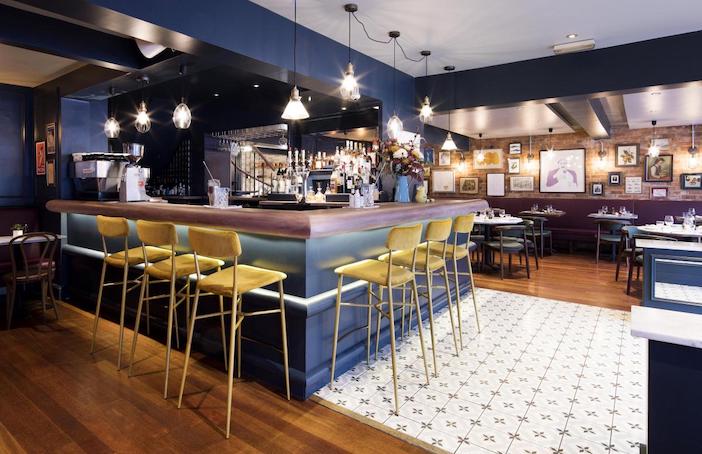 Dishes change regularly, depending both on Wiedemann's interests and what's in season. After a couple of perfect ham croquettes, the stuff of fable, we look at the menu and plot a plan of campaign. We attempted to try a decent assortment of the best and most famous ones; my wife rhapsodised about her fish soup, complete with generous helpings of rouille and emmenthal, and my snails, served in a tomato fondue (a sort of rich ratatouille) with garlic and parsley butter, were defiantly rich and meaty specimens, so very different to the laughably anaemic types that so many inferior places serve up. Accompanied by an excellent mini-carafe of natural Gruner Veltliner and (why not) a glass of sherry, it's a fine start to the meal.
It should be noted that this place is not a natural haven for the vegetarian. The dishes are predominantly fish and meat, with terrines, big cuts of strong animals from ordering an intriguing-sounding combination of gnocchi with peas, courgettes, a duck egg and marjoram. I try it; it is excellent. But I have had my heart stolen by as fine a steak as I've tried in recent years, a 45-day aged, 10oz Hereford rib-eye, sourced from the estimable HG Walter, which comes with a fine béarnaise sauce, delicious chips and a moreish green salad. It is not cheap at £35, but good steak never should be. And we wash the whole caboodle down with a fine bottle of 2017 Morgon, Côte du Puy; a revelation to me, and something of a steal at £40.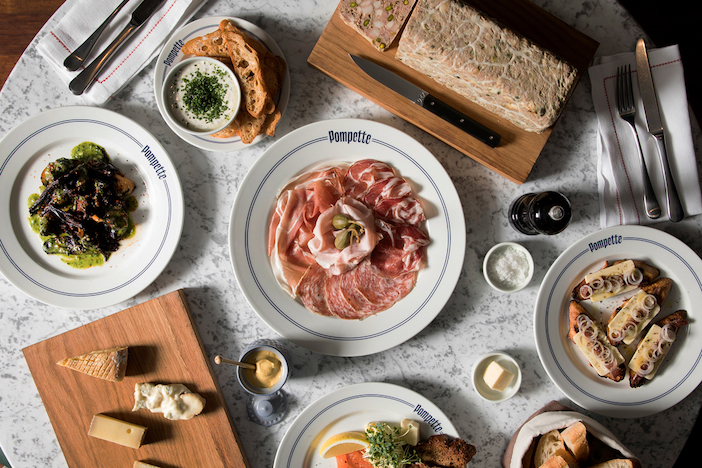 We don't especially want to leave, and half-seriously suggest setting up camp in the bar area. But we are reminded by Laura, who is friendly and personable and clearly very proud of her and her husband's restaurant, that we still have pudding left to come. She steers us towards a kirsch choux bun, which comes complete with macerated cherries or 'griottines' and a spiced pineapple with a rum and coconut sorbet. The pineapple is a triumph; almost savoury in its delicious flavour, and perfectly complimented by the sorbet. Yet the bun is something else. It is hard to describe its wonders, especially when it comes served with a glass of Tokaji; one must try it for oneself. It is not something that I would probably have ordered if left to my own devices, but it is a thing of wonder and joy. I cannot recommend it enough.
That edict applies to all of Pompette. We do indeed leave in a pleasant state of wellbeing, although as it's a Friday lunchtime it would be irresponsible to be any more inebriated. But we are eagerly looking forward to future visits, of investigating the good-value set-price menu and trying some of the charcuterie and terrines in the bar. Oxford has gained a thoroughly exciting and top-class restaurant, better than anywhere I've visited in the capital lately. For this, we'll certainly raise a glass.
Pompette, 7 South Parade, Summertown, Oxford, OX2 7JL. For more information and menus, visit www.pompetterestaurant.co.uk.