Field-to-fork newcomer Roots + Seeds in Cirencester was so fresh out of the gates when I visited for dinner on a balmy late-spring evening that the whiff of wet paint and fresh varnish was still in the air. The sustainably-focused venue is the brainchild of school friends Sam Lawson-King and Toby Baggott, who made the brave – some may say brazen – decision to open socially distanced dining venture The Scenic Supper in July 2020 during the height of the pandemic. The concept was clever – the scenic suppers took place in bespoke glasshouses offering panoramic views of the Cotswolds countryside at King Stone Farm, where the pair served produce grown so nearby they could point to it.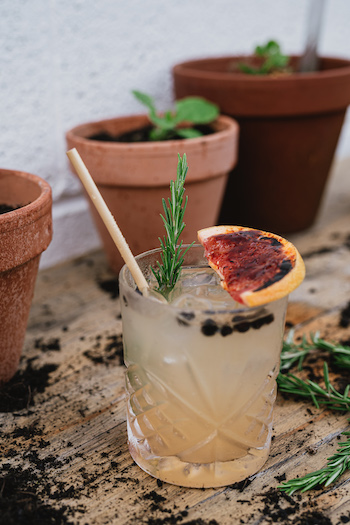 Sam and Toby are hoping to recreate the same magic at Roots + Seeds, where Lawson-King held court on my visit, perching tableside to regale me with anecdotes from The Scenic Supper's early days, while waxing lyrical about his organic gin brand – King Stone – which makes a number of cameos on the cocktail list, for which he's created all manner of shrubs and cordials. His zesty, juniper-led gin held its own in my Rosemary Sour, a clean and green concoction that proved an ideal apéritif.
The 54-cover restaurant has put down roots inside a former foxhound kennels in Cirencester Park. With its white walls and abundance of wood, it's got a distinctly Scandi vibe, which comes with a healthy dollop of shabby chic nonchalance via quirky light fixtures, scrubbed pine farmhouse tables and a bluesy soundtrack.
Its field-to-fork ethos is admirable, with locally reared meat coming from the nearby Bathurst Estate, while trout hails from Bibury, fresh fish is delivered daily from Devon and wild boar is sourced from former royal hunting ground the Forest of Dean. Keen to minimize waste, all glass, metal and paper used at the venue is recycled and the raised beds in the kitchen garden are supported by recycled timber from King Stone Farm.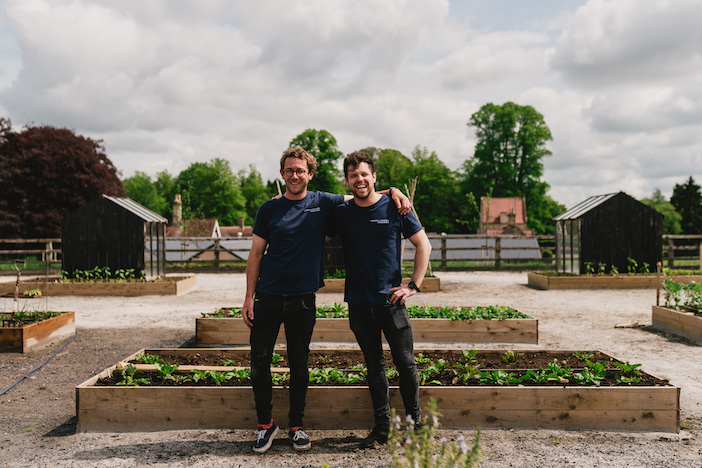 Classically trained head chef Sam Idione has good pedigree, having come by way of The Clove Club in London. With a stint at Rick Stein's in Padstow under his belt, he knows his way around a fish too. His kitchen garden at Roots + Seeds is still in its infancy, but the goal is to be 75% self sufficient by 2025. For now, the majority of the ingredients that make it onto the menu are sourced from within a 25-mile radius. My visit coincided with asparagus season, which weaved its way into a simple sounding starter alongside lemon gel, courgette and feta, which was so much more than the sum of its parts. Super fresh, vibrant and zingy, it confidently captured spring on a plate.
The unexpected highlight of the evening was a twist on a risotto that made a hero of three humble ingredients: Maris Piper potatoes cut into tiny cubes, confit garlic, and golden egg yolks that are cooked sous vide for three hours then whisked into submission. Punchy, peppery, creamy and comforting, it was one of the most indulgent and memorable dishes I've eaten all year. Having worked in the wine trade before venturing into gin, Lawson-King's list is small but perfectly formed.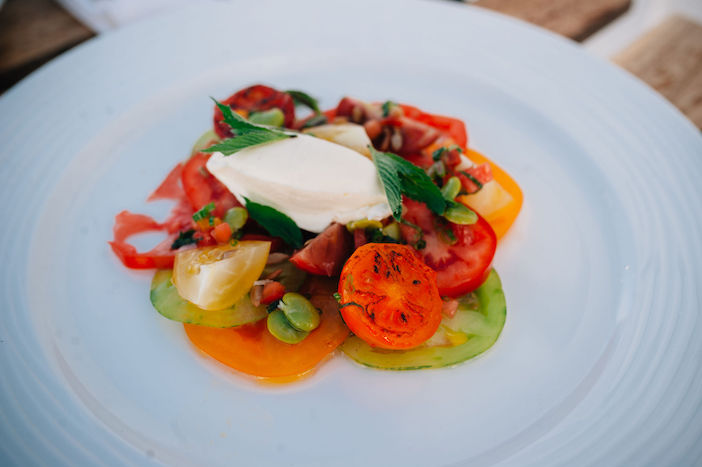 His choice of Villa Blanche Viognier from the Pays d'Oc proved a perfect partner for the risotto, its opulent notes of white peach and apricot holding their own against the garlic-fuelled intensity of the dish. Wanting to make the most of the blink-and-you'll-miss-it window for wild garlic, I ordered the pillowy potato gnocchi – which is made fresh on site each morning by Idione – topped with earthy foraged mushrooms and a pungent pale green wild garlic sauce that packed a flavour punch without knocking the dish out of balance.
The team were finding their feet on our visit – there was a noticeable wait between our starters and mains – but the food was on point throughout. A side dish of braised peas, baby gem and pancetta perfectly encapsulated the restaurant's ethos and how much ingredients that have been grown with care can sing of themselves.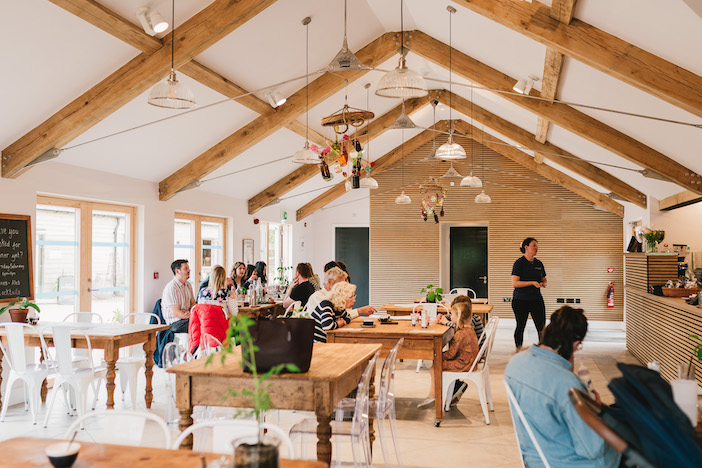 From the open kitchen to the easy tableside manner of the staff, there's a rough around the edges honesty about the place that feels very genuine. The atmosphere may be convivial, but the food is taken very seriously here. There are no cloches, foams or convoluted concepts. Instead, simple dishes created from hyper local ingredients are given the pedestal they deserve.
Post feast, our dwelling for the evening was Ingleside House, a wonderfully irreverent, Grade II listed boutique hotel close to the centre of Cirencester, which reopened in May 2021 after a glitzy refurb. Its 11 rooms ramp up the camp with pastel walls and flamboyant flourishes. Named in honour of the director of the Barn Theatre next door, our room was an Art Deco-inspired riot of candyfloss pink and emerald green boasting a free-standing bath big enough to swim in with a generous jar of salts within arm's reach. With its big headboard energy, the ludicrously comfy super king bed was large enough to lose your lover in.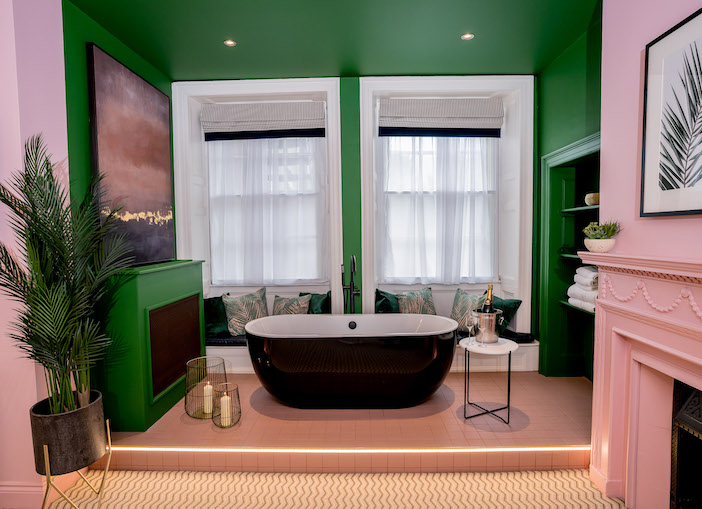 Elegant touches, from the fluffy bathrobes and the luxurious linen to the Molten Brown products added to the ambiance, while a scalloped velvet armchair, retro radio and chandelier made it feel like I'd stepped through a portal into Lauren Bacall's bedroom.
Breakfast in the flamingo-wallpapered Téatro restaurant the next morning offered an appealing mix of soothing classics, like nut-spiked granola and French toast with prunes, alongside more exotic additions like shakshuka with goat's curd, and citrus salad with pomegranate and coconut. If you like your hotels quirky and kitsch then Ingleside House is worth a look if you're seeking a Cotswolds bolthole with oodles of character.

Roots and Seeds is open for breakfast and lunch Monday to Sunday, and dinner Thursday to Saturday. You can book via the website at www.rootsandseeds.co.uk.
Double rooms at Ingleside House on a B&B basis start at £120 per night. To book, call: +44 (0)1285 648 230 or email: info@inglesidehouse.co.uk.