I think that we all know the stories about St Patrick's Day. Paddy's Day, as it isn't called in my house, usually unfolds in a blizzard of 'top o'the morning' cliches, usually involving large amounts of Guinness, people making continual and irritating references to 'the craic', someone unlikely claiming that they have distant Irish ancestry while trying on a distinctly ill-fitting brogue for the day and, of course, more green that you'd imagine is in Caroline Lucas's entire wardrobe.
But what we don't usually hear a lot about is its culinary side. For most revellers on March 17, the food is much less important than the revelry, and consists of the banal likes of corned beef, soda bread and Irish stew. The rationale presumably being that if you're sufficiently well-oiled on Guinness and whiskey, you don't care too much what you're eating.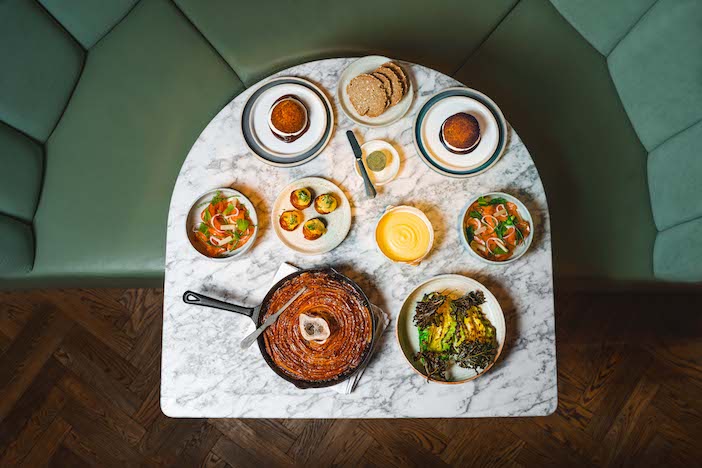 Given that this year, there won't be anyone roaming the streets in giant novelty hats holding pints aloft of 'the black stuff', this will be an opportunity to take a far greater interest in some of the more innovative aspects of Irish cuisine. And there is probably nobody better placed to put together an appropriately fitting menu for the much-lauded chef Robin Gill, who is collaborating with the new company Starchefs to put together a special St Patrick's Day food box for home consumption. For £150 – about the amount that one might expect to spend in one of Gill's restaurants, which include Sorella, Darby's and Clapham's much-missed The Dairy – one is served a four-course feast to enjoy at home. Does it live up to expectations?
When a hefty box arrives at our house, the first thing that I think is 'Bloody hell, there's a lot of stuff in here'. Rather than the fully pre-prepared dishes that some restaurateurs are offering, there is an assortment of exciting-looking tubes, parcels and ingredients, but an idiot-proof guide offers insights into making a four-course meal step by painstaking step, complete with a suitably rousing Spotify playlist to accompany one's endeavours.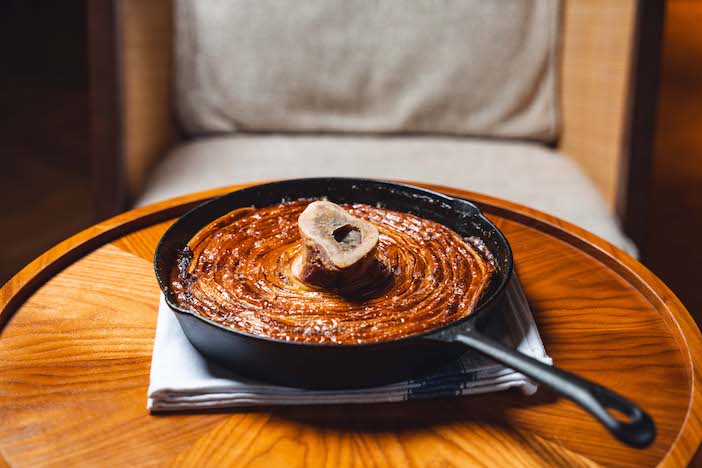 And in fact, one quickly gets into the swing of it, aided by a pre-pared Redbreast whiskey Old Fashioned that one can sip to make one's labours. It's a clever exercise in flattering the home chef's ego; all of the difficult work has been done beforehand, meaning that only the most incompetent of blunderers could find this at all difficult.
But what of the quality of what we eat? Well it's all sublime, and a carefully judged assortment of the light, the hearty and the sweet. Nibbles of haddock gougères set matters off to a rousing start, and then a smoked salmon starter is given heft by a small loaf of Gill's own soda bread, complete with seaweed butter.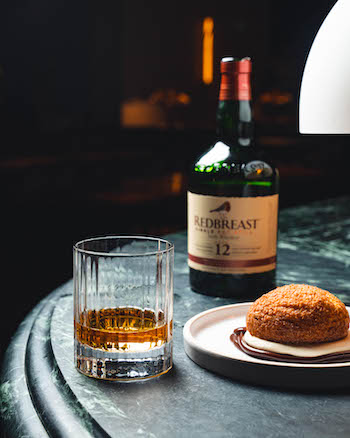 There is then a suitably heroic entrance for a wonderful beef and bone marrow pie topped with croissant pastry, served with braised cabbage and oodles of buttery mash. We put in about half of the amount of butter that we were told to and it still tasted like a truly decadent treat; heaven only knows what would have happened if we had gone more heavily overboard.
As we congratulated ourselves on being fine cooks, after a sweet treat of choux buns filled with Pump Street chocolate mousse and whisky cream, we also had to admit that our endeavours had not been in vain. Gill's dishes would be at their best in situ, of course, but as we are all confined to our homes at the time of writing, this comes extremely close to being the best possible thing that one could celebrate St Patrick's Day with. And that is certainly worth raising a glass of Redbreast 12-year old Irish whiskey to.
As the man says, Sláinte!
The Robin Gill St Patrick's Day box is available to purchase from the StarChefs website www.starchefs.co.uk. Sign up to the newsletter or follow on Instagram @starchefs_uk for information on future releases.
Photos by Food Story Media (Insta: @foodstorymedialtd.