'A sushi restaurant, even for those who don't like fish'. Such is the boast on the window of the new Sticks 'n' Sushi in Oxford, which adorns the Westgate Centre in a prime position, gazing out over Christchurch's Tom Tower and the Radcliffe Camera. It seems, if I'm being entirely honest, something of an unusual way to lure people into your restaurant, but it sticks – no pun intended – in the mind much more so than much blander offerings.
I was further intrigued by the menu, which unified several interesting ideas and concepts. The group is originally from Denmark, but it has opened a few restaurants in central London, and is now expanding outside, to Oxford, Cambridge and no doubt others as well, before too long. The question is, does England need another sushi restaurant – even for those who don't like fish?
On the evidence of our visit, the answer is a triumphant 'yes', thanks to an intriguing and successful mixing of influences. If you're not a fan of sushi at all, then the yakitori section of the menu will offer a variety of treats for you; we were especially impressed by the black cod and ramu yaki, a lamb and spring onion taster. The good thing about the yakitori – or the 'sticks' as they're called here – is that they're sufficiently small and canapé-like to be able to sample several of them, even if you've done a good job on the sushi and maki rolls beforehand.
However, the responsibility now falls on me – dreadful burden, I know – to rewrite the slogan of the restaurant. I would instead like it to be known as 'A sushi restaurant, which does its job very well, but if you don't like fish then you're probably missing out'. Which, I accept, is a great deal less catchy, but it has the virtue of being accurate.
The maki rolls here are nothing short of sublime; whether one goes for the comparatively conventional salmon or tuna or the more exotic delights of the tempura shrimp or the wagyu tartare. And the sushi and sashimi, as one might expect, are very, very good as well. There are numerous mini-tasting menus available, and all but the boldest might be well advised to take the counsel of one of the friendly and well-informed staff, so that one doesn't run the risk of missing out.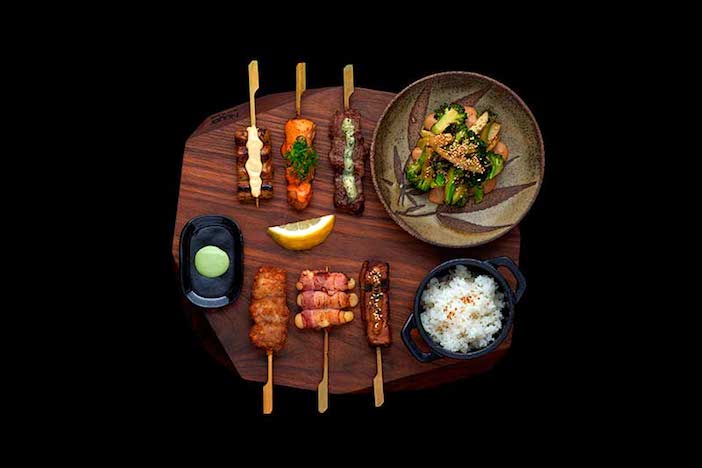 The drinks list is well put together and fairly comprehensive; a bottle of Gavi suits us nicely on the wine front, while the cocktails are excellent. I was especially impressed with the 'taketsuru' on the list, a whisky-based cocktail served with citrus and vanilla. One needed a bold and exciting drink to set the meal up accordingly, and this one certainly succeeded.
All in all, then, this was another splendid Oxford meal, in a stylish and well-designed room that sets very high standards for its peers.
Sticks 'n' Sushi, Rooftop Terrace, 311 The Westgate, Castle Street, Oxford, OX1 1NZ. For more information, including menus and upcoming events, visit www.sticksnsushi.com.