This has been one of the wettest, most miserable Mays in recorded history so – surely – we must be in for better weather soon. The question is then, where to go to bask in that (we hope) glorious summer sunshine? To my mind, there aren't many more pleasurable places to eat than by the water – it's peaceful, nature is all around, you can even feed the ducks. So, where better to visit than the Beetle and Wedge in Moulsford-on-Thames?
It sits on one of the prettiest parts of the river – an area that features not only in The Wind in the Willows but also Three Men in a Boat. There's a great waterside terrace with tables open to that sunshine but also a marquee in case of less clement weather (very helpful when I visited in mid-May, as were the outdoor heaters). And, of course, you are now permitted to eat indoors if the weather gets too awful. The restaurant was the old boathouse, used for the Moulsford ferry which finally closed in 1967 when the last ferrywoman retired. Inside, many of the old fittings remain – this place oozes charm.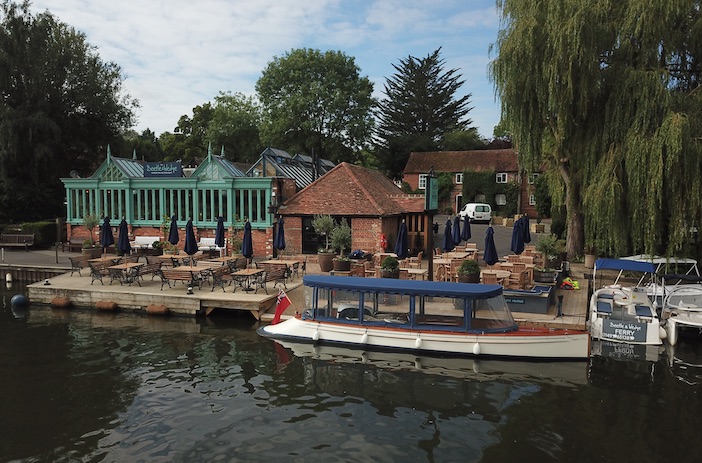 It's a particularly relaxed, friendly atmosphere here and the staff are chatty, knowledgeable and helpful. Parties of ducks amble between the outdoor tables. There's a modern English menu, imaginatively created by Head Chef Josh that features such delights as Beetroot Panna Cotta with Smoked Aubergine and Vegan Feta Pithivier and Pork and Chorizo Scotch Egg.
Back on that mid-May evening, it was definitely on the chilly side. Something hot, then for sure but this is not a comfort food place. It's an interesting, quite elegant menu and the Major and I had a bit of a struggle to choose. In the end, I went for the Pan-fried Scallops with Cauliflower Puree and Crisp Parma Ham. This was just perfect – the scallops delicately cooked and the sauce with its hazelnuts, quite delicious. The Major had a generous Mussels Marinieres with Cider, Onion and Cream Sauce, mopped up with toasted sourdough – rich, creamy and, with the cider, an interesting earthiness.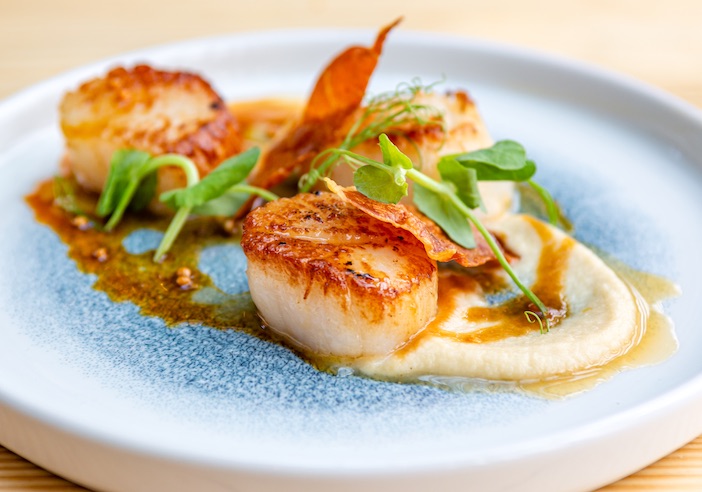 There were lots of tempting possibilities for the main courses but I was so drawn to another of the starters, I had that instead. Cornish Crab and Sesame Seed Fishcake with shellfish bisque, pink grapefruit and fennel – these are ingredients that cover most of my favourite tastes and fully lived up to their promise. The Major meanwhile had decided on the Pork tenderloin with purple broccoli, almond, Jersey Royal Lyonnaise and browned apple. This lived up to its name, as tender as a tenderloin could be and beautifully presented.
Given my comparatively abstemious first two courses, I allowed myself a rare third course and so we shared a beautifully balanced cheeseboard (Keen's Cheddar, Beauvale Blue, Tunworth, Brightwell Ash) served with homemade crackers. The wine list is extensive and interesting, too, but there is that drive back. Or not.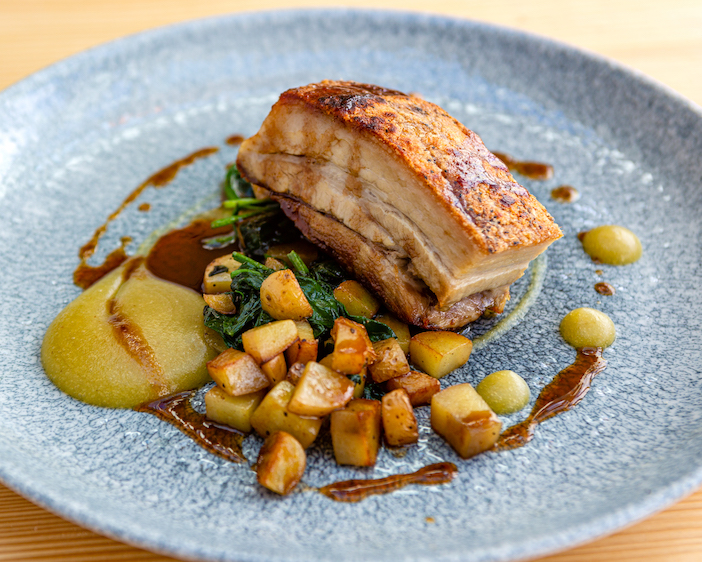 If it feels like a long way to go just for a meal, you do have the option of staying. The Cottage is, as its name suggests, a cosy place with just four suites (in two of them you can take the dog, too) and you can have your breakfast brought over from the chef's kitchen. They'll even hire you out a boat for a potter down the river if you're making a weekend of it. If you're after charm, this place just oozes with it. And that name? It's nothing to do with the kind of beetles you might find by the riverbank. It's named for the old word for a hammer (beetle) that was used with a wedge to split wood.
The Beetle & Wedge Boathouse, Ferry Lane, Moulsford-on-Thames, Oxfordshire, OX10 9JF. For more information, including menus, and to make a booking, please visit www.beetleandwedge.co.uk.