During lockdown, my wife and I played a game which became rather like the central motif in Ice Cold In Alex. Rather than constantly fantasising about a beer in a bar in Alexandria, however, we kept on talking about the sort of place that we would like to go to for lunch when we were once again allowed to set inside somewhere. It would be, we decided, a pub. Not a fancy place, but not a scratcher, either. It would probably be in a market town somewhere in the Cotswolds, or roundabouts, and would feature excellent food at reasonable prices, a well-chosen wine list, friendly staff, welcoming atmosphere and a general sense of being a home from home.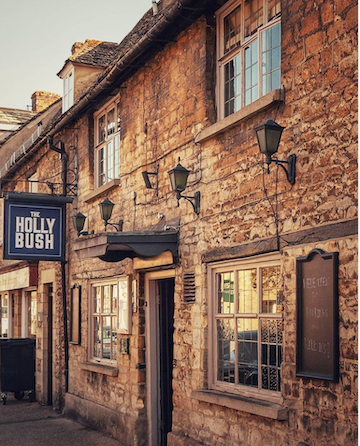 'But where shall we find such a place?' we asked, with expressions of increasing surprise and confusion. 'Surely we have come up with a contemporary version of Orwell's Moon Under Water, the fantasy pub that doesn't exist anywhere!'
Well, I have lunched at the Hollybush in Witney, and can report, with some satisfaction, there there is such a place. It is blessedly devoid of pretension, but serves excellent food and decent wine in a warm and civilised atmosphere. It is splendid in all regards. We spent nearly six months fantasising about a pub along these lines, and are only too grateful that it exists. Denizens of Witney, Oxfordshire and the South should beat tracks there forthwith. As for the rest of you, this is why it's worth your while.
The pub itself has a civilised, clubbable feel. It's somewhere between the local of your dreams and the sort of place that you take your parents to butter them up before asking for their help with your mortgage. Or the school fees. Everything on the menu is interesting, but you also want to put it in your mouth and eat it. The chef, Simon Bradley, has served some time in high-end establishments such as Le Manoir aux'Quatre Saisons and The Randolph in Oxford, and there's definitely some finesse to the pub classics, executed with flair. Croquettes of ham and cheese are an appetiser to savour, and starters of crab quiche and heirloom tomatoes and goat's curd are simple, and executed extremely well. Two glasses of a fine New Zealand Sauvignon Blanc are a more than fitting accompaniment.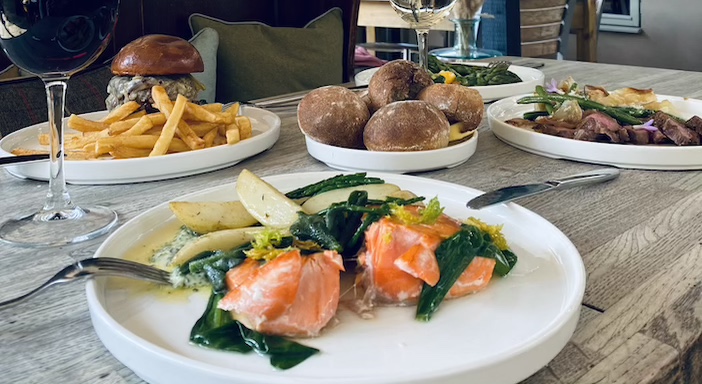 It's the main courses where Bradley's past expertise comes in handy. I try a special of beef fillet which comes with all manner of bells and whistles; blue cheese fritters, horseradish coleslaw, celeriac, bone marrow…oh, it's sublime. I may have mooed gently while I ate it. And my wife opts for the trout, which leads to several near-the-knuckle, divorce-worthy jokes, but it's equally delicious. And the children aren't neglected, either. The fish and chips that my daughter munches on are particularly fine, and I would be lying if I said that some of the chips didn't somehow migrate from her plate to mine.
We debate whether to have puddings, but decide it would be offensive not to. We are right. A semi-deconstructed Eton Mess is just this side of experimental and wonderfully tasty into the bargain, and my wife's chocolate delice lives up to its billing. The only, minor duff note is that it comes with a honeycomb that *sticks* to the teeth rather; I am delighted to be offered a bit to try, and then realise that there was a nefarious purposes in mind. But no matter. It is a fine end to an excellent meal.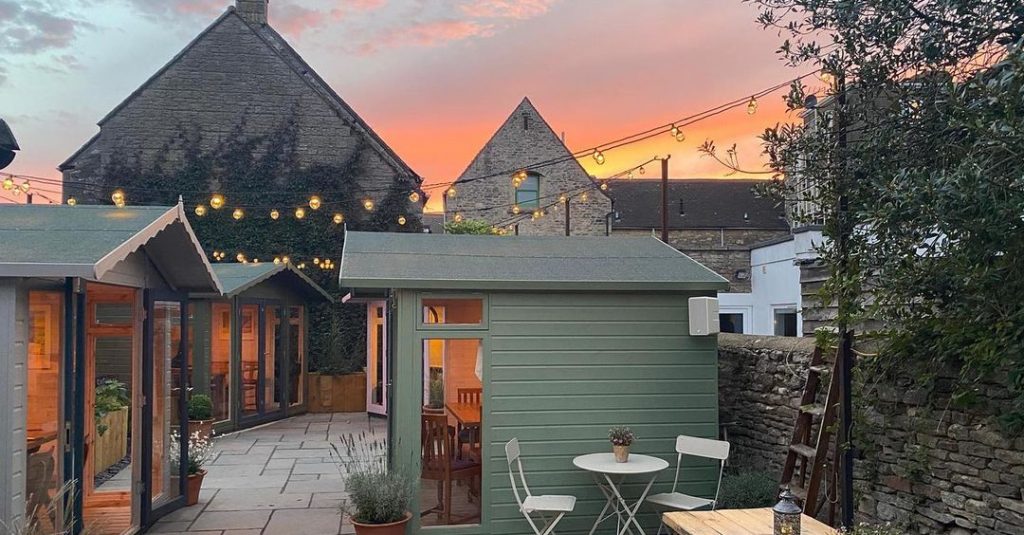 We stroll outside briefly before we leave. Sensibly, the owners have decided to turn what was once a dull piece of outside decking into a series of small huts, which proved invaluable in those strange few weeks when we could visit our local restaurants and pubs but had to stay outside. Now, there are a cornucopia of bijou private dining rooms, named after local towns, and combining cosiness and style. As does the rest of The Hollybush. We had an excellent time at lunch here, and chances are that you will, too. And that was definitely worth waiting five months for.
The Hollybush, 35 Corn Street, Witney, Oxfordshire. For more information, including menus, and to make a booking, please visit www.hollybushwitney.com.