Oxfordshire is, as a county, not unblessed with high-quality pubs. This is a reflection both of its affluence and the good taste (in both senses) of its occupants, although there are times that even the most committed diner must weary of a certain identikit feel to their destinations. The paint is Farrow and Ball, the wine list lengthy and expensive, the food solemnly presented in Michelin-approved fashion and the atmosphere strangely oppressive. The nadir for me came when I visited a nationally famous pub-restaurant owned by an organic food magnate; so dispiriting was the entire experience that we left after a first drink.
Thankfully, there are still places doing something different and interesting, and Kay and Mark Chandler have pulled off something remarkable at their establishment, the White Hart, at Fyfield, around seven miles outside of Oxford.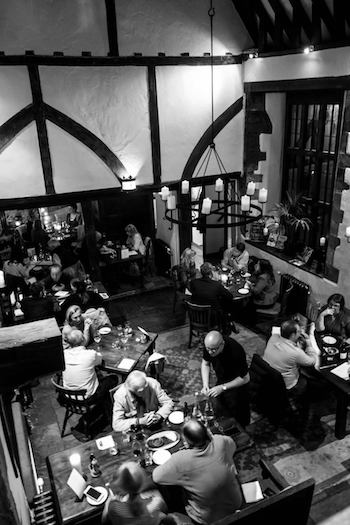 The first impression that one has upon walking in is one of 'gosh'; the building is no ordinary public house, but a 15thcentury chantry house, complete with minstrels' gallery, a great hall and an enormous vaulted ceiling. It hasn't been Disneyfied, like so many other places, but has instead been kept in a similar style to how it must have been for hundreds of years: a peerless place to eat, drink and relax.
The menu, overseen by Mark and a team of chefs, offers a masterclass in how to combine excellent ingredients sourced locally (the vegetable garden is especially well stocked) with pleasingly traditional techniques.
Once my wife and I had done battle with a small girl, who took delight in running around the hall and escaping into the garden outside, we had time to do a serious contemplation of the menu, whereupon the usual bartering ensued. 'Swap you a bit of your gravadlax for my goat's cheese.' 'Done'.
The food is served simply but with flair, a fine combination when it's as good as this. The salmon came with cucumber salad and dill yoghurt and tasted deliciously fresh; the goat's cheese was rolled in a kind of hazelnut sponge. With two glasses of white Rioja as an accompaniment, we were very happy.
My wife umm'd and aaah'd about which main course was going to satisfy her most, eventually choosing a fine dish of cod with potato gnocchi, but I had no doubt as to what I'd be having; slow-roasted belly of Kelmscott pork with apple, carrots and crackling. I had seen a picture of this particular behemoth, and was almost beside myself with excitement when it arrived at the table, complete with foot-long piece of crackling.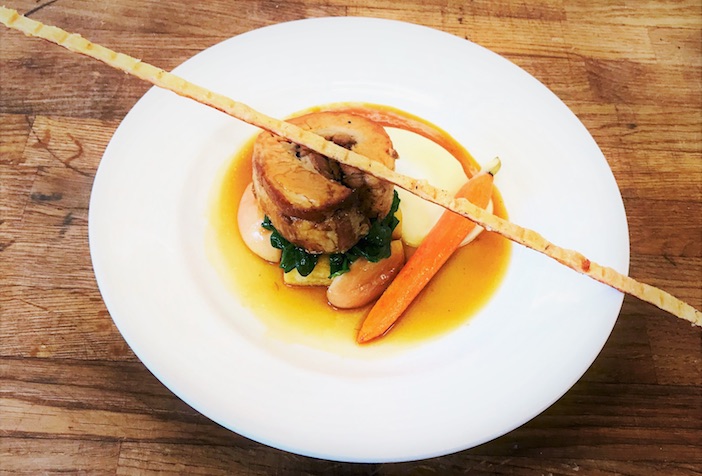 I was not disappointed. This was the pork belly of my dreams; cooked to perfection and with apple and carrots that actually tasted of something, not just the usual bland nonsense. I would return to the White Hart every week for this dish if I could. Washed down with a bottle of the Neropasso Rosso from Veneto – an Amarone-esque delight at a third of the price – this was the stuff of legend.
Desserts continued the fine run, especially my dark chocolate 'jaffa cake' with marmalade ice cream, and then, as our daughter finally decided that she'd had enough of her (excellent) child's portion of fish and triple-cooked chips and tried to make a run for it, it was time to leave as well.
The White Hart is offering something both comfortingly familiar and decidedly modern; excellent food at reasonable prices (there's a good-value set lunch on Tuesdays to Fridays, too) with friendly and knowledgeable staff in a fine setting. The accolades speak for themselves, but they are richly deserved, and I'm not going to forget that pork belly in a hurry. And neither is anyone else who is lucky enough to visit here.
The White Hart, Fyfield, Abingdon, Oxfordshire, OX13 5LW. For more information, including menus, visit www.whitehart-fyfield.com.