In a Tipples piece with a difference this week, we're not just talking wine – nor just Austrian wine – but an entire experience around Austrian wine. Anna Selby turns vintner for the day…
Wine lover, wine dealer, wine maker – thus Fabian Neururer describes himself. And defining his occupation is, in fact, understandably complex. He has a fine Keller, filled with maturing wines in steel vats and traditional oak barrels – but he doesn't have a vineyard. You'll find Fabian in Arzl in the Pitztal valley in the Austrian Tirol. And that's a place where vines can't grow. A conundrum, no?
However, as a consummate sommelier and wine maker, Fabian decided there was another way. So, in the early autumn when the grapes are pressed he tours the areas of Austria, in the eastern reaches of the country, where they do have vineyards. He chooses carefully and brings the young wines home to mature and eventually blends and bottles them. These he sells to hotels and restaurants in Austria and beyond and also, more importantly, in the WeinCafe he has created which extends from the cellar through an airy restaurant and out on to the terrace overlooking the steep valley and snow-topped mountains.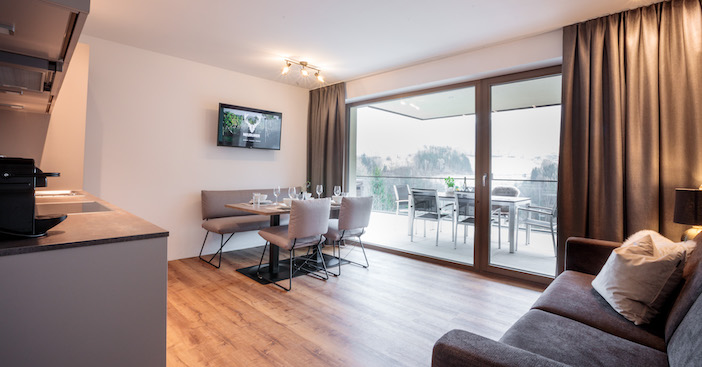 And, taking advantage of the views, Fabian and his wife Rabea have extended their empire with two vast apartments for guests to stay, one for up to four people, the other up to six. They each have a huge terrace with their own hot tub, an extremely well-equipped kitchen and floor-to-ceiling windows in the sitting room looking out at the village on the opposite side of the valley, with its tall-spired church.
You can enjoy authentic Austrian fare in the WeinCafe and, of course, the wine. A stay at Neururer includes a wine tasting and Fabian will take you through his wines and explain the finer points of blending. In fact, if you're feeling really thirsty, you could blend your own with him, create your label, choose your style of bottle and then have it delivered. As I say, though, a deep thirst is necessary as this is for a minimum of 600 bottles.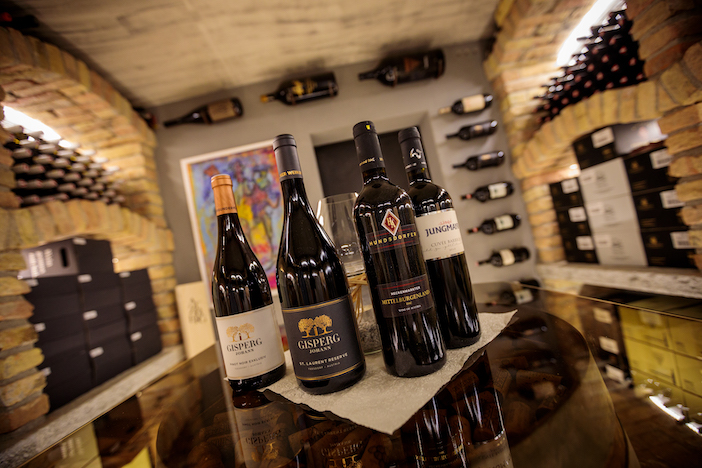 The Keller produces 40-50,000 bottles a year, or around 35-40,000 litres of wine. There are different grades of wine, some need seven years to mature, some even longer and some are best enjoyed while they're quite young. These young wines are called Tati's – this, it turns out, is Tirolean dialect for Daddy and Fabian's Dad (who frequently works in the WeinCafe) likes these the best. There's a white, a sparkling (frizzante) and a red. These wines are all relatively low alcohol, light, fruity and easy drinking.
The more serious range is Handwerk (handmade) and Fabian describes these wines as elegant and the perfect accompaniment to food. There's a white rose (called Rabea for Fabian's wife) that he describes as the perfect spring and early summer wine. Another, more startling in colour is the zesty Kalmuck Pink, and there are some serious Pinot Noirs and Sauvignon Blancs, too. Riesling is another grape Fabian loves – the crisp dry variety rather than the sweet version – and there are some very fine (and quite robust) reds and even a sweet digestif.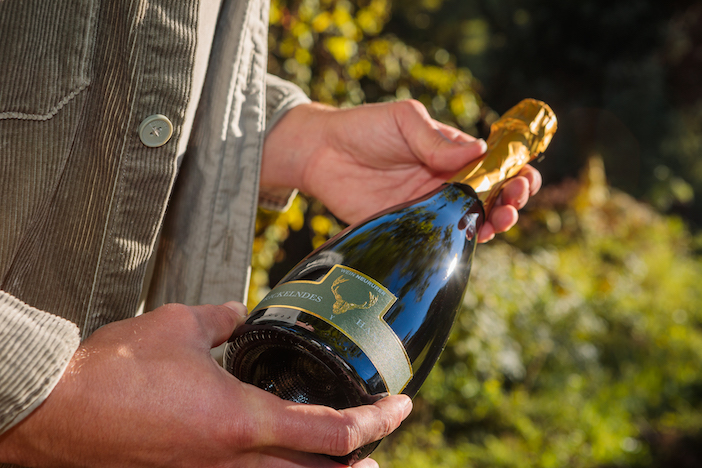 When you're not savouring the wine, this is a place to savour Nature (with that capital N). Hiking in the mountains (or you can rent a mountain bike) is a favourite Austrian pastime. And no wonder. The mountains are beautiful and with the first hint of autumn (this year it was in the dying days of August), snow appears on the tops. There are dense forests, pretty villages, scarlet geraniums spilling over wooden balconies, steep pastures with contented animals, their bells clanging occasionally as they move across the hillsides. There are wild animals, too, roebuck, whole herds of deer (I think I counted 12 grazing together), wild goats.
This is an area best known for its ski touring rather than downhill skiing but, from mid-September onwards, you can go skiing on the glacier. And, after a day in the mountains, whatever the season or activity, you can return to your terrace and soothe your muscles, while sipping a delectable wine and watching the mountains chase the sun down the valley as night descends.
Stays at Wein Neururer start from €490 for 3 nights for two people in one of their huge apartments, with views across the valley, a hot tub on your private terrace and wine tasting experience. For more information, please visit www.wein-neururer.at.