Designer Francesca Marotta's Sicilian heritage is at the core of her design aesthetic, reflecting the rich beauty, passion and romanticism of the place she loves – much like fellow Italians and designers Dolce & Gabbana, whose collections are always decorated with references and influences to the island they too adore.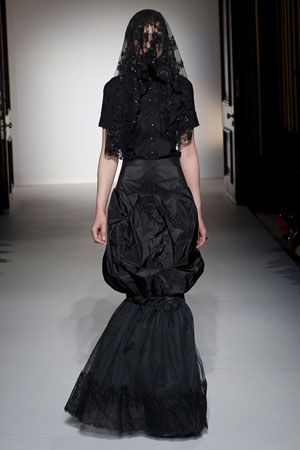 Marotta's conceptual style is both innovative and avant-garde, producing couture-like creations which wouldn't look out of place on a grand, operatic stage during a dramatic rolling melody. Having studied at The London College of Fashion and later establishing her own label, Marotta has showcased her collections around the world from Japan to Belgium, winning several awards including Best Young Designer – France (Nord-Pas-de-Calais) in 2003.
Not just a designer, Marotta is also an accomplished stylist and art-director having worked on various music and fashion projects including editorials for Vogue Japan, ad campaigns, music videos and on tours for artists including The Scissor Sisters.
Her first collection at London Fashion Week for SS12 set her apart as an emerging name to watch, with publicity material describing her as "A creator to the end of her fingertips" – the show was a combination of dramatic evening wear such as voluminous corseted gowns and more clean-cut tailored day-wear – both being extremely wearable though.
Her second season for AW12 was a much darker affair – 'Amore della mia Vita' (Love of My Life) paid homage to the expressive nature of love, loss and mourning, characterised by Sicilian widows. There was an edgy twist in the tale too, as luxe cashmere jumpers, wool coats with brocade sleeves and bulbous skirts hiding and restricting the female form suddenly made way for models with cinched in waistlines, silk mini skirts, and sheer blouses paired with leather skirts – rebelling against the oppression of women in Sicilian culture. Ornate lace also made an appearance in a revealing two-piece ensemble, a mini skirt and a face veil – a nod perhaps to the Sicilian tradition of embroidery and lace which is still given as a dowry during marriage. Audrey Fisher, costumer designer for hit US TV series True Blood, also referenced the Sicilian face veil in 2011, when she described the show's central character as "The Black Widow".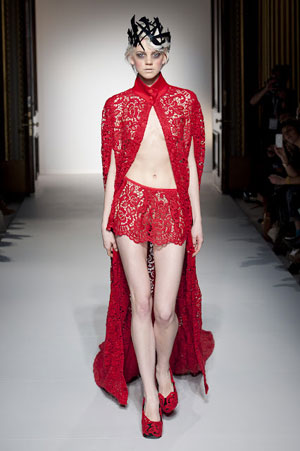 Lace continued to create effect in the finale of Marotta's AW12 show, which saw a model dramatically stumble on to the catwalk in a floor-length lace gown, with a crown of red thorns adorning her head and tears of 'blood' dripping from her eyes. It was reminiscent of the drama and spectacle seen in one of Alexander McQueen's provocative shows, complete with his obsession for gothic and religious undertones – and every bit as beautiful.
Marotta's vision is predominantly about expressing individual voices throughout not just the theme of her shows, but in the pieces she lovingly creates too. A statement-maker, her passions are central to her craft and design signature – what lies in her heart is what ultimately tells the visual narrative behind her creations.
For her forthcoming SS13 collection she cites her favourite photographer, classical music and ballet production as influences – the things she most adores, and as all great Italians would say, that's amore!
For more information, visit the website.