Joan Smalls, Mario Testino & Mercedes-Benz: It's a Joan-fest! Not only does supermod Joan Smalls appear as W Magazine's July cover girl and the face of Fendi's AW12/13 ad campaign, but now she's turned into an intergalactic rock chick, clad in a slinky black catsuit complete with fierce mohican for a new Mercedes-Benz commercial which fuses the three F's: fashion, fast cars and femme fatales!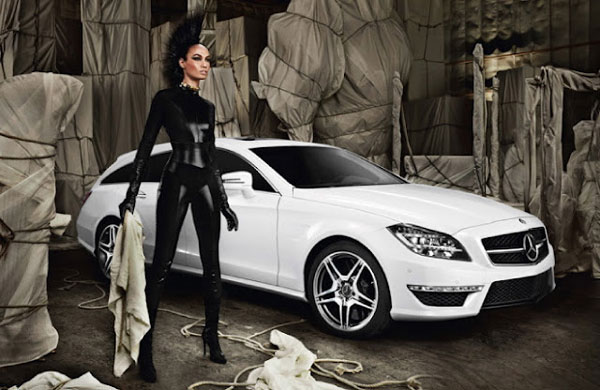 Shot by Mario Testino, Smalls appears in an underground warehouse cloaked in layers of sheets and ropes, preserved like a precious museum treasure, until she begins ripping away at her bindings. Once free, she discovers another object under a sheet which turns out to be a CLS Shooting Brake (that's a new four-door coupé, apparently).
As she jumps in her sporty ride, she realises her mohican is a tad too large, and opens the car's sunroof to make room for her spiky explosion of hair, before zooming off laughing. As Testino explains: "I decided to create a picture that tells a story of the most sought after objects and design that stay in history and are preserved forever; with Joan Smalls – for this campaign made up to be like some character from the future – taking the CLS Shooting Brake with her into the unknown and leaving everything else behind."
httpv://www.youtube.com/watch?v=4wSYlQzRMt8
Versace AW12, Mert & Marcus: Following on from their gritty, urban-esque, monochrome AW12 Jeans campaign which stars Candice Swanepoel and Dmitriy Tanner, Versace's AW12 men's and womenswear campaign uses a similar visual aesthetic.
Shot by Mert & Marcus (who also shot the Jeans campaign), model Elza Luijendijk is the face of womenswear, while Philipp Schmidt, Dmitriy Tanner (Versace's fave right now) and Kacey Carrig appear for menswear.
Styled by Joe McKenna with creative direction by Giovanni Bianco, these images are so strong and full of an edgy, sexy rock 'n' roll vibe, and I love how the boys have swagger, embracing tats and that punk-meets-hip-hop belt-loop chain detailing. Word!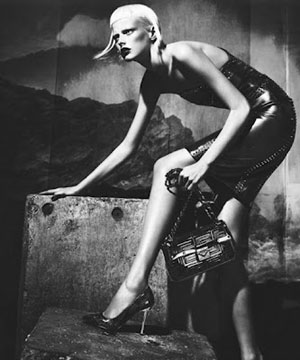 Charlie le Mindu & Larry Tee: Wigs & Wuffs! Video of the year for me (so far) has to go to "Charlie", the latest project from DJ, recording artist and notorious nightlife legend Larry Tee – the man who made Amanda Lepore a star and also introduced RuPaul, Peaches and Scissor Sisters to dance floors everywhere.
The hilarious video features 15 dogs in wigs styled by hairdresser extraordinaire, Charlie le Mindu, whose signature avant-garde haute-coiffure has graced the bonces of celebrities including Lady Gaga, Florence and the Machine, model Veruschka, VV Brown and The B52s.
Paying a hair homage to some of entertainment's most famous faces, the doggy styles include Chihuahua Del Rey, Madogga, La Ruff, Lady Daga, Stinky Minaj, Perros Hilton, Katy Puggy, and my personal fave, Kanine Kardashian!
Artist and cabaret performer Jean Claude Madhero also pops up chanting about Charlie being "a crazy chien", or at least I think that's what he's saying? Chien is of course the French word for dog, so that would make Charlie a crazy dog…ooh la la!
Anyway, that aside, the song itself is out now to download on iTunes and it's a true Larry Tee classic fusing his trademark electro-pop meets deep house club sound. Watch the vid below: Wigs and wuffs and some seriously cute posing!
httpv://www.youtube.com/watch?v=0wa54YvnpEs
Missoni & Havaianas 2012: Eco Flip Flops! For S/S 2011, two iconic brands, Havaianas and Missoni, collaborated on a unique collection which fused the Italian fashion house's signature bright zigzag prints, with the Brazilian brand's hottest flip flop styles. The result was a kaleidoscopic mix of shades and bold prints which injected some colour into summer footwear. And now, that relationship is heating up again.
"Missoni loves Havaianas 2012 Collection" is a new range of eco-friendly limited edition flip flops made from leftover pieces of rubber in the manufacturing process.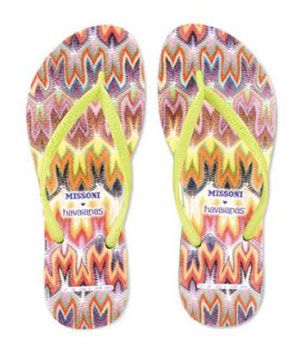 As Angela Missoni, explains: "For Missoni, the relationship with nature has always been a priority. Living and working closely in touch with the natural landscapes have inspired us to capture the seasons and its changing colours into our designs. At the same time, Havaianas is firmly concerned about reducing waste, re-using and recycling of materials. With this collaboration, it's indeed a perfect match of both our passions: fashion and respect for nature."
The collection is now available in stores and online.