So London Fashion Week is over for another season, and as we all adjust to walking at an average pace on the pavement as opposed to hurtling along on those Somerset House cobbles, here is my retrospective of the week where all normal life stops, and fashion begins.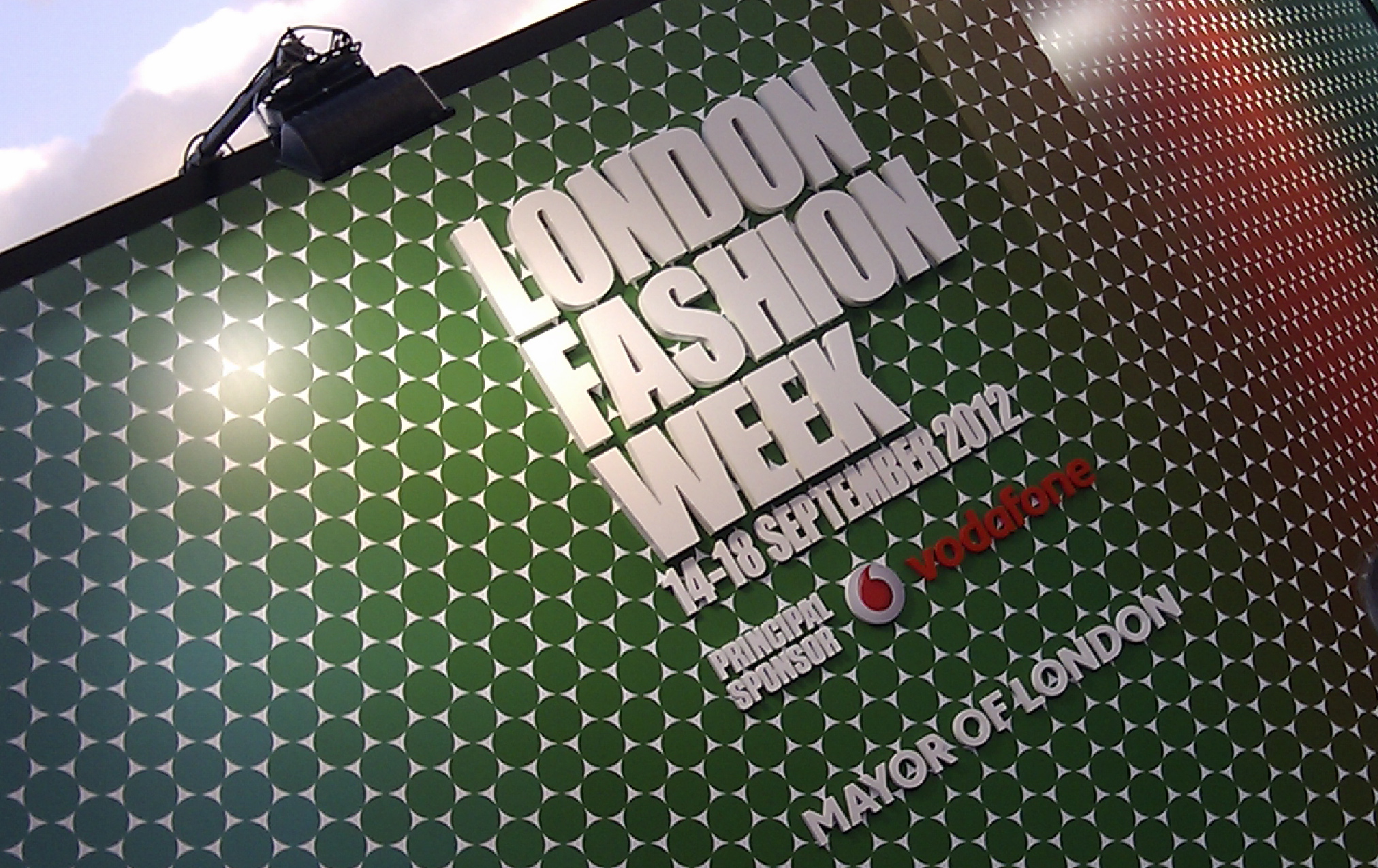 After Antoni & Alison kicked off the proceedings with a brass band to wake us all up at 9am (thanks for that), the courtyard at Somerset House began to play host to the usual mix of editors on the hoof between shows; tourists accidentally wondering in off the street with dazed expressions, and street style photographers snapping the plethora of people who come to see and be seen – yes I'm talking about those of you dressed like you were auditioning for a part in TOWIE; off to Ladies Day at Ascot or attempting to channel any 80s avant-garde electro-band meets a Visage video (think face veils, zig zag make-up, pointy shoulder pads, capes, studs, headpieces and a stern glare with a slight pout) – dressing like this will just make the rest of us laugh at you, and write about you. As one baseball cap slogan I spotted said, "That sh*t is cray cray".
But I jest, where would LFW be without those fashion misshapes to contort our faces in confusion at as we wait for shows to start, and yes this season, they were still on average about 15mins late and seats were still occasionally hijacked by people pretending to be someone else (until the PR asked them to move), and on that note, to the girl who wouldn't move her dead piece of animal skin (fur coat, obvs) to allow me to sit down comfortably rather than hang precariously off the edge of the bench at the PPQ show, YOU WERE IN MY RESERVED SEAT ANYWAY!!! But I'm over that now.
So, moving on to the more important stuff; the trends that came out of this season – and there were many, my particular favourite being the oversized biker jacket (we're talking boyfriend size), in all sorts of prints. From House of Holland's 90s grunge-esque pastel paint splattered version to Mulberry's pretty floral print – I want them all.
Block colours were also out in force, as seen at Kate Phelan's Topshop Unique show, David Koma, PPQ, Roksanda Ilincic, Jonathan Saunders and Paul Smith.
See-through fabrics mean more peekaboo moments for next Summer, with sheer bodices at GILES; Erdem's transparent fabrics with delicate embroidery; Christopher Kane's lacework and sheer panels fused with sugary pastels on feminine silhouettes; John Rocha's double-layer sheer skirts in pale tones and Mark Fast's disco-inspired show which went for bodycon shapes and risque sheer detailing.
Metallics also bring a shimmery edge to next Spring/Summer as the iconic Buberry trench was reworked yet again, this time in a Quality Street foiled colour palette of purple, pink, blue, green and lilac; and also seen in the metallic embellishments at Matthew Williamson and Zoe Jordan's metallic leather sport-luxe dresses.
Prints were everywhere, from floral (Clements Ribeiro, Mulberry), to snakeskin and leopard (Felder Felder), as well as geometric, hexagonal (Marios Schwab), digital, graphic, retro and tribal ( Sass & Bide, Moschino Cheap & Chic) – all either fused or clashing with rich colours or pops of brights, also seen at Peter Pilotto, Holly Fulton and Issa (who went totally tropical on us) and Louise Gray. House of Holland's hypercolour tie-dye injected some Nirvana-meets-Ke$ha teen spirit into an NCP car park in Soho; while PPQ returned to the 60s with paisley print mini dresses and classic nautical navy and white striped dresses teamed with oversize hats (think Brigitte Bardot meets the French Riviera) – yes stripes are still in for SS13, but this time thick and horizontal.
Interesting embellishments and detailing I spied included fringing and tassles at Marios Schwab and plastic fantastic, as seen at Christopher Kane and in Holly Fulton's mix of lightweight silks and leathers intertwined with heavy duty plastics.
Shapes you'll be wearing next Summer include a mix of high-low skirts and shift dresses as seen at Richard Nicoll; exaggerated sleeves (think bell, blouson and balloon), seen at Mary Katrantzou, Burberry and GILES; slouchy trouser suits (Topshop Unique and Felder Felder); mini dresses and slip dresses (seen everywhere); oversized shirts (House of Holland and Maarten Van Der Horst); loose-fitting denim like the floral dungarees seen at Kinder Aggugini; and then basically anything with a sporty edge (we just won't let the Olympics go will we).
Altogether the mood for SS13 was about wearability. Unless of course we're talking about Meadham Kirchhoff who referenced the opulence of 18th/19th century Paris, with a Mickey Mouse t-shirt thrown in for modernity's sake. Flirty and fun, but only if you're off to a fancy dress party.
Talking of lavishly over the top, one of the shows I would've given all my limbs to see was Philip Treacy, but the invite obviously didn't arrive in time (read, I was never invited). The show, opened by Lady Gaga in a fuschia burka (which was all a bit Isabella Blow-like), and attended by music icons such as Grace Jones, was an homage to Michael Jackson, with the all-black model cast wearing original MJ costumes, including his iconic 1983 'Thriller' jacket. Hats had an architectural edge and featured mohawk helmets with Swarovski embellishments; a Neverland crown; a smiley face (think Aciiiiieeed) and a show-stopping LED-lit body cocoon. I thank Nick Knight's SHOWstudio yet again (I did it first time round on Twitter) for the amazing shots he tweeted on the night from backstage at the show. Jealous doesn't cover it. Just in case you weren't also aware, the MJ wardrobe on show was presented as part of a world exclusive, before the outfits join a collection due to be auctioned on 2nd December in Beverly Hills, California.
But back to the shows I DID attend, and New York retailer Rag & Bone launched their new Sloane Square store with the help of someone called Anna Wintour, while outside a makeshift tent in the middle of the square, a huge crowd of fashionistas gently elbowed each other to make it into the first of 4 presentations for the new SS13 line. Made up of loose, soft cottons teamed with leather trousers, jackets, hooded tops and skirts in a mix of neon brights – it was sport luxe at its best, and I completely fell in love with the lime green leather biker jacket which I'm sure comes with a not very loveable price tag. New York socialite and fashion icon Olivia Palermo also stood just inches in front of me looking immaculate as always and making me wish I had her legs, face, hair, etc etc.
But back to Somerset House, and Bora Aksu's show drew inspiration from Queen Victoria's grand-daughter, Marie, who became the Queen of Romania in 1922. On a colour palette of blue – from royal blue to bluebell – lightweight floaty chiffon dresses and skirts with flower motifs and vines were teamed with nude tights featuring the same motif, while models wore messy beehives and hair crowns (which to be fair looked ever so slightly painful). An ethereal, delicate and nostalgic mix, beautifully accessorised with Bracher Emden's neon handbags.
My other highlight (LOVE) was Ashish, which I look forward to every season, and for SS13 Ashish Gupta didn't disappoint. It was the usual signature sequin affair – but this time with an 80s/90s 'geeky' vibe with deliberately mismatched outfits. Sloppily styled shirts and oversize tees with a scattered number print and slogan emblazoned knits were teamed with patchwork baggy light blue denim jeans or cotton tracksuit bottoms – patchwork as in one leg was pasted in sequins or two shades of different denim or denim and cotton – always with one leg rolled up. A half denim/half black sequin biker jacket with matching jeans (half and half) almost made me squeal in delight; and the cut and paste denim shirt/denim jacket mixes looked quirky, crazy and totes cool.
Sequin vests, sweaters, mini skirts and dresses were backless and armless, the skirts following the same patchwork denim and sequin mix – only a pair of cute sheer polka-dot trousers and the floor length fitted sequined gowns in pale peach and midnight blue broke up the beautifully dishevelled looks – all of which were accessorised with worn-in reebok trainers and mismatched sequin socks as each model's hair was scraped messily back in a sequin scrunchie – yes I said SCRUNCHIE!! No longer just for bad hair days (indoors where nobody can see you) and Mum's on the school run – Ashish have officially brought back East Street Market hair accessories circa 1996, and everyone's school days. The highlight of the show was a sparkling yellow gold rectangular-sequin embellished tracksuit which had everyone's iPhones and cameras papping away, and as the show drew to a close, a sequin white knit with the slogan Très Fatigué summed up how most of us were feeling.
Goodbye London Fashion Week for another season, and goodbye to the man who shall remain nameless (because nobody knew who he was??) who positioned himself outside Somerset House and hollered "You look ridiculous" at various people. See, fashion CAN be fun!