Stylist Alexa Taylor shares her fashion diary from this year's Amber Lounge fashion show in the glitzy heart of Monaco.
Monte Carlo is decadent, glamorous and host to luxury boutiques; Chanel, Salvatore Ferragamo, Valentino, Christian Dior and Louis Vuitton, to name but a few. It is also home to the Amber Lounge Fashion Show, which is held around the pool of Le Meridien Beach Plaza Hotel, where the world of fashion and the famous F1 Grand Prix collaborate for an evening of glitz and glamour.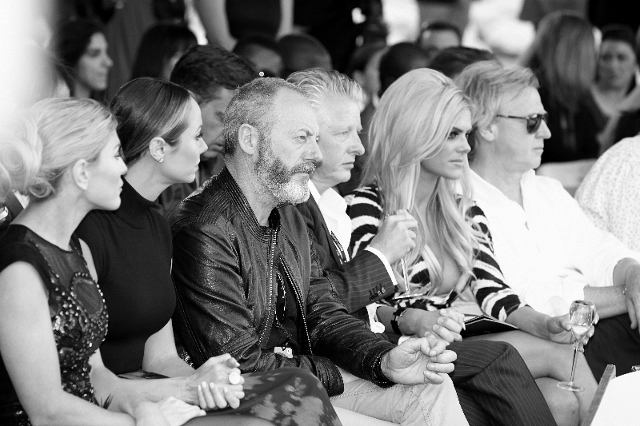 The Monacan Runway has previously been graced with designers including Matthew Williamson, Hugo Boss, Herve Leger, and Jimmy Choo; this year the line up featured Pal Zileri, Aennis Eunis and Andrew Gn.
Sitting in the back of a chauffeur driven Mercedes (a local Monte Carlo taxi) along with fashion photographer Victor De Mello – both gazing out through the tinted windows at the extravagance that is Monaco – we arrived at the hotel to watch the exclusive show.
Backstage, models were being transformed from "off-duty" into "catwalk" whilst outside by the pool, guests such as Tamara Ecclestone, Rachel Hunter, Hofit Golan and Amanda Holden were arriving and taking their seats. Victor (along with his camera) went to mingle with the media madness for a celebrity shot or two, while I wandered towards the poolside to find a pew.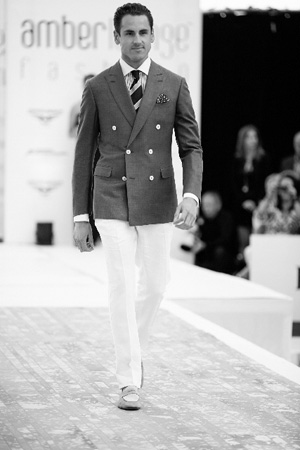 Stacy Kielber – yes, George Clooney's wife – hosted the 2013 Charity Fashion Show, benefitting the Nelson Mandela Children's Fund. There was a bid, raising a huge €14,000, to be one of the very first to drive the new Rolls Royce Wraith Coupe, which was sitting elegantly in the Cocktail Bar.
As it was the Monaco Grand Prix weekend, it seemed only natural that the F1 drivers were out and about in Monte Carlo, but for just one night only they had turned into delectable catwalk models, strutting their way down the fashion runway wearing designs by Pal Zileri.
Andrew Gn's Collection looked effortlessly chic, elegant and luxurious as gowns of exuberant colours sashayed down the poolside catwalk. Andrew Gn is renowned for his ornate embellishment, a love of plush fabrics and defined by exquisite detailing. He began his career assisting designer Emanuel Ungaro before creating his own magnificence, which attracts international clientèle including European royalty, Beyonce, and Eva Mendes.
After the show, whilst fizz-sipping in the champagne bar, I had the pleasure of chatting with the affable Andrew Gn. We spoke mostly about his plans to tour Nice and its museums whilst on the Cote d'Azur; Parisian fine dining and how we both like to savour a Mojito, which just so happened to be on the evening drinks menu – "Deux mojito s'il vous plait."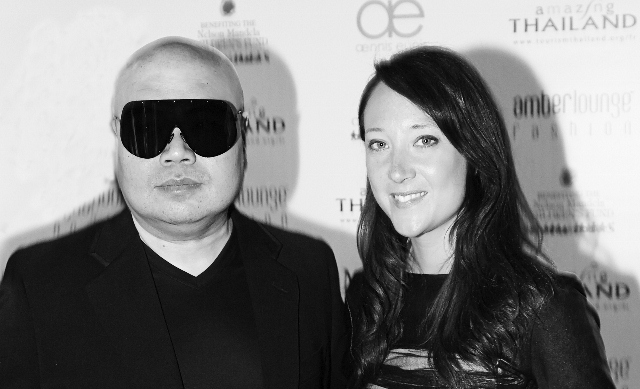 Champagne and cocktails were followed by a 3-course culinary delight – I opted for lobster, sea bass and a dark chocolate and raspberry dessert. Dinner was served along with copious amounts of fine wine, whilst sitting on a terrace overlooking the lavish Rivera – heavenly and hello merriment.
Along with a few other guests, we decided to swing by Monte Carlo's harbour for a nightcap before sauntering back to our hotels and to bed. With the suggestion of a nightcap now in mind, I was imagining a moonlit deck, with luxury loungers where one could de-heel and indulge in a Boulevardier cocktail – well, that's not quite how the evening ended – picture a multi-million pound super yacht, wild deck dancing, flying acrobats, opulence and revelry 'Quand en Monaco…'
Photography (c) Victor De Mello
[wzslider]