"For me, hats aren't an accessory, they are the raison d'être of an outfit. They don't just make you look pretty, they take you somewhere else; they can change, destroy and create emotions."
His avant-garde creations have graced the heads of style icons including Madonna, Boy George, Grace Jones, the late Isabella Blow, Dita von Teese, Kylie Minogue (for her 'Showgirl' tour), Alison Goldfrapp (during her 'Black Cherry' phase), Bjork, and Cate Blanchett in the film Elizabeth: The Golden Age. His designs have also bobbed down the runways of shows including Marc Jacobs, Thierry Mugler, Balenciaga, Vivienne Westwood,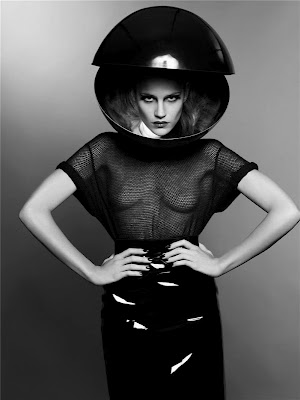 Dior, Galliano, Giles Deacon and Comme des Garçons, to name just a few.
Yes, I'm talking about Stephen Jones. One of the world's most radical and influential milliners, who Anna Piaggi of Italian Vogue describes as "the maker of the most beautiful hats in the world" and Hamish Bowles of Vogue US calls "a deft conjurer who can draw whimsy from a hat…His genius is to enhance the mystery, allure and wit of the wearer".
Jones is the man whose innovative and fanciful hats cross the outré spectrum from Ladies Day at Ascot to eccentric tea party to the Regency period, to an Alice In Wonderland-esque 'Mad Hatter' meets Schiaparelli-like surrealism (remember her 'Shoe Hat'?).
His outlandish aesthetic has also seen him collaborate with Perrier-Jouët to design a personalised, limited edition leather hatbox and matching hat – and launch a fragrance in collaboration with Comme des Garçons in 2008, featuring the bottle housed inside a miniature hat box with whimsical black netting.
"Some designers, even though they may have a sense of humour, send out very 'serious' clothes," Jones told The Telegraph in 2008, "because they think it will make them be taken more seriously…but I choose to work with the one's who don't think like that."
His explosion onto the fashion scene came in the late 70s where he was a student at Central St. Martins by day, and a regular at the legendary Blitz Club in Covent Garden by night, decorating the heads of contemporaries such as Pam Hogg, Boy George, Midge Ure and Steve Strange. Jones undoubtedly helped define the New Romantic movement, with commissions from popular bands of the era such as Visage and Spandau Ballet.
His contribution to fashion since then has earned him various accolades including "Outstanding Achievement" award at The British Fashion awards; his own postage stamp from The Royal Mail, depicting one of his iconic hats, and an OBE in 2009.
In the same year a display of over 300 hats (entitled Stephen Jones: An Anthology) was exhibited at London's V&A Museum, where he explored the life-cycle of a hat from its point of inception to its final incarnation atop the wearer's head. The display included pieces such as Queen Victoria's bonnet, a fedora worn by Mick Jagger and Marlene Dietrich's beret.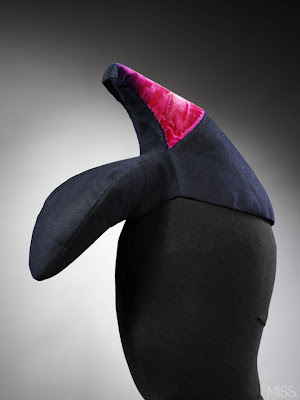 The display attracted over 100,000 visitors.
His hats are often inspired by historical archives, artefacts, paintings or photographs, fusing inspiration from relics of the Renaissance, cluttered Victoriana, the glamour of the 1930s and the 'swinging sixties.' Dubbed 'the most original milliner working today', his work is represented in various permanent collections including the V&A, the Louvre in Paris, The Fashion Institute of Technology and the Kyoto Costume Institute, Japan.
Now in a new exhibition at The Bowes Museum (which recently hosted a display of Vivienne Westwood shoes), more designs from his archives can be seen up close and personal.
The exhibition runs from 19 May to 2 September, for more information, visit the website.