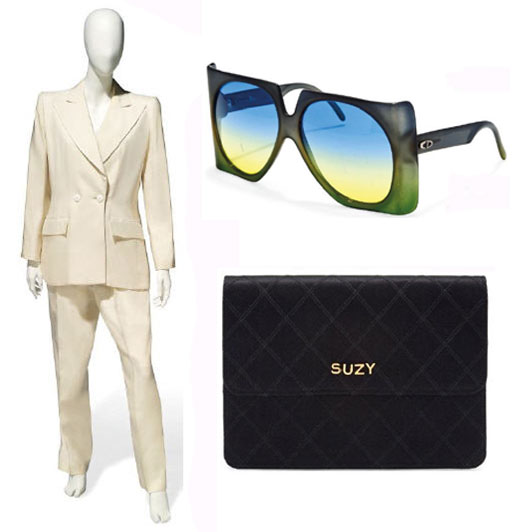 "I have never thrown anything out of my wardrobe since 1964.  If I had a large open space in my home, I would dedicate it, like an art gallery, to my collection. But there is something sad about clothes laid in a tomb of trunks."
So says Suzy Menkes, doyenne of the fashion press, who will be auctioning off some of her personal wardrobe archive via Christie's online from July 11th for two weeks.
Featuring over 80 lots from Chanel and Lacroix (sweetie dahling) to Yves Saint Laurent, Pucci and floor-sweeping gowns from Ossie Clark's 70s heyday, the auction ensures any buyers will be purchasing a piece of fashion history – that's if you can get your hands on anything before it's going going gone!
Menkes follows in the footsteps of muse and style icon Daphne Guinness, British designer Vivienne Westwood, English model Erin O'Connor and the late Grande Dame of fashion, Anna Piaggi, who have all sold pieces from their eclectic and extravagant personal style archives at Christie's.
Speaking about the pieces to be auctioned, Menkes said, "They need to live again and this auction provides the opportunity for them to walk out in the sunshine, to dance the night away and to give someone else the joy that they gave to me."
The Suzy Menkes auction will run online only from July 11th – July 22nd, with clothing and accessories starting at £200. For more info on how to bid head to Christies.co.uk.