Swedish Hasbeens has been creating innovative and reworked retro takes on the traditional Swedish clog since 2006, using natural and sustainable materials loved by celebs including SJP and Maggie Gyllenhaal. It's also a label renowned for its distinctly retro-vibe campaigns, and its SS12 collection is no exception, with a lookbook inspired by classic sports shoes of the 40s and 50s, such as the saddle shoe, driving shoe, bowling shoe and beach sandal – styles synonymous with sporting heroes and worn by men and women alike.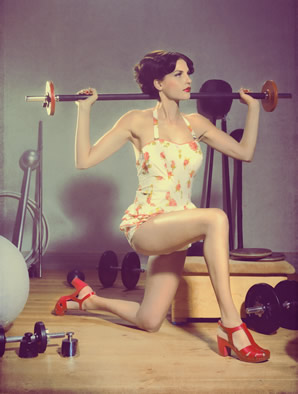 The collection was inspired by American athlete Wilma Rudolph, who championed women as a competitive force within sport, and was also considered the fastest woman in the world in the 60s (not in her heels though). Rudolph made sporty chic accessible and a part of active life from the 40s onwards. This new unisex line also marks the first time Swedish Hasbeens has offered styles for men. "We must never forget what sport has meant for the equality of women and men and how it still makes us stronger in body and mind," says Emy Blixt, designer and creative director for the label.
For SS12 the brand has also upped the ante to include accessories such as leather belts and bags inspired by vintage bowling bags in classic shades of pillar red, dark blue, white and on-trend right now 1950s American diner-inspired pastels such as bubble gum pink, baby blue and mint.
Look out for the pop-up shop coming to Selfridges shoe lounge starting from March 27, and in the meantime, you and I can head to their official website here.
"Never underestimate the power of dreams and the influence of the human spirit. We are all the same in this notion. The potential for greatness lives within each of us." (Wilma Rudolph 1940 – 1994)