If you have not yet checked out the Louis Vuitton / Marc Jacobs coffee table look-good – produced in conjunction with the Musee des Arts Decoratifs exhibition – then here is your chance to see inside the beautifully presented tome, which chronicles the story of two iconic designers who in their own era's, have created a global fashion brand.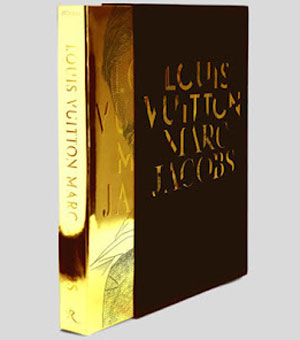 Written by Pamela Golbin – the curator of the exhibition – the book is split into two parts: the first chronicles Vuitton as a pioneer who transformed a small artisanal company into the leading supplier of luxe-travel goods, supplying Parisian high-society in the late 1800s. Never-before-seen pictures of the designer's early works are included.
The second half of the book focuses on Jacobs after he joined the company in 1997 as creative director, introducing a fashion line and various collaborations with contemporary artists and creatives, including Takashi Murakami, Richard Prince and Stephen Sprouse. Jacob's vision and talent without doubt altered the direction of the historic brand, and continues to do so today. For example, the recent AW12 catwalk show at Paris Fashion Week raised the bar as far as fashion visual spectaculars go.
Inspired by the golden age of rail travel, models descended from a real train, liveried in navy and gold, built especially for the show – while white-gloved porters followed behind the models, carrying their luggage, naturellement. Watch it here. The train is rumoured to have cost $8 million – not bad for a label that started off from humble beginnings in a small workshop in 19th century Paris, and now has a yearly turnover of £5.42bn.
The book is available to buy online and in stores across the UK now. See a further preview inside here.