Selling a holiday in Lanzarote to my 2-year old daughter, Rosie, was easy. After all, what toddler turns down an adventure to an otherworldly island where fiery red volcanoes crown secret cave networks and fish-filled rockpools skirt kaleidoscopic beaches? Job done.
Surprisingly, it was my well-travelled friends which proved harder to persuade, misguided by visions of package tours and uninspiring dusty landscapes. What can I say, sometimes the kids know best.
Sure, traces of 'Lanzagrotty' can be found in the island's biggest resorts, where English fry-ups sit alongside uninspiring hotel complexes. However, Lanzarote has managed to brilliantly contain this outside influence, leaving the island's epic mountain ranges and verdant valleys peppered with traditional towns, where endless whitewashed walls are broken up only by neat blue windows, with locals hanging out, watching the world go by. Leafy town squares ebb and flow with neighbours meeting for leche leche coffees (or 10am lagers), and at the weekend, the town centres become an explosion of colour as the markets descend, selling everything from silk scarves and jewellery to freshly caught fish and local wine.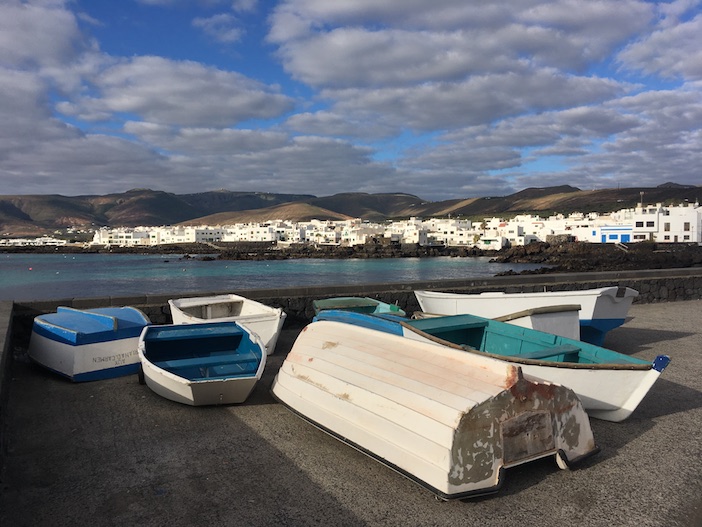 Last year, we were based in the south, first in Playa Blanca and later in the upmarket yachtie enclave of Puerto Calero. In a bid to escape the clutch of the resorts, we spent our days scaling volcanoes at sunrise, engulfed in Timanfaya National Park's towering lava beds and embarking on mountain treks. The days filled themselves, and somehow all of the cultural tourist attractions that we had planned on visiting, were neglected. A return visit was in order.
This year, we were turning our backs on the tourist-heavy south and heading north, to the laidback fishing village of Punta Mujeres.  If you have a grasp of Spanish, you are probably wondering where the name comes from. Roughly translating as Woman's Point, Punta Mujeres' volcanic shores were once the meeting point for fishermen's wives, who would teeter on the tip of the craggy coastline, eager to glimpse their seafaring husbands in the raging Atlantic.
Today, they wait no more. Instead, the local women can be spotted at dusk, bobbing around in the natural swimming pools, which fill with the tide, or prancing around the rockpools which garland the village, picking off limpets at dawn and harpooning their lunch.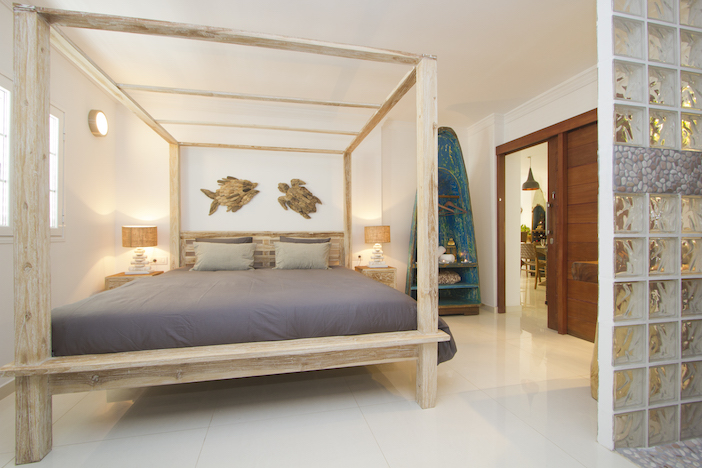 Despite the town's whitewashed walls echoing almost entirely local accents, this peaceful sliver of coast is now home to a handful of upmarket holiday rentals. Lured in by its Ibiza-style roof terrace and premium seafront plot, my first Lanzaroteño home from home was Driftwood, one of the newest apartments in the family-run Lanzarote Retreats' portfolio. The sun-drenched two-bedroom apartment is a stone's throw from the village's centre (if it has one), with the main pool and a handy bar just two minutes' away.
Inside, the modern interiors are centred around uninterrupted sea views, which announce themselves each morning with a spectacular crimson sunrise. Nautical references give a nod to the location throughout, from the statement stone bath overlooking the sea and the upturned boat-cum-wardrobe to playful driftwood artwork aplenty. My favourite thing about Driftwood was the constant sound of the sea, detectable throughout the night from the four-poster bed – oh, and watching burly men wrestle fish from your bathtub is always a novelty.
Despite feeling well and truly off the tourist track, Punta Mujeres is just ten minutes' drive from some of the island's most popular cultural attractions. In fact, Jameos del Agua, the epic creation of Lanzarote's prodigal son, artist and architect Cesar Manrique, is walkable, via a scenic 45-minute amble. Winding its way through coastal lava beds it takes in tiny white beaches peppered with rockpools.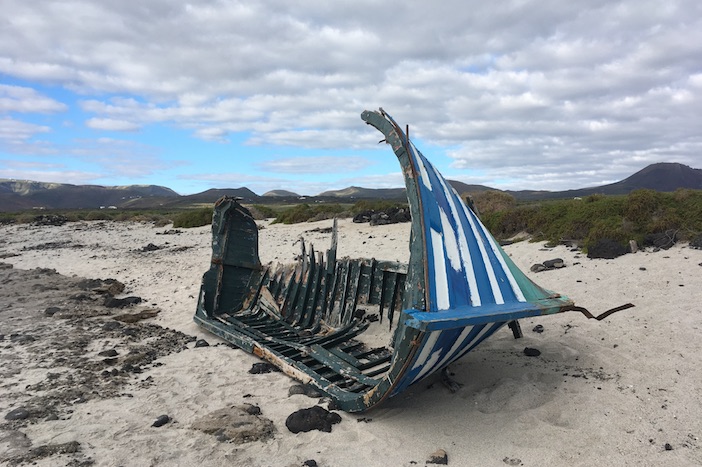 For those wondering how idyllic villages like Punta Mujeres have retained their traditional aesthetic in the face of mass tourism, the answer is Manrique. The infamous artist returned to his beloved island just as the sixties' package tour boom was kicking off – just in time to ban billboards, limit new buildings to three-storeys and encouraging the traditional whitewashed exteriors and blue and green detailing which fills even the humblest of villages with authentic Canarian charm.
Manrique was passionate about embracing Lanzarote's unique landscape and creating buildings and artworks to work in harmony with it. Of all of his creations, for me, Jameos del Agua illustrates this best. The cavernous attraction sits within one of the world's longest volcanic tunnels. Created by the eruption of La Corona, the subterranean property now displays a one-of-a-kind 600-seat cavernous auditorium, a restaurant, a café and a lake with thousands of rare albino crabs – it is the darkness of the grotto which saps their pigmentation. However, the crème de la crème of this magical oasis is the curvaceous white pool, cocooned by a lush living walls of palms, cactus and fig trees. On my first visit to the attraction, aged twelve, I declared it the most beautiful swimming pool in the world. I stand by this decision – as I said, sometimes the kids know best.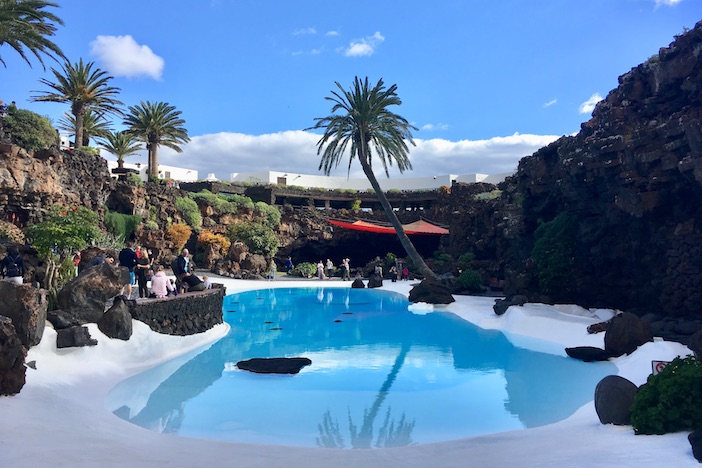 Further along the tunnel sits the Cueva de los Verdes. In the sixteenth and seventeenth centuries, the now famous caves were a secret hideout for locals seeking refuge from the island's endless pirate invasions.
Above ground, Mirador del Rio takes Manrique's work to new heights, literally. Perched 400-metres above sea level, hovering over the area's creamy white salt plains, the spectacular lookout dominates El Rio, the stretch of sea which separates northern Lanzarote from the neighbouring island of La Graciosa. In typical Manrique style, Mirador del Rio's facade gives very little away, but once inside, vast panoramic windows frame uninterrupted views of lesser developed La Graciosa and some of the smaller islands which make up the Chinijo Islands National Park. Situated even higher is an eerie ancient military base that dates back to the end of the 19th century. An off-piste exploration on foot revealed underground tunnels, army bunkers and some of the island's best views.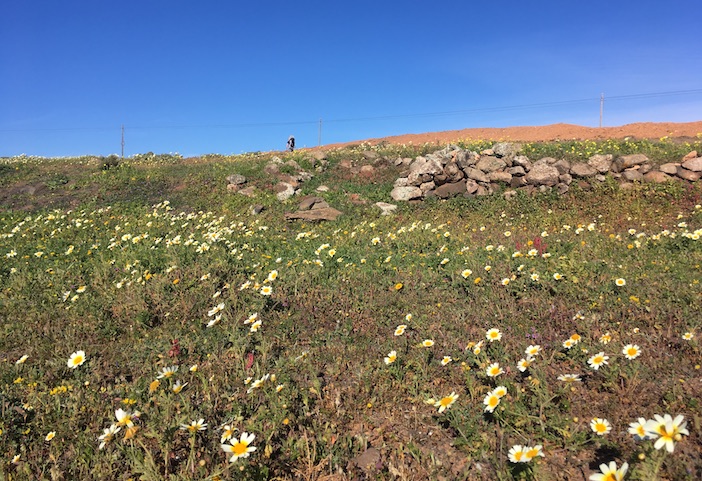 When we caught Rosie picking a rogue flower, we began to launch into a lecture on how precious blooms are to such an arid island. We were met with a baffled face, "but Lanzarote has lots of flowers Mummy?" Taking a closer look at the island's infamous sun-parched land, I couldn't help but laugh as my eyes focussed in on thousands of tiny wildflowers; white, pink, purple, yellow and every hue in-between. Each bloom was so tiny, it was almost invisible to the naked eye… at least to short-sighted grown-ups. Oh, to see the world through a child's eyes.
Prices start from €1190 per week, based on 2 guests (including VIP airport transfers and exclusive use of a courtesy Toyota hybrid car). Guests are welcome to use the family-friendly facilities at the nearby Finca de Arrieta eco resort. For more information on Driftwood or the family-run Lanzarote Retreats portfolio, visit www.lanzaroteretreats.com.
Photos by the author.