More of a Bob Mortimer than a Paul Whitehouse, Nick Harman tries his hand at that most artful of country pursuits, fly fishing, in the Hampshire countryside…
'That's okay,' says my instructor at Fishing Breaks, as he patiently rescues what's left of my line from the embrace of a weeping willow some distance behind me, 'I have more flies'.
I feel bad though as he has only just shown me his collection of hand tied fishing flies;  boxes and boxes of works of art, all the result of infinite patience and microscope-quality eyesight. My clumsy attempt at casting got a good one lost. I need to learn more.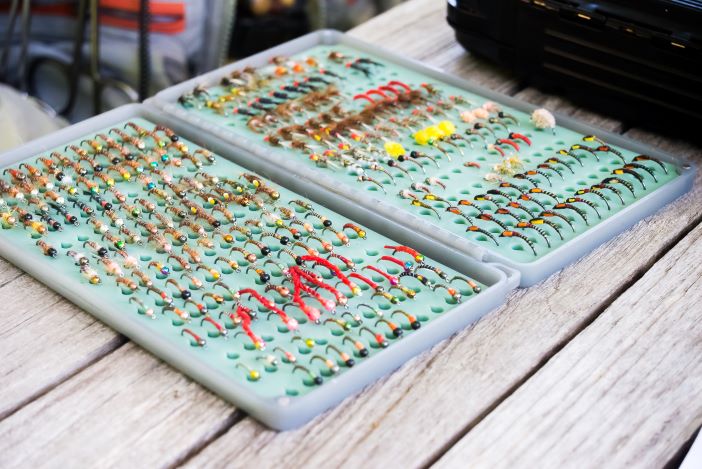 I've already learned that they aren't actually all 'flies' at all. Some mimic the 'nymphs', the non-adult flies, some mimic beetles and grubs, and some don't mimic anything, they are just designed to pique a trout's interest.
An experienced fly fisher person will have a good idea of what kind of fly to use depending on the time of year, the local insect types, time of day, weather conditions and many other factors. Or they may just use their favourite fly, or the currently fashionable one.
And did I mention choosing dry or wet fly? A dry fly floats on the water whilst a wet fly slowly sinks, as if in distress. The fish have their preferences, it's all a bit complicated.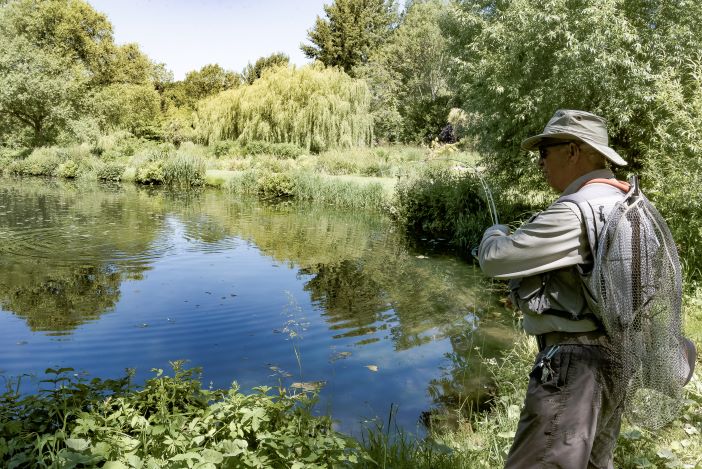 First though you have to get your fly out to them and, as I found out, that's not easy. Here at Nether Wallop Mill, Hampshire by the joyful Wallop Brook though, there's plenty of grass around the millpond for me to be schooled in the art of casting without further troubling the fish or the trees.
The flies of course weigh nothing, it's the weight of the main line that gives you the ability to cast. The fly is attached to the heavy line by a short thin transparent line, the 'leader'.
I practice diligently under my tutor's gaze while listening to his expert advice. It's not strength, it's technique. Lay out some line on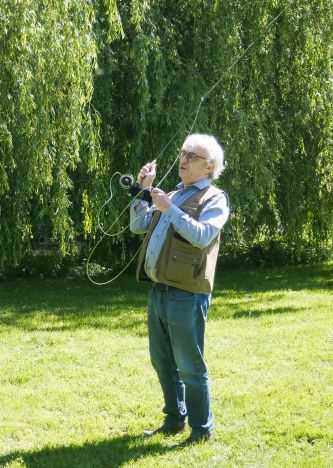 the water/grass, pull some slack from the reel and hold in your left hand, whip the incredibly flexible carbon fibre rod back over your shoulder, pause and crack it forward releasing the left hand line at the right moment.
The whole lot hisses out to land on the water as far away as you have let out line. It's not about delivering like a tennis ace, using the whole arm, but using a sharp and measured forearm and wrist action. Gradually I start to get the fly out on the grass, rather than around my feet.
A debrief, and a cup of tea, in the fully-equipped thatched fishing hut, and then down to the millpond. We stand in the shade and watch trout rise and swirl all over. Using a floating fly, I eventually drop it in a good spot, I can almost hear the fish laughing at my wishful thinking though.
No joy, so retrieve and cast again, and again, and again. It's a soothing routine and I am almost zoning out when my tutor suddenly shouts 'hit it!' – he has seen the fish take the fly. I arch the rod, feel the weight and then the fish is off across the pond as if I've snagged a speedboat. It's exhilarating.
The reel purrs as it rapidly lets out line; you don't fight the fish, instead you try and tire it out and slowly reel it in when you get some slack. Pulling on the fish, as if you were hauling up an abandoned shopping trolley, will lose you your catch.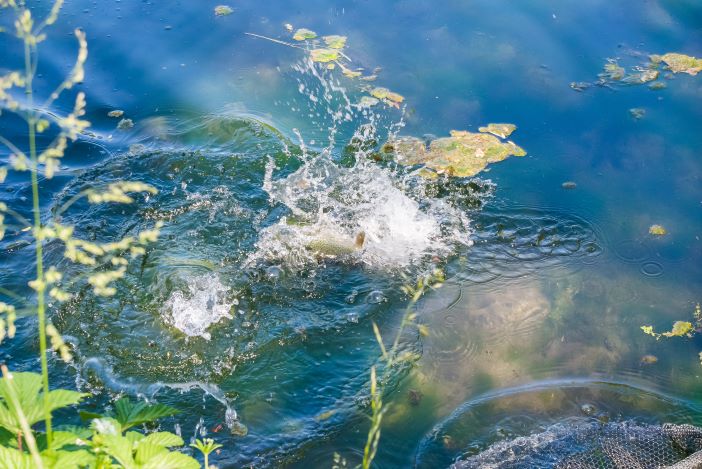 I of course forget all this in the excitement, instead I try to pull, and suddenly the line goes slack. The fish is gone. What would Whitehouse say?
Over the course of the morning though, I get pleasingly better at my casting and accuracy, but twice more I lose a hooked fish at the last minute. One time my guide reckons his knot gave way, so it's not my fault, which is perhaps just him being kind.
We try using both dry and wet flies often using magic ingredients from my guide's impressively equipped waistcoat to 'dress' the flies, for example to repel water so that they float better.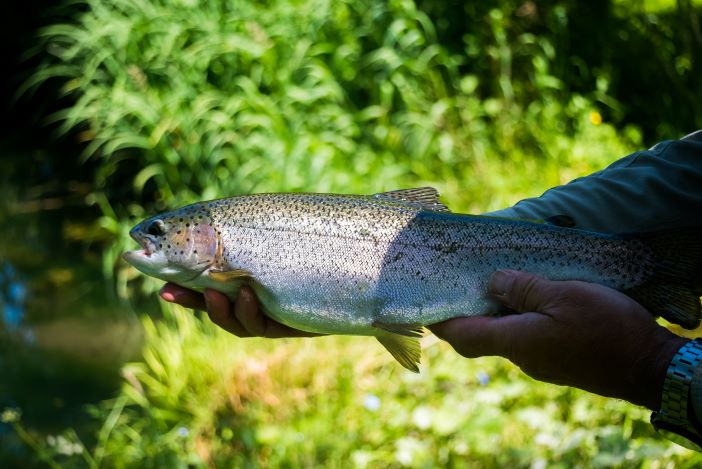 Finally we get a whopper, well it is to my eyes, and actually land it. We admire him and then I'm asked if I want him for my tea? It's okay to take the caught fish from the course, but I can't do it, I can't have him killed. We hold him under the water, he recovers and with a quick kick of the tail shoots back into the depths. Good for him.
It's time to call it a day, to go home and explain to my wife why I didn't bring home the fresh trout she was looking forward to. I hope she understands that it was the fun of learning a new skill, the pleasure of being at one with nature, the beautiful scenery and the random excitement that made my fly fishing such a glorious day out.
Yes, I am hooked.
If you're not interested in fishing but want to learn the fascinating story of chalk streams, then Fishing Breaks offers an alternative morning out, The River Walk. 

Our chalk streams have been likened to rain forests or Great Barrier Reef. 85% of all the chalk streams in the world are here, mainly in the south and east, and they stretch from Yorkshire through East Anglia, the Chilterns, Kent, Hampshire and Dorset, and are vital for our biodiversity as well as beautiful.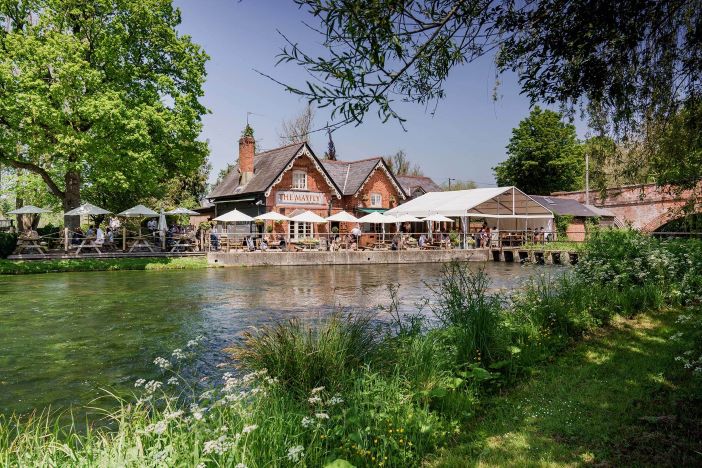 Meeting in The Mayfly pub on the river at Chilbolton first for coffee and an illustrated talk by Simon Cooper, an acknowledged expert whose enthusiasm is infectious, you then travel out with him to visit local chalk streams and meadows, many of them not usually open to the public.
En route you get to watch and meet the men who keep the weeds down using traditional methods, see the old systems at Wherwell Priory that created vital flood plains for agriculture,  and visit the father of fly fishing, Frederic Halford's, famous Oakley Hut.
Then it's back to the Mayfly for a well-earned lunch.
Fishing Breaks offer a variety of options for fly-fishing to suit most budgets and requirements, and for beginners and experts alike on chalk stream rivers, as well as at the Mill. All kit supplied if needed.
Individual and corporate days are available, as well as family friendly days where all are welcome, including the non-fishers who just want to enjoy the fun. And, of course, if it's just a pleasant walk along a Hampshire chalk stream, they offer that too. For more information and prices, please visit www.fishingbreaks.co.uk.
Nick stayed overnight at The Peat Spade Inn. You can read his review here.