While he goes in search of that elusive fish, Nick Harman finds bucolic bliss in one of the loveliest inns, in one of the loveliest villages, in one of the lovelies counties…
Thatched roofs are big in this part of Hampshire, in fact it seems to be the norm in all of the pretty villages. It makes the ancient houses look even more like unkempt Boris Johnsons and, like him, they all seem to be curving outward and in danger of falling.
Right in the middle of the village of Longstock, in the Test Valley, and less than a mile from the fine old market town of Stockbridge, the fly fishing capital of the world, the Peat Spade Inn is part of the Charming Bedrooms collection from Upham Inns, a group of premium inns across Southern England.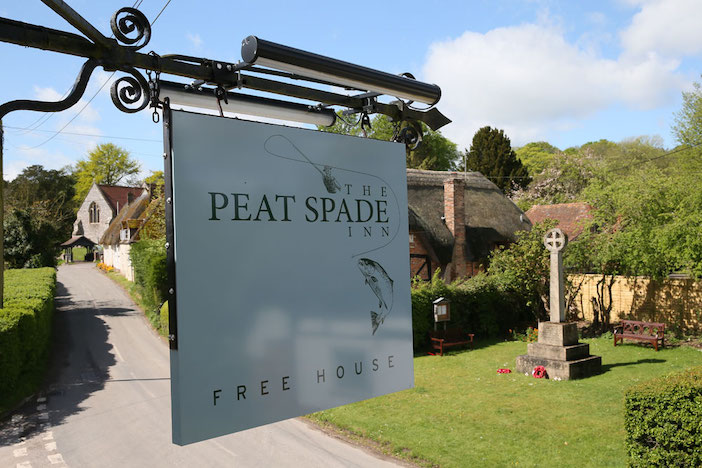 It's very well placed for anyone on a weekend break visiting Highclere Castle (Downton Abbey, if the name doesn't ring a bell) Winchester and Salisbury. What's more, it's perfectly located for country sports and for anyone fishing on the Test, one of the greatest fly fishing 'beats' in the UK. Long winding country lanes, perfect for letting your car off the leash, bring you to a crossroads where you'll find the inn, looking more gothic schoolhouse than chocolate box cottage.
From the outside it seems little has changed over centuries, the windows all have their beautiful leading and the brickwork is aged warm ochre. Inside, the bar and restaurant area has been opened out sensitively though, so that light floods in from all sides, and there is a good balance between traditional and modern going on so that it's airy in summer and undoubtedly cosy in winter. Staff are young and cheerful.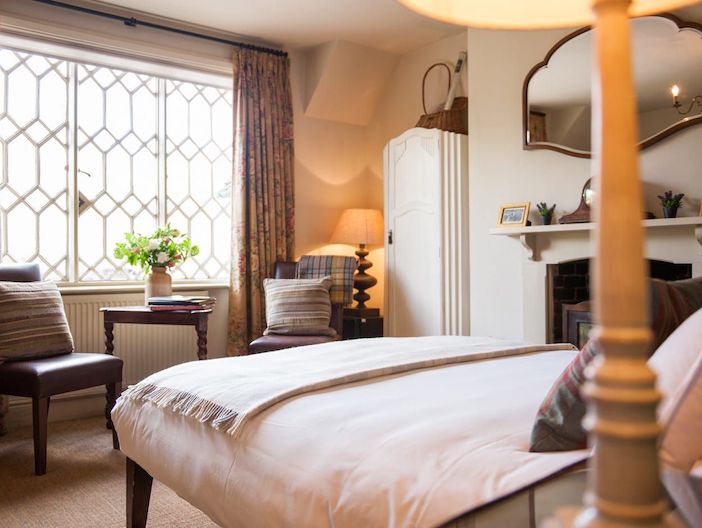 Each rustic style bedroom is unique, with the rooms in the inn often having their original fireplaces. My room is actually in the converted old peat storeroom where whitewashed beams give it a fresh feel. A modern and stylish ensuite fits in design-wise and has plenty of quirky decoration
I dump my bags and go for a wander. The Grade II St Mary church (1876-80) over the road is picture perfect, everything you want an English church to be. I prowl around the tottering gravestones like an overweight Goth, and admire the classic Vicarage set in the trees.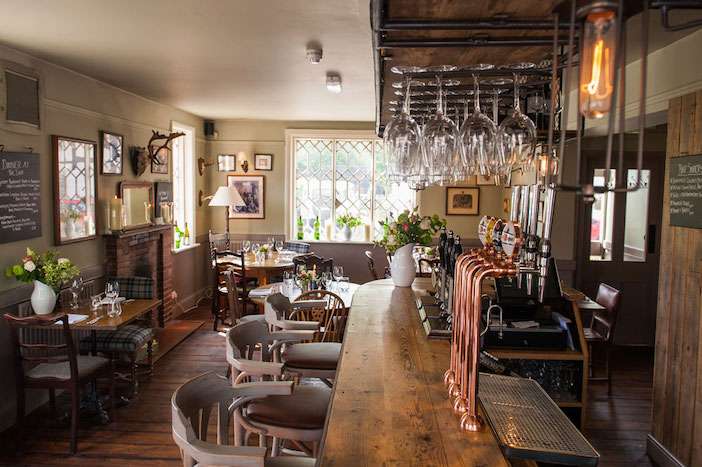 Back in the pub for a cooling pint, and then to my room. The large TV is internet enabled and I soon log into my various subscription accounts and settle in, although short-lived, as I get a 'phone call from home demanding I log out of Netflix so the family can watch Better Call Saul. The wonders, and the perils, of technology are clearly never far away.
Food is taken seriously here and even on a Monday night I find the restaurant is already pretty full at seven thirty, with many tables already on dessert. All locals I imagine, as us Londoners tend to eat a little later.
Chef Harry Lewis has a menu of classics – you have to have classics in a hotel restaurant – as well as exotic sharing nibbles, such a mezze board with garlic flatbread, baba ghanoush, hummus, beetroot falafel and the like, and a tempting seafood platter. Regular starters include their truffle potato and cheese scotch egg, with chive soured cream, which sounds a winner in anyone's book.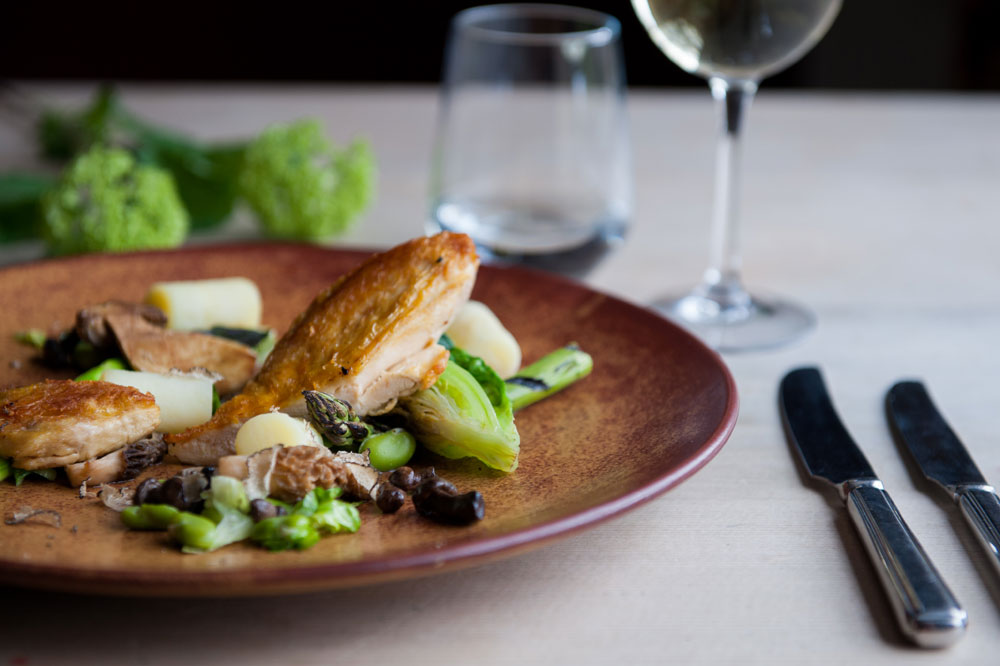 From the specials menu I thought I'd try the starter of poached egg, black pudding, toasted brioche and choron sauce, not caring that it might be considered breakfast by some. It worked though, how could it not? I particularly liked the little nuggets of chorizo dotted about and the spicy sauce against the sweet brioche.
Back on the regular menu, herb-stuffed porchetta, potato rosti, hispi cabbage, glazed carrots, roasted apples, crispy sage and cider was not classic porchetta – belly pork strewn with herbs, rolled, tied, roasted and served sliced like a jam roll. It came flat and unrolled with a herby paste on one side but, alas, no crackling – one of the points of a pancetta being rolled is that you get crackling outside, while the fat inside melts. A proper 'hearty' meal.
Porked out, I went for a 'mini' dessert of chocolate brownie, sticky toffee pudding and homemade chocolate truffles – it sounds more indulgent than it is, fortunately – and then headed off to my sublimely comfortable bed, the absolute silence and country air making for a perfect night's sleep.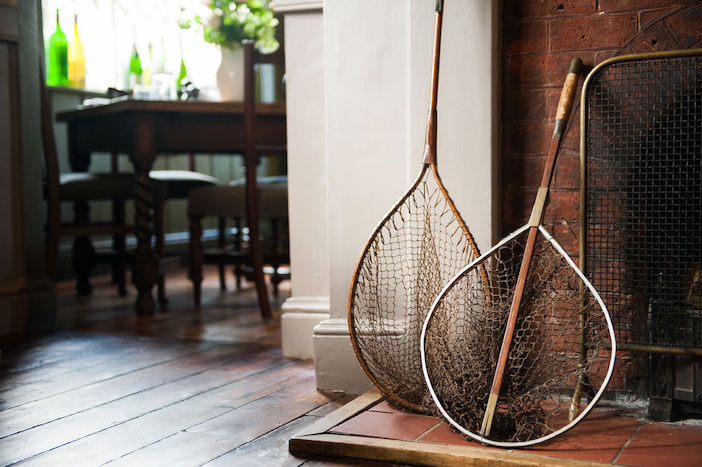 Breakfast didn't disappoint, particularly in the sunny dining room. While the eggs benedict looked tempting, I had the Full Veggie option, because I promised my doctor and myself not to eat delicious sausages and bacon, and also as I was due to have a fly fishing lesson in less than an hour's time. I was tempted by the eggs benedict menu, though.
It was all lovely, and fuelled by an extra-large, extra helping of espresso, I headed out to my date with a trout.
Perfectly located (if you have a car, and you almost certainly will), The Peat Spade Inn is a classic English inn to fall in love with, and its proximity to some of the many jewels of Hampshire is a bonus.
The Peat Spade Inn, Village Street, Longstock, Stockbridge, Hampshire SO20 6DR. For more information and bookings, please visit peatspadeinn.co.uk. Read about Nick's fly fishing escapades here.