When one thinks about Warwickshire, all sorts of cliches come to mind, mostly Shakespearean in nature; Anne Hathaway's cottage, 'the birthplace', Stratford-on-Avon and all the rest of it. Which is fine and decent and respectable. But there is a great deal more to the county than the tourist-heavy town at its heart. Even if some of its larger cities and towns remain acquired tastes of sorts, there is enough history and heritage throughout the county to make a visit here a truly joyful experience.
The town of Warwick is a case in point. Superficially a small market town dominated by its castle, it has some of the finest examples of medieval architecture in the country, not least the Lord Leycester Hospital, where I once had the privilege of addressing an engaged and lively audience at the annual literary festival. But it's Warwick Castle that most people come to the town to visit, and it's not hard to see why. Grand in both scope and in size, it's one of Britain's major tourist attractions.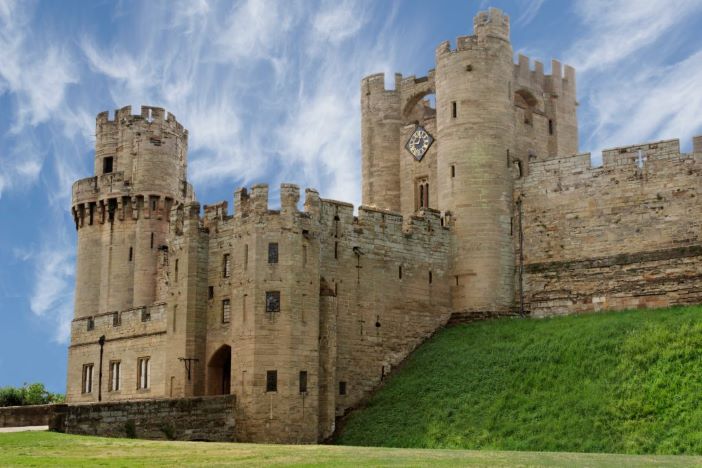 Yet it occupies a strange hinterland between all-singing, all-dancing theme park and a more respectable, quieter experience. Thus children find themselves directed to the Horrid Histories maze, and there are regular archery and pageantry displays, as well as occasional appearances by licensed children's favourite characters; my daughter managed to be photographed with the amicable dragon Zog, somewhat incongruously next to a fine Van Dyck painting of Charles I.
For those of us who are less interested in such things, there's still the awe-inspiring joy of the sheer scale of the castle, and some more fun than you'd imagine recreations, whether it's the 'Kingmaker' tableau depicting the lord and his men preparing for battle or a series of rooms themed around a Royal weekend c1898. It's a splendidly entertaining place for a day out, and the only thing that lets it down is a series of lacklustre and poor value for money refreshment stalls; the savvy might bring in their own picnics for full effect.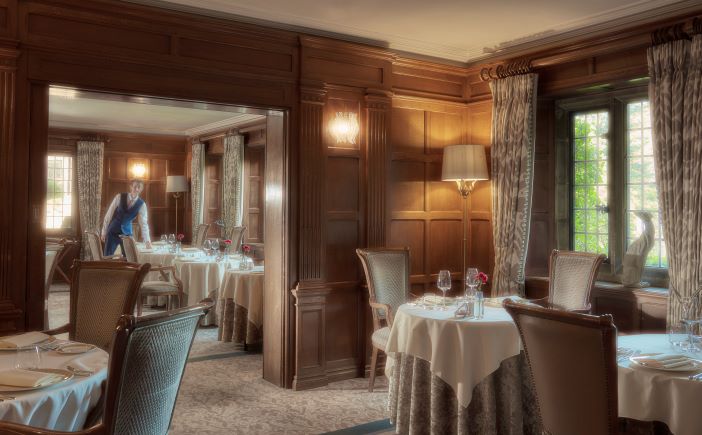 However, if you head a couple of miles up the road to the country house hotel splendour of Mallory Court, there is no question of the refreshments being either lacklustre or poor value for money. The restaurant here once held a Michelin star under head chef Simon Haigh, and after a period away, Haigh has returned with the grandiose title of chef-director and high ambitions for his kitchen. The Dining Room, a wood-panelled room at the heart of the hotel, is one of the loveliest places to eat anywhere in the area, and we fondly remembered it from a previous visit.
But there have been changes over the past decade or so. Previously, there was a formality to it, and hushed voices were the order of the day. Now, cheery jazz plays and the staff are friendly and warm; we were served by Jamie, on her first day working at the hotel, but you'd never have known it from her politeness, professionalism and enthusiasm. Like everyone else there, she was a credit to the establishment.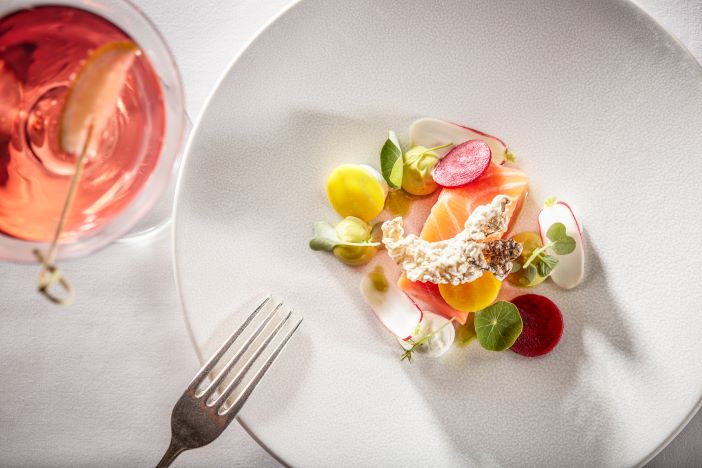 And Haigh's menus remain as sublime as ever. Rather than a conventional a la carte (which can be had in the adjoining brasserie), there's a 'tastes of the season' menu that's essentially a five-course tasting menu padded out with (delicious) snacks and amuse-bouches. We began with chicken liver parfait and Sauternes jelly, given an interestingly unusual crunch with the addition of dukkah, and then segued into a very fine salmon, potato and beetroot dish.
The main course was a choice between skate wing and crab and beef fillet – predictably, my wife chose the first and I went for the second – but both were excellent examples of how good Haigh's cooking is. A savoury dish of fruit roll and Stilton nodded to St John's famous combination of Eccles cake and Lancashire cheese, but managed to remain entirely its own creation, and a finale of blood orange carpaccio with bitter chocolate cannelloni was a splendid treat. A bottle of Sauvignon Blanc Featherdrop Hill was a fine accompaniment to the meal, and I would suggest that a Michelin star is the hotel's to be regained if they want it.
But in truth, there is much else to recommend Mallory Court, too. The hotel itself occupies a Lutyens-esque mansion dating from 1916, and the rooms have a splendid combination of old-fashioned comfort and modern luxury, if that's not a contradiction in terms; we stayed in one of the rooms in the main house, which afforded quite jaw-dropping views over both the hotel gardens and the Warwickshire countryside, but the incredibly comfortable bed made for a fine night's sleep – if, of course, the wine and the food hadn't contributed.
And there's innovation, too. A spa building, the so-called Elan Spa, sits snugly alongside the main building and offers a brilliant hydrotherapy pool, heavy on the soothing and revitalising jets and air loungers, as well as all the saunas, vitality pools and steam rooms that one could possibly desire.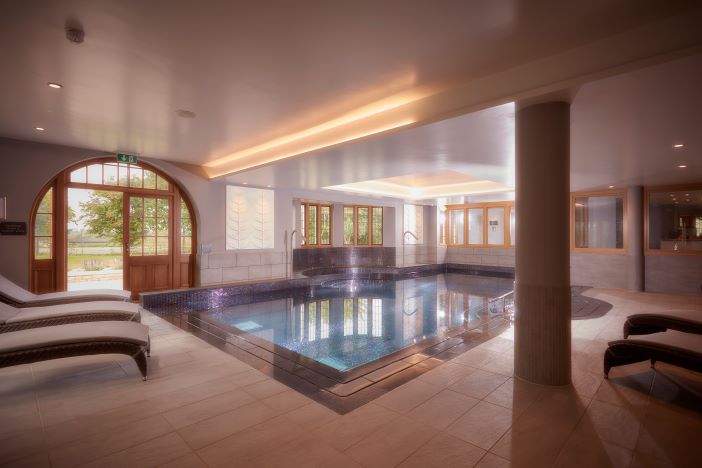 We left Mallory Court with enormous reluctance; always the mark of a great stay in a wonderful place. It has the perfect mixture of friendliness, professionalism and comfort, all topped off with that impossible to define quality that turns hotels into homes-from-home. It took us nine years to return here, but hopefully it will not be another nine before we next go back. And watch out for that Haigh chap, too. Something tells me that he'll go far.
High Season at Mallory Court runs from April – September. A Superior Deluxe roomstarts from£265.00 per room, per night. All rates are per room, per night, based on two people sharing on a Bed & Breakfast basis. For more information, including details of, call +44 (0)1926 330214 or visit www.mallory.co.uk.
For more details about Warwick Castle, including details of the Summer Carnival and the Dragon Slayer spectacular, please visit www.warwick-castle.com. And for more ideas about what to do in Warwick, and to plan your trip, please visit the official tourism website at www.visitwarwick.co.uk.