From the second we arrived at the five-star Almanac Barcelona, we were transported into a world of celebrity – albeit minus the paparazzi and the multi-million pound contracts. At the Almanac, everyone is treated like royalty and your personal needs are taken very seriously. Not only do you enjoy a first class service, you are able to take advantage of the first class location, too, right in the heart of the city, with the very best of the Barcelona's cultural charms, the best shopping and finest restaurants all within skipping distance.
Located on the seemingly unending and highly exclusive boulevard of the Passeig de Gràcia, the ritzy Almanac Barcelona is one of the finest design hotels in Spain. Effortlessly chic, it's a subtle nod to Barcelona's character, with the city highly influencing the architectural details of both the exterior and the interior of the hotel, by local designer Jaime Beriestain. Reinterpreting the sumptuous decadence of 1920s Art Deco, with hints of the decadence of the seventies, Jaime and his team have excelled in the exquisite design of the Almanac which starts with the lobby.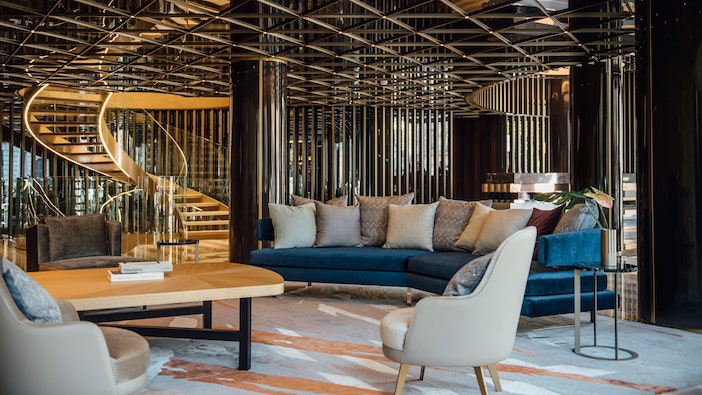 As you enter, you are greeted by some extraordinary touches; the magnificent oversized sweeping circular staircase in gold opulent tones, plush sofas that you can just sink into, expansive windows and artfully curated bookshelves in a lobby dedicated to gorgeously glossy excess. Think soft delicate lighting, oodles of natural wood, open spaces and a glamorous grey and gold palette.
This approach extends to its dining, too. As well as an excellent restaurant, Virens, there's Azimuth, a rooftop bar spread over a multi-level rooftop terrace, which boasts a small but artfully aesthetic swimming pool; better for chilling by, I should add, rather than for getting some serious laps under your belt.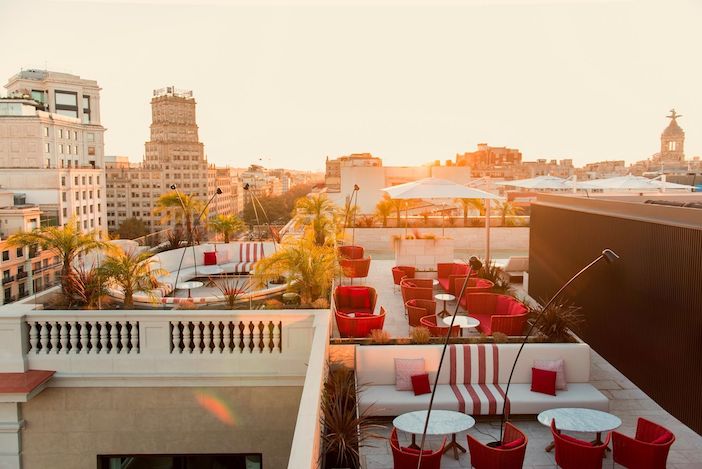 The Azimuth cocktail bar is a big hit with both hotel guests and locals, who flock here on summer weekends to enjoy live music and DJ sets. It's the perfect place to sip a cocktail and nibble on some light bites while gazing out at the city vista. What could be more pleasing than enjoying those Instagram-worthy panoramic rooftop views of the Sagrada Família at sunset?
The Almanac's rooms and suites are bright, modern and capture a beautiful aesthetic, drawing on contemporary design and furnishings to achieve a strong sense of luxury and harmony, with features such as linen-adorned chaise longe window seats (bathed in light from floor-to-ceiling windows) giving views of the city. The bathrooms are spacious, with a rainfall walk-in showers, and his-and-hers basins. Following the same aesthetics of the lobby, the earthy palette evokes a true feeling of tranquillity and sumptuous simplicity; think warm, golden hues fused with flashes of chocolate and coppery brown. And the beds, designed specially for the hotel, are supremely comfortable.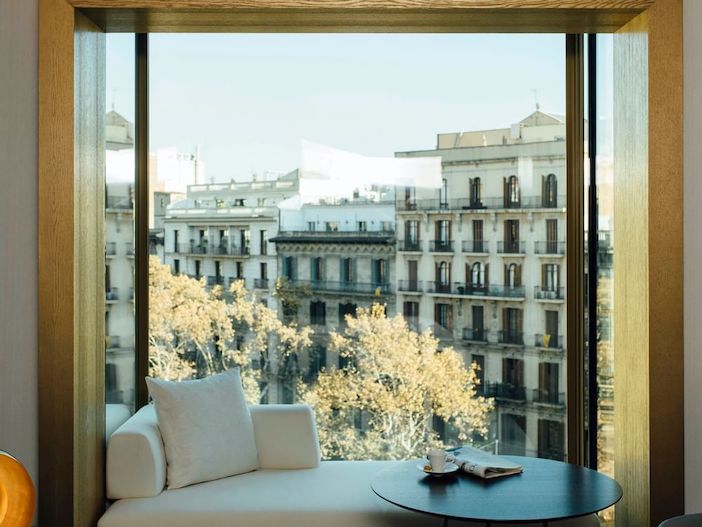 We're kept up to speed, too, with a smartphone and tablet that connects us to the concierge service, making it quick and easy to discover the hotel's facilities, and we can take the smartphone with us when exploring the city, enabling us to stay connected with the hotel's concierge, who is on hand to answer any questions – and direct us home, if required!
Whilst there's a fantastic selection of restaurants and bars nearby (including one of the coolest speakeasies in the city, Bobby's, which on face value looks like an inconspicuous barbers' shop), the hotel's Virens restaurant competes with the best of them. Described as a 'plant-forward' restaurant, Virens is the brainchild of chef Rodrigo de la Calle, and offers alternative menus such as the 'Green experience' and the 'Gastrobonica' with a strong and inventive use of legumes and root vegetables.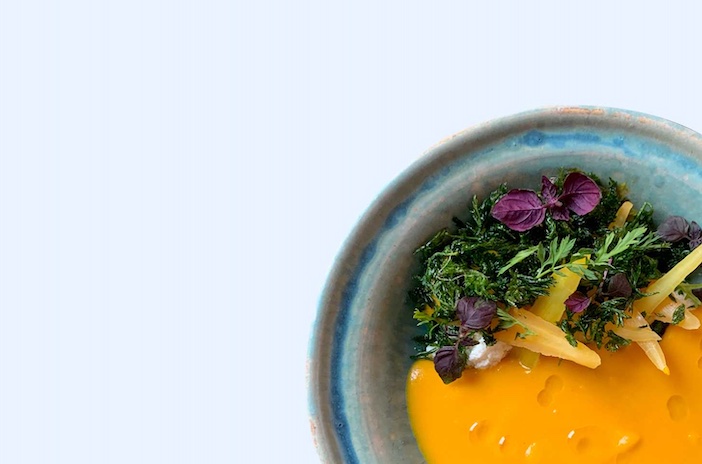 But it's not exclusively vegan, and their 'sea and earth' pairing delivers a myriad of impeccable dishes that use local produce positively bursting with flavour; a delightful carrot risotto with crispy algae and a black olive aioli, monkfish with green beans, and Iberian pork cheeks with spinach and nuts rank among the best dishes I've enjoyed in Barcelona. Every single dish was impeccable and beautifully presented by highly knowledgeable staff.
From its skyline bar with those far-reaching views to the extraordinary service, a stay at the Almanac Barcelona is ideal for those who love a sumptuous yet sophisticated hotel experience that is super luxurious without compromising on character. For me, I'd happily spend my time sipping a sundowner by the pool on that rooftop.
Junior Suites at the Almanac Barcelona start from €435 per night in low season. For more information, including details of offers and events, please visit www.almanachotels.com.