Before I visited the Royal Mansour Marrakech, I thought I was only really interested in old hotels; venerable properties with a real sense of history and perhaps a little faded grandeur. When planning a trip, it would always be to the hotel that had played host to writers, thinkers or stars of the stage and screen. Perhaps The Pera Palace in Istanbul, where Agatha Christie wrote her novels, or Grand Hotel Parkers in Naples, Evelyn Waugh's Mediterranean bolthole – these would always be the places that thrilled me. Now, after a dreamlike, express visit to Marrakech and a mere moment of languid contemplation in the Royal Mansour's shimmering, glistening splendour, my whole perspective has changed, I now love new hotels.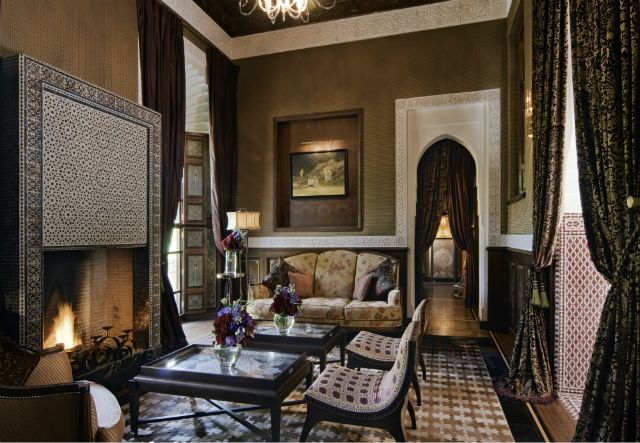 Although to call this palace a hotel would in truth be a bitter injustice. There are hotels, and there are hotels – and then there is the Royal Mansour, quite clearly, quite comfortably in a league of its own. I have been lucky enough to stay in some extraordinary corners of the globe, and I hope to continue to travel and see great monuments to man's resourcefulness, but I'm almost certain it will not feel quite like this. The Royal Mansour palace is something to see, at least once, and keep with you for a lifetime.
A little background. The hotel, which sits on the edge of the medina and incorporates part of the medina wall into its design, opened in 2010. The launch followed three and a half years of hard work by a team of almost 1,500 skilled craftsmen who, legend has it, worked away in shifts, 24 hours a day, to get the hotel ready. All of this work was at the behest of King Mohammed VI, sovereign ruler of Morocco. His intention wasn't to build a hotel as an investment – this isn't an endeavour that's purely about making money – he commissioned the finest craftsmen in the land and sourced products so divine that the Royal Mansour would become a leading light for luxury tourism in Morocco and Africa beyond.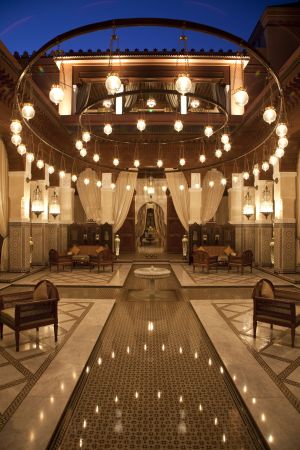 The hotel is made up of individually crafted raids that fan out away from the hotel's main building, leading off down carefully designed alleyways which were designed to mirror the aesthetics of the medina. There is an extraordinary sense of calm as soon as you enter the hotel's grounds. There is a central riad which, as you arrive, takes your breath away. The entire structure seems to be fashioned from marble and beautiful antique tiles. I wander, running my hands along the walls. It is exquisite, the attention to detail is arresting. Suddenly it is abundantly clear why the legions of craftsmen were required: this is a hotel that would have taken a lifetime for any normal team to create.
The individual riads are spread out around the 'medina' within the hotel's grounds. Mine is a one bedroom riad, the smallest (the largest, Riad d'Honneur, has four). The idea that this riad might be described as small in any terms is risible; it is considerably larger than most London flats. On the ground floor there is a smart sitting room and outside courtyard, which leads to a beautiful staircase and sleeping quarters above. There's a solid marble bathroom, a dressing room, and then stairs to another floor: a roof terrace with a pool and a view over the smoky cityscape of Marrakech and beyond. A fine place to find yourself, when you woke up only a few hours before in grey and drizzly Islington.
The wonders of the Royal Mansour are not only aesthetic; the attention to detail exists in all things. I'm told that in the three years since opening, the number of staff who have left could almost be counted on one set of hands. Staff are paid extremely well and the training they receive is as good as anywhere on earth. This translates to some of the warmest, most assured service you've ever encountered. The staff are pre-emptively accommodating. If you call for room service, it is not a case of telling someone what you fancy, but an engaged conversation, rich with recommendations on what fruits are at their best that day, or descriptions of the finest teas that are available to accompany said fruit.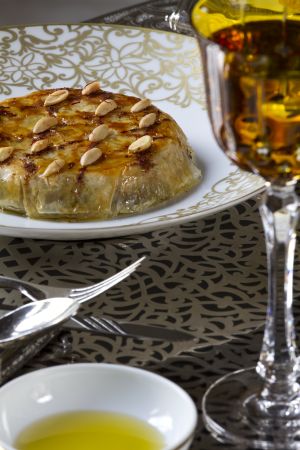 One of the most impressive qualities of the Royal Mansour is its gastronomic offering. Yannick Alleno, three Michelin-starred chef, who up until recently ran the kitchens at Paris' greatest palace hotel, Le Meurice, has been executive consultant chef for the Royal Mansour since opening. The hotel has three restaurants; the least illustrious La Table offers an 'informal' choice for those looking for simplicity. I say informal, the standard of food and service here is as good as that at any Michelin-starred restaurant in London.
The focus of Yannick Alleno's attentions is not La Table though. His time and energy is centred primarily on the Royal Mansour's fine dining restaurants: La Grande Table Francaise and La Grande Table Marocaine.
Alleno is in town on the occasion of our visit, on the stoves, doing what he has spent a lifetime honing to become a grand master of his craft. He is rather striking to look at, like a more driven, clean-living Charlie Sheen, a complex mixture of playfulness and driven intensity. Alleno left one of the most prestigious jobs in the culinary world to focus on developing his consultancies and spending more time in his research lab and it is a great privilege to have him cooking for us. His main interest seems to be the pursuit of intense, vital flavour of ingredients, whether that be a vegetable or cut of meat. His passion is saucing, but not complex 'classic' French sauces that rely on excessive amounts of dairy fat, rather simple linear reductions that take the very essence of the ingredient and allow you to taste it in all its glory.
On our first night at the Royal Mansour, Alleno cooks for us in La Grande Table Francaise. He visits our table periodically to discuss the meal he's presenting and check that enjoyment levels are high. He is clearly an enthusiast for local Moroccan ingredients, claiming that the products we enjoy, which are almost exclusively from the area around Marrakech, are as good as any you might find in Paris or regional France. We feast on huge prawns that have been caught off Morocco's Mediterranean coastline, striped bass and Atlantic cod. The highlight of my meal is lamb from the Atlas Mountains, served with an extremely intense onion tarte tatin, which is sweet, dark and brooding all at once. The dishes are marked by the sense of intensity that Alleno has professed to search for. There are no heavy sauces, no place for butter – this is French cooking at its most unfettered.
Dinner at La Grande Table Marocaine on the second night fills me with even more intrigued excitement than the first night's haute cuisine. Alleno is in the kitchen once more, but presumably out of his comfort zone a little, as he steps away from French fine dining and toward the complex and multifarious traditions of this great, North African country. The format is very different, but the principles are almost identical – intensity drawn from the pure qualities of an ingredient is the central tenet of all Alleno's gastronomy, it would seem.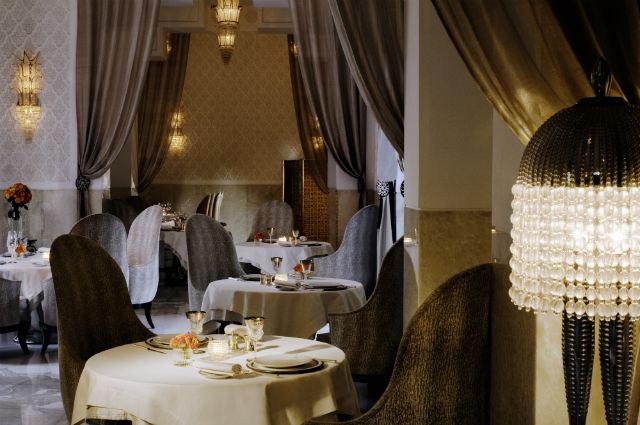 We drink dark, powerful wines that come from some of Morocco's greatest winemaking estates. There is a palpable sense of drama to this meal; there are more elements at play. A musician sits in the corner of the restaurant playing an instrument and howling beautiful songs. All of the staff wear ornate, traditional outfits, which heightens the sense of occasion. Alleno comes to table once again, but tonight he seems very focused, perhaps a little under pressure, and working hard to create a sense of magic. Highlights from our meal include a huge, glowing, steaming mixed seafood pastilla. The pigeon pastilla is perhaps the classic dish of the region and here the kitchen has instead focused on the bounties of Morocco's coastline to create something that delights the assorted group. The pastille is a communal treat, a dish we all delight in together. My other highlight was a very pure exemplar of Alleno's ability to draw the extraordinary essence out of the most humble of ingredients. Once again a steaming communal dish arrives at table. This time though, there are no luxury ingredients, no lobster or crab. A simple couscous – the national dish that can be found in any workman's cafe across the land. Here there is a multilayered depth of flavour; the most vital qualities of carrot, or celery, or tomato all work their way to the fore. It's the best thing I've tasted all weekend and these humble flavours are those which stay clear in my mind.
Much later, as the meal comes to its natural end and we're left truly sated, we settle into our seats, drink deep of wine and share stories. Once finished of his duties, Alleno comes through to join us and before long we're in the upstairs cigar bar, as a group, drinking XO Cognac and smoking Montecristo No 4s. The cigar bar is perfectly proportioned and elegantly finished in dark wood and gold leaf; there are Cognacs that run back to the late nineteenth century. It's a glorious place to find oneself on a Wednesday night. The thrill of smoking inside is intoxicating, blowing thick, aromatic, blue-grey smoke up toward the stars suggests times long gone by, a North Africa of the 1950s perhaps…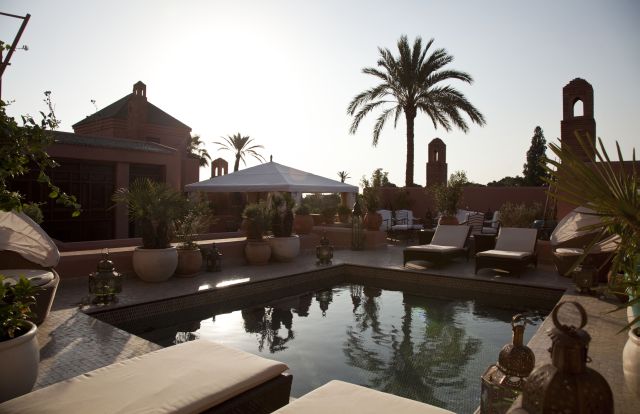 In the end, I decide I need a moment's solitude. I wander the halls of the hotel quietly, in a charmed, contemplative state. Eventually I make it to my roof terrace where the moon has emerged from behind cloud and hangs heavy and expectant above me. Stars are everywhere. I lie down, cigar smouldering, hot between my fingers. The night feels so alive; there is still a faint hum of activity from the square and vehicles purr far below. I lie back and face an inimitable, starlit, African night. The majesty of the planet never seemed so intimate.