The discreet Roseate House, stretching over three Grade II Victorian townhouses on Westbourne Terrace near Hyde Park, epitomises secret London. Starting at just £150 per night inclusive of breakfast, even an old Duke would be at home in such well appointed, elegant surroundings, with antique furniture and oil paintings throughout, a hidden courtyard garden and 48 exclusively designed rooms to choose from, with all the amenities to ensure a comfortable stay including hand-crafted Bellestrata beds and en suite bathrooms stocked with heaven-scented Penhaligon's toiletries. The Hyde Bar, where breakfast and afternoon tea is served during the day, boasts rare bottles of pre-prohibition American whiskey, somewhat ironic if you're a teetotaller like myself.
While Roseate House is perfectly placed for many of the capital's sightseeing hot-spots, from the Royal Albert Hall to Kensington Palace, it's boutique atmosphere encourages discerning visitors to experience the city from the perspective of a well heeled resident, and not one living in the nineteenth century either. The Roseate's prime location allows you to put your finger on London's throbbing pulse. Just a short stroll will find you at Connaught Village for a morning coffee at Abasto, the faux-flower decorated, Instagram-worthy Saint Aymes, or the legendary coffee shop Markus (where a little bird told me that Matthew Fort purchases his beans) before heading to Selfridge's, where the food hall remains a gourmand's dream, stocked with the very latest food trends.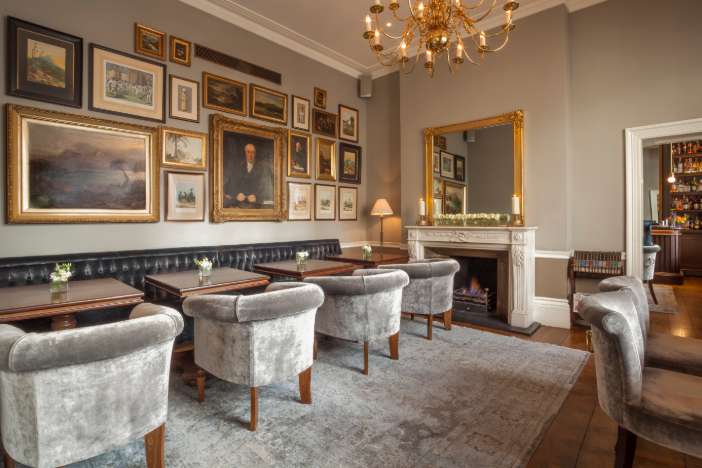 In the opposite direction soak up the intoxicating Notting Hill vibe, a district of colourful contrasts, with a varied foodie offering from the all-day dining Graingers which boasts such a following that there is almost always a queue trailing down the street, so too Ottolenghi on Ledbury Road come luncheon, for their counters of exquisite Middle-Eastern style salads and bakery items.
Daylesford Organic or 202 on Westbourne Grove are meanwhile destinations of choice for the Notting Hillbillies who, day-in-day-out meet friends instead of working 9-5 and take their refreshments pavement-side with their handbag dogs in tow, dressed in fur gillets and designer ripped jeans. A look that is paired with a glam hair-do and manicure from Tamara Ecclestone's blow dry bar, Show.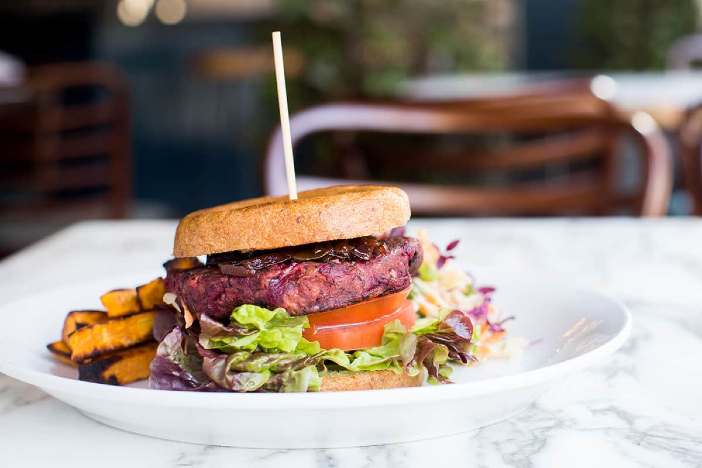 On Saturdays the antiques and flea markets of Portobello Road come alive, with who knows what treasures ready to tempt you, from mink fur coats to vintage telephones, canteens of cutlery or priceless diamond necklaces. You'll be needing Del Boy's three wheeler by the time you're done. The eclectic, red-fronted Alice's is a veritable treasure trove, with vintage wares of all kinds tumbling enticingly out onto the street. The sounds of classic vinyls blaring out of a record player fuses with the aroma from crêpe and waffle stalls, so too the chatter and excitement of jostling crowds swarming around the market stalls lining the pedestrianised street. Bric-a-brac, tat and perhaps an unexpected diamond priced as paste, this bewildering assortment of stuffs is the grown-up version of your first pick and mix.
After a hard day's browsing, bargaining and coffee-shop lolling with the 'Made in Portobello' set, unwind at Notting Hill's most elaborate drinks venue, Beach Blanket Babylon, styled like an expensive French courtesan's boudoir – it's still hard to beat for sheer camp theatricality. Next, put your feet up at the plush Electric Cinema where waiters will attend your leather sofa ahead of the film as you avail yourself of cosy cashmere blankets.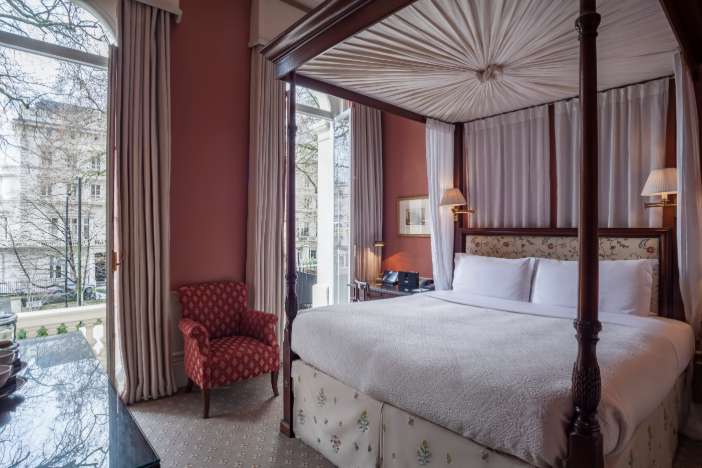 Afterwards dine at West London's most happening vegan restaurant, Redemption Bar where the drinks menu is non-alcoholic and the food is seductive despite being good for you. We started with the Vietnamese summer roll sharing platter followed by the Buff Burger – a beetroot patty encased in a charcoal bun, topped with caramelised onions and served with sweet potato fries.
For dessert we shared the wondrous Banoffee pie with a chewy oat base and layers of chocolate, a sticky medjool date caramel, banana and coconut chantilly. The finale to end all finales has to be Redemption Bar's virgin espresso martini made with Three Spirits 0% abv, a double shot of espresso and cold pressed beetroot juice. A delectable nightcap made all the more intriguing when the waitress informed us that one of her regulars swears by its aphrodisiac qualities. So without further ado it was back to our four-poster suite at the Roseate, if nothing else the caffeine would keep us up.
Roseate House, Hyde Park, 3 Westbourne Terrace, London W2 3UL. For more information and reservations please visit the website.