I'm face down on a low-slung wooden bed in white pyjamas, limbs being pulled in all directions like a marionette puppet. Having perfected his art in Bangkok, my Balinese masseur seems to be trying to push me through the bed and onto the floor beneath. The massage began in a biblical fashion with him tenderly washing my feet. I felt like Jesus, which, disconcertingly, would make my masseur Mary Magdalene. It was an odd moment of enforced intimacy, having a stranger touch such a personal part of your body with a softness that belied our anonymity.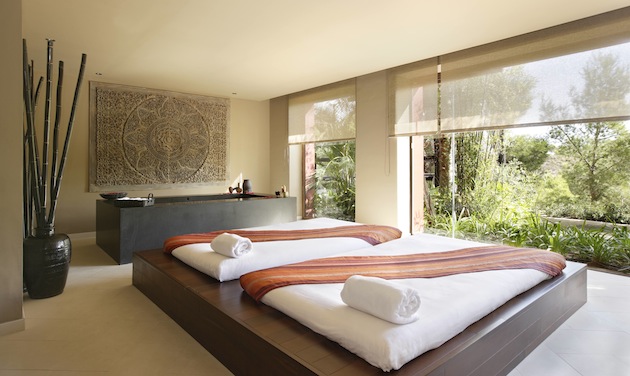 Massage is a strange act and one in which the subject is entirely vulnerable. It requires trust and compliance. The only way for it to be enjoyed is to yield to it. Thai massage is very different to Western massage. Rather than involving scented oils and panpipes, the relaxation comes from applying pressure to the muscles. Limbs are stretched to and fro like pizza dough. While at first I found myself craving the instant gratification of an oil rub, the Thai style soon grew on me. It felt like real work was being done – the knots of London living were gradually untied and the stress oozed out of me like honey.
Lying by the indoor swimming pool in my bathrobe afterwards clutching a cup of warm green tea, the fog of thoughts that usually crowds my mind had evaporated. None of them seemed to matter. The urgency to be connected to the outside world seemed almost absurd. I had finally switched off. Having touching down to a warm Alicante airport earlier that late September morning, my home for the next two nights  – Asia Gardens – could soon be seen from my taxi – a red fortress enshrined in a sea of green that wouldn't look out of place in Marrakech. Still delirious from the red eye flight, entering the expansive lobby, with its soaring beamed ceiling and slow turning fans, it felt like I'd been diverted to Thailand. Nothing about it spoke of Spain, but rather of the East. All of the furniture hails from Asia, from jade green tables to distressed old chests. Curiously, the hotel's owner, Pedro Romero (not to be confused with the famous and fearless Spanish bullfighter that makes a cameo in Hemingway's The Sun Also Rises), was once the hairdresser to former Spanish Prime Minister, José María Aznar.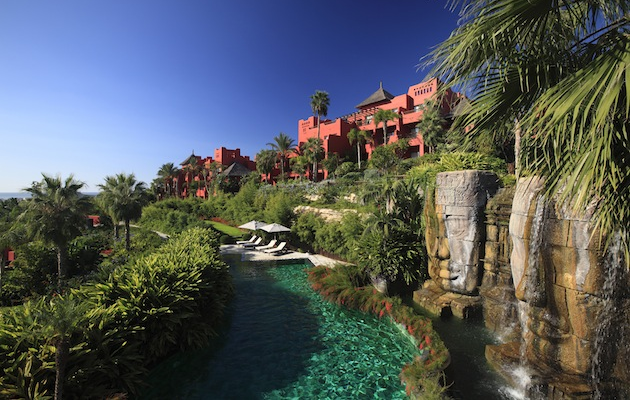 Peeping out of the Sierra Cortina mountain range, Asia Gardens, which opened in 2005, works from a primary palate, its earthy red exterior bouncing off the bright blue Spanish sky and contrasting beautifully against the green jungle of palms that bend and bow, creating a leafy labyrinth housing over 160 different species of flora and fauna, from the ominous orange 'trumpets of death' to heavenly white jasmine. In a nod to its botanical roots, the hotel uses the lotus flower as its emblem and bills itself as a 'garden with rooms'. Playing a pivotal role at the hotel, the gardens are the masterpiece rather than the frame. Boasting over 300 rooms, eight swimming pools and five restaurants, it's easy to lose your way at Asia Gardens, but a pleasure to do so, taking you on an amble over bridges, past waterfalls and down flower-filled footpaths. It's a journey made all the more delightful at night, when the potent perfume of the night flowers is intoxicating and the incessant trilling of cicadas makes you feel transported to some distant exotic land.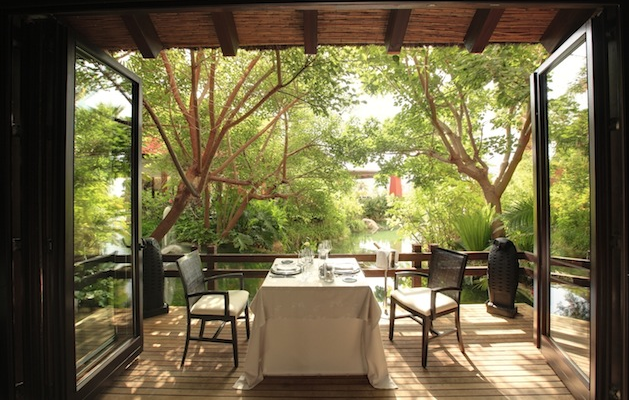 Rooms are stylish and understated, and use a modest monochrome colour scheme with colonial touches, from a large black ceiling fan to a screen door in the bathroom that reminded me of The English Patient – all that was lacking was a soapy Ralph Fiennes whispering the names of winds in my ear.
My colossal bed was a thing of beauty and something one could quite reasonably get lost in. Diving into it each night, the hum of the Spanish night playing itself out in the distance, it enveloped me like a cocoon until dawn, making leaving it in the morning a genuinely distressing experience.
Ambling to the pool area the next day, I stumbled upon three large Buddha heads carved into the stone wall framing the main swimming pool like Jefferson, Washington and Roosevelt on Mount Rushmore.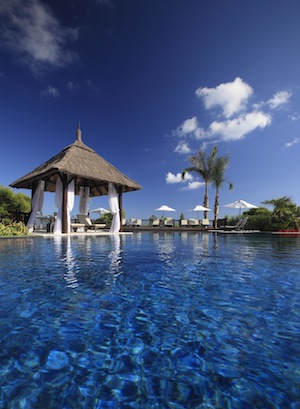 For those adverse to idle pursuits, Asia Gardens offers an array of activities, from meditation and pilates, to yoga on the lawn before breakfast, where every juice under the sun is served. At dinner, Koh Samui restaurant goes full throttle on the Thai theme, though its head chef hails from Jakarta. Classics like crispy fried prawns with a sweet chili dipping sauce and Pad Thai are cooked with precision and beg for a second helping, while crunchy curried vegetables in creamy coconut milk proved an unexpected highlight.
The high-end In Black meanwhile, continues with the monochrome theme with its black chandeliers and futuristic white plates. The menu offers Eastern treats with a French accent, such as tuna tartare with yuzu sorbet and the sprightly combination of foie gras terrine and kumquat; the zestiness of the latter cleverly cutting through the rich, creamy foie. An accompanying bottle of Muga 2009 Rioja Reserva reminded me of the charms of the wines from the northern Spanish region, its velvety palate bursting with black cherry, plum and sweet spice. Sitting out on my balcony after dinner, sleepy and replete, the evening air still warm and the huge yellow moon laid low in the sky, in the distance, Alicante's glittering metropolis twinkled like a thousand candles at mass.