The country might be sliding into an increasingly troubled situation, but there is still a universal truth that must be acknowledged: a couple of days in London, eating and drinking at excellent restaurants and staying in a fine new hotel, are enough to put a smile on anyone's face.
Most of the time, one scurries past some of the iconic locations of the capital – London Bridge and the Shard; Trafalgar Square; Spitalfields and the City – so occasionally, it is rather fun to put together a whistle-stop tour of the three of them over the course of a couple of days and enjoy an experience somewhere between that of the well-heeled (and well-belted) tourist, and a connoisseur of some of the finer things in life; the archetypal Arbuturian reader, in other words.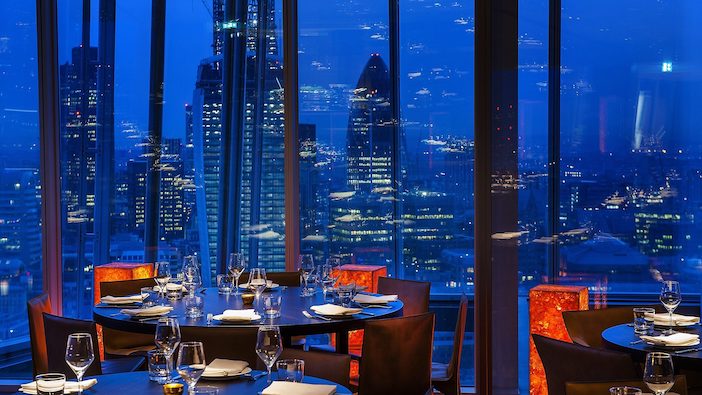 Oblix, halfway up the Shard, has justly acquired a reputation for two sky-high things; the views, and the food. As you gaze out over London, it's possible to see for miles, and as you marvel at the urban sprawl, a glass of champagne appears and makes you feel as if you're some kind of emperor. We've popped by to sample the new set lunch menu, which, under the careful gaze of executive chef Marcus Eaves, combines Japanese ideas and influences with the kind of British cuisine that Eaves has excelled at ever since his days at the Michelin-starred L'Autre Pied.
The good value menu – £38 for two courses, £48 for three – includes everything from the theatricality of seared salmon coming with rice and crackers to begin to a sensationally good rib-eye steak that comes complete with chimichurri sauce and truffle mayonnaise. The wines by the glass are well-chosen – a Gruner Veltliner to begin, then a Cotes du Rhone – although there are a fine selection of deeply expensive vintages, at prices for the deep-pocketed, and a dessert of sundae with added chocolate brownie brings out the overgrown child in each of us.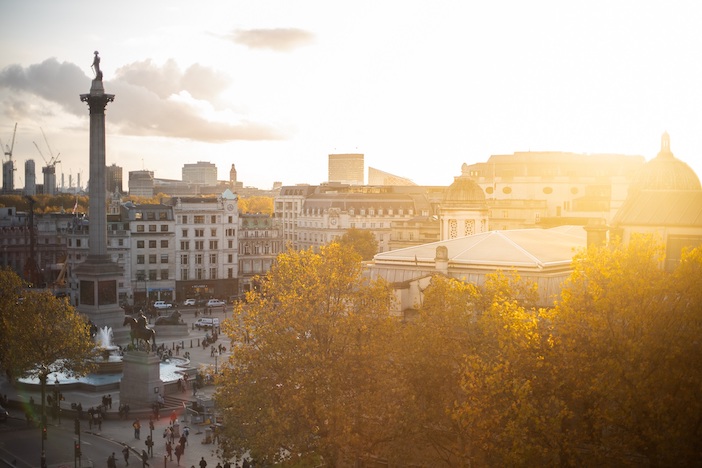 I'm staying not too many miles away, at the new(ish) Page Eight hotel in Trafalgar Square. Not only is this stylish office conversion one of the best situated places in London – it's literally opposite the National Portrait Gallery and a stone's throw from Nelson's Column – but it also sets out its stall for being one of the city's most intimate boutique hotels. The deluxe room that I'm staying in features all sorts of mod cons that you might expect, from a superbly comfortable bed, Bigelow toiletries in the bathrooms to a complimentary mini-bar and the design – courtesy of the great Willmott Dixon – means that there's a perfect balance here between the luxurious and the practical. Given how absurdly expensive most central London places to stay are, the affordable (if, admittedly, hardly budget) prices here are highly welcome, just as the breakfast, offering pleasing simplicity (egg and bacon baps and the like) is just as fitting a compliment to a splendid stay.
By the time that I reluctantly check out, it's nearly time to return to reality, but first up is a hugely welcome trip to the Galvin Bistrot and Bar in Spitalfields. If you've been to any of Chris and Jeff Galvin's excellent restaurants, you might have an idea of what to expect, but this is a determinedly (and welcome) move away from the more formal fine dining of some of their other establishments, such as next door's Galvin la Chapelle.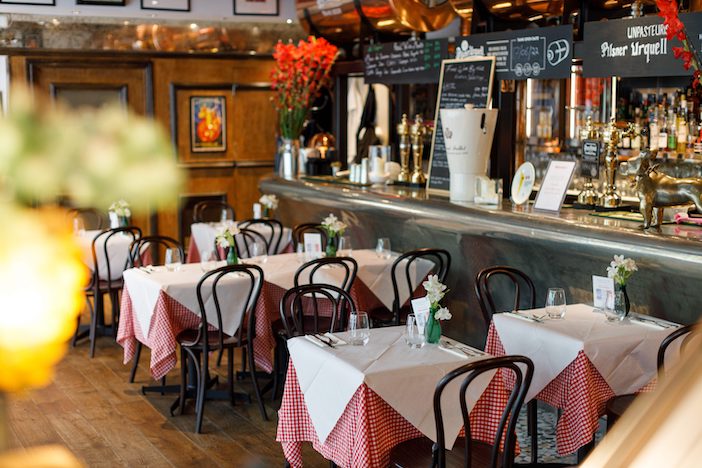 This does not mean that the quality is in any sense compromised; wonderful dish after wonderful dish appears on the table, from chorizo croquettes and tarte flambée Alsacienne to pork and pistachio terrine and rabbit leg with utterly peerless mashed potato. It's a lot of food, but trenchermen like us can handle it, and the wines by the carafe – Viognier to start, then Syrah – are the perfect accompaniment. It's nothing less than a perfect recreation of a rural French bistro, and the food is matched by the excellence and warmth of the service. A couple of hours pass by in a flash; we could have stayed here even longer.
A 36-hour visit to London is never long enough (and I haven't even mentioned a visit to the Groucho club in the company of one of the louchest writers in London). However, one can make the most of the opportunity in the most stylish fashionable imagine, and if you're visiting restaurants and hotels of this calibre, it is never going to be a wasted sojourn.
For more information about Page 8, including details of offers, events & workshops, and the 'page common journal', please visit www.pagehotels.com.