I sit and stare at the long-eared hair across from me. His lithe bronze body bends forward, one sculpted paw under chin, the other languidly laid across his bended knee. I eye up his inanimate form, noting how his dark shape is akin to a shadow against the backdrop of a bright azure sky, and long red wooden benches and manicured green bushes in the background. It's as if the contrast button has been turned up on the world, while he sits admiring it. And while the hare cannot speak, I feel intrinsically that he would tell me to take a quiet moment, and relax a much as he so clearly is if he could.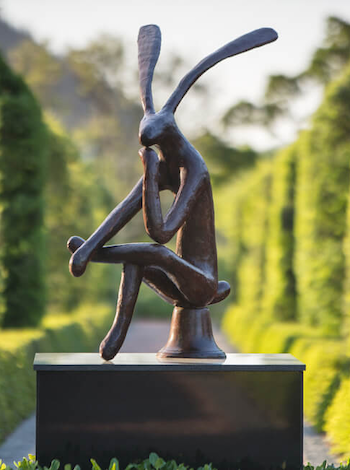 This particular hare – designed by South African artist Guy du Toit – is called 'The Thinker' and is one of many striking a solid pose throughout the grounds of the Leeu Estates in Franschoek, a boutique hotel smack bang in the centre of the Cape Winelands, the country's most famous. I am captivated the moment I spot him as I wander the Estates' expansive walkways, vineyards and flower beds, and immediately feel he has an important message, despite his mute nature. Owner Analjit Singh puts an emphasis on art throughout his properties, stating: "Art is not only a pillar of the Leeu Collection, it is a passion and as important as food, wine or sense of place." Given the pedigree of all three of those things at the property, any art lover can be confident that the pieces on show will be worth the time it takes to explore them.
I've come to stay at Leeu Estates as part of my latest trip to South Africa. It's a country I've come to love over my years of visiting, and my stay only enhances that entrenchment of emotions I feel for this land.
Expanding over 85 hectares, Leeu Estates was purchased by Singh when he visited for the World Cup in 2010. Originally meant his private residence in South Africa (he splits his time between there and India), Singh fell so in love with the land that he changed his mind and decided he wanted to share the beauty of the prime spot with tourists from far and wide. He renovated the property to include expansive rooms and suites in the main 19th century manor house alongside stunning little cottages a golf cart ride past the flower bedded lawns.
There are now 17 rooms in total, a decadent spa with outdoor pool and a wine studio which showcases releases from local Swartland winemakers Andrea and Chris Mullineux, recognised as one of South Africa's best new generation wine couples, and in whose business Singh is an investor. Everything has been created to the highest of standards and has an incredible degree of elegance – nothing feels showy, but everything feels impressive. It appears others agree – in April of this year, the Tourism Grading Council of South Africa (TGCSA) awarded it the new 5-Star Premium status, which has only been given to four other properties in the country.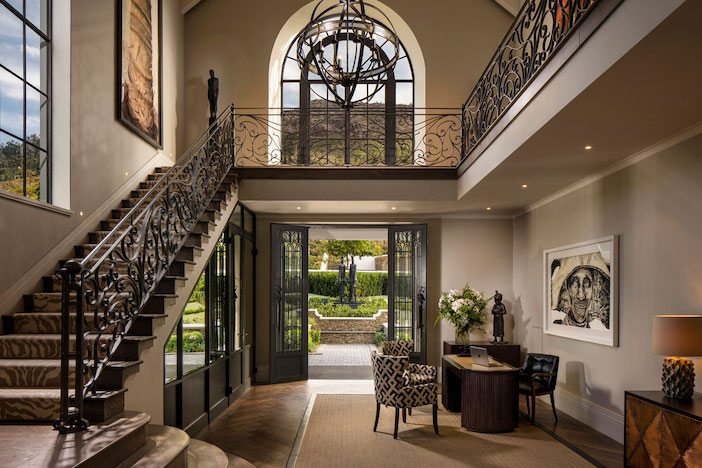 Settled in a valley between three mountain ranges, Franschhoek (or, the French Corner, if translated from Afrikaans) was originally called Olifantshoek (Elephant's Corner) due to the number of these lumbering beasts which moved through the valley. It was settled by the French Huguenots in the 17thcentury and the whole town has a wonderfully European nature about it, shown especially in the world-class dining and local award-winning wines that many people come from all over the world to experience.
Set just back from the main town, Leeu Estates is one of three properties in the Leeu Collection in the town, and is certainly its most private. As soon as one makes the journey up the expansive drive to the main manor house, it is hard to imagine wanting to leave, regardless of how beautiful the local town is. Our home for the night is one of the adorable cottages next door to the wine studio – large French doors open into our living room, which leads down a plush carpeted hallway into a beautifully appointed bedroom. A marble floored bathroom with his and her sinks, and a claw footed tub top off the grey and cream toned space that oozes comfort and class. Peering out the sash window in the bedroom, I can catch a glimpse of the nearby mountains and lush greenery. It's a perfect place to make one feel at home, but with an ideal amount of luxury to make it feel truly special.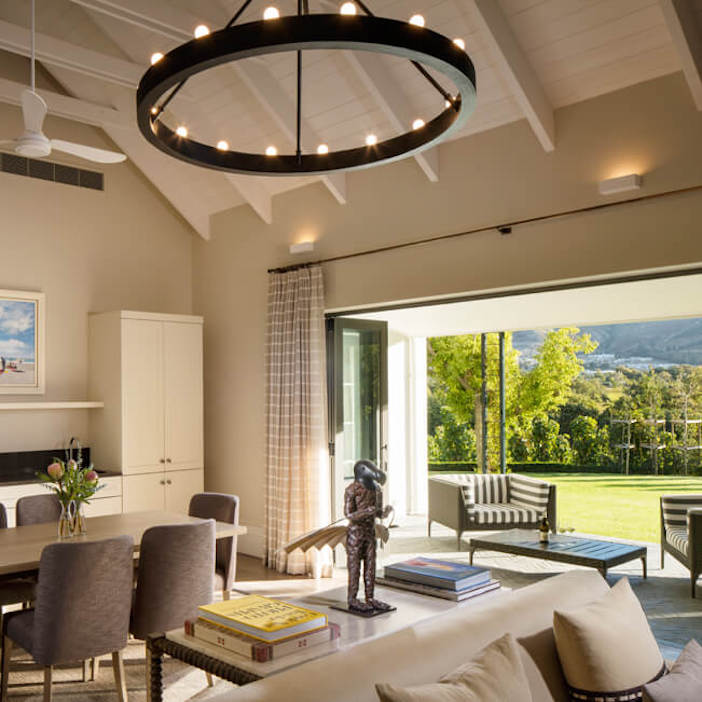 On the day of mine and my partner's arrival, rain clouds had descended on the valley – with an ever hanging threat of drought in South Africa, any droplets are welcomed so we say thanks to the rain gods and escape indoors to the spa where we are greeted by one of Du Toit's hares, this time perched in a most chilled-out lotus pose. Opting for the African Fusion massage, we melt into the warm treatment beds as the rain drops echo outside.
By the time we emerge fully blissed out, the air is fresh but dry, and we take a quick dip in the infinity pool overlooking some of the estate's vineyards. As I lap up the cooling waters and drink in the clean air, I long for the minutes to stretch out, for every moment to last a little bit, well, longer. It's unbelievably peaceful and I could imagine spending the full 24 hours of our visit without leaving the estate.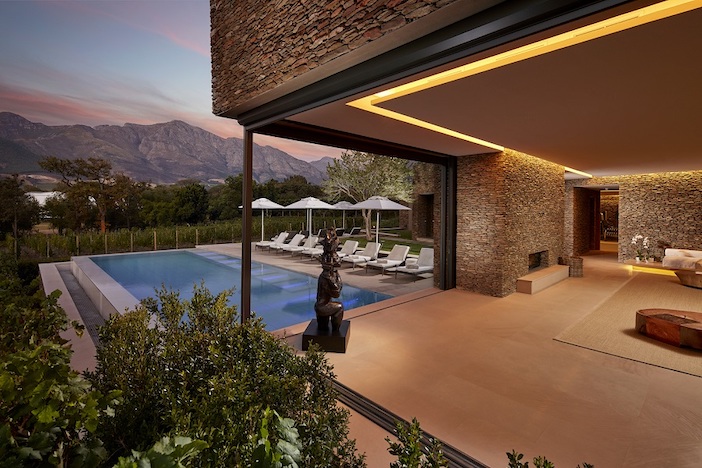 However, dinner beckons, and after changing from swimwear into something a little more elegant, we are whisked by one of the estate's drivers into town to dine at Protégé, located in one of the Leeu Collection's other hotels, Le Quartier Francais. Billed as a 'casual style eatery' it is another impeccable example of what I've found to be the ever growing number of South African restaurants that absolutely knock it out of the park when it comes to the use of fresh local ingredients, skilful menu creation, creative young chefs and dynamite value for money. It may feel casual – in that the welcome is warm, and the tables lacking cloths – but the sage green walls, beautiful art installations, gentle lighting and bubbling atmosphere makes it my ideal spot for an evening's meal.
The menu consists of 21 small plates, but we find it impossible to choose and opt for the R550 (approximately £30) chef's menu, handing the responsibility over to the team who will pick for us. Dish after flawless dish arrive at our table from the open plan kitchen – yuzu spiked Asian style oysters; succulent lamb rib roti with artichoke puree and mint; meaty cured local trout with hazelnuts; sweet east coast crayfish with Cape Malay relish; grass fed beef with bone marrow; spicy Kerala fried fish with labneh and curried sultanas…we eat and eat, topping off the indulgent food with a glorious, sweet and minerally bottle of Fable Mountain Jackal Bird white blend. When finally we saunter from the property to our awaiting driver – called from the main Estate to collect us if by magic – it's with a bit of sadness that I won't be able to experience the talents of this bright, young restaurant again anytime soon.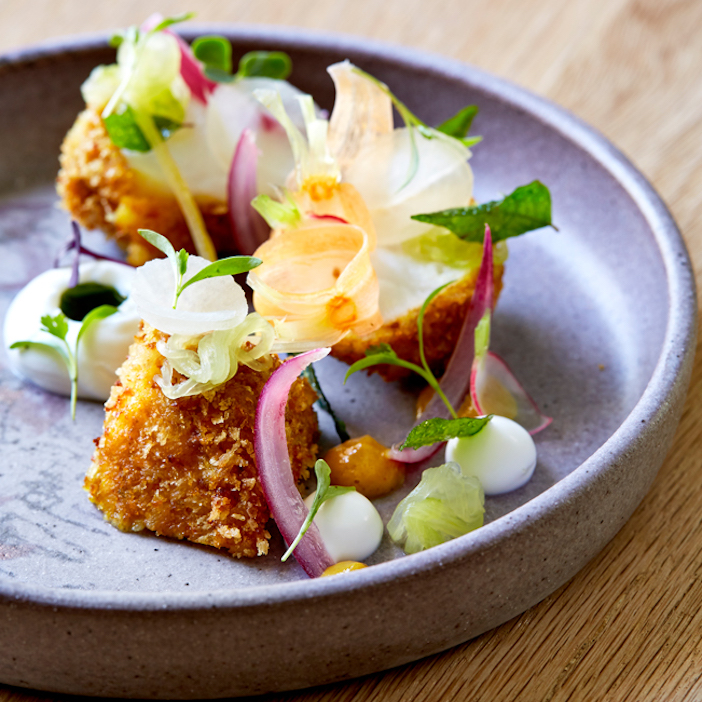 The next morning after breakfast in the now blazing sunshine, we head out on a garden tour with Zack, the farm manager, who tells us of all the work that's gone into transforming the property into the diamond it is today. As we wander through the estate's 85 acres, I have to pause to spend a moment with The Thinker one last time. Our visit has been too short, that much is certain, but it's clear that Singh and his team have created an oasis. Born from the instantaneous love that he felt on arriving to this little heavenly corner of South Africa, I can wholeheartedly understand his desire to share the Estate with more people and respect him for it. With one last look at the pondering bronze hare, I leave with a feeling that The Thinker thinks the same.
For more information about the Leeu Collection, including events and offers, please visit www.leeucollection.com.