Fans of Mediterranean cuisine and culture are probably already aware of the new BBC2 show Sicily Unpacked, hosted by Giorgio Locatelli and Andrew Graham-Dixon. What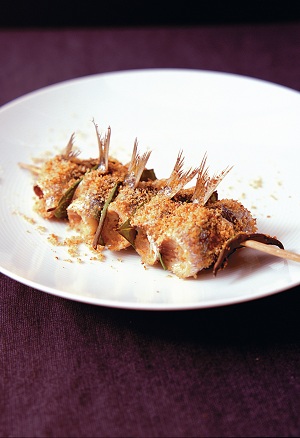 you might not know is that in conjunction with the series and release of Giorgio's new book a special menu has been tailored for your delight at the Refettorio restaurant snuggled within the Crowne Plaza Hotel in the city.
Head Chef Alessandro Bay, a former protégé of Giorgio, will entice you with his traditional Italian food made from the most freshly sourced produce, fish and meat. Luckily I, Stirling, will be dining there soon, so expect a full report along with, no doubt, a story about a bus, a note about a chiffon scarf and a missive about a dead dictator.
If you can't wait for the ramblings of a ex-military hard man or think you can beat Stirling to the punch, why not book yourself in for lunch or dinner. The 'Sicily Unpacked' group menu consists of three courses, including a glass of Prosecco at £30 a head, for a minimum of six people and a maximum of 30. The offer is available until the end of March.
Refettorio, 19 New Bridge Street, London, EC4V 6DB. Tel. 020 7438 8052. The menu is updated regularly so be sure to check out the website for the latest news.