I had yet to be initiated into the underground world of supper clubs. There is something almost clandestine about surreptitiously slipping into a stranger's house for them to wine and dine you along with other unknowns. But, given that this craze has been simmering under the surface of major cities for a good few years now, it's no real surprise that the simple supper club has begun to take on more exotic guises.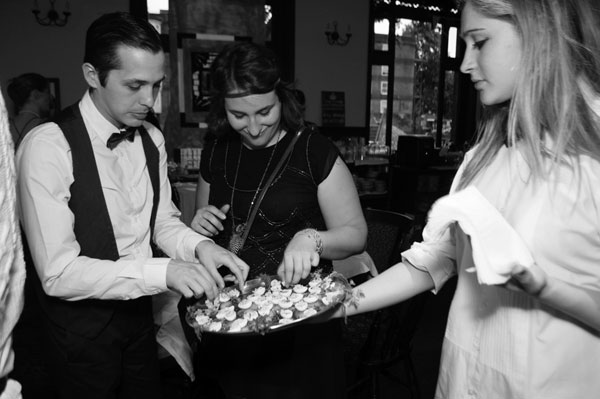 And that's where The Novel Diner comes in: not content with the joys of good food and company, its creators have added a literary dimension to proceedings by designing each night around an iconic book to immerse diners in a fictional world. The Great Gatsby was the theme of my experience and that's why a balmy summer evening took me to the Vauxhall Tea Rooms to witness life in West Egg, just as Jay Gatsby would have done. Or, perhaps more precisely, as one of Jay Gatsby's anonymous guests would have done.
"The bar is in full swing, and floating rounds of cocktails permeate the garden outside until the air is alive with chatter and laughter and casual innuendo and introductions forgotten on the spot."
That's exactly what we got as we approached the candle-lit restaurant with books lining the windowsills, bunting and garlands overhead and tablecloths sprinkled with glitter. Dapper-looking waiters greeted us on the terrace holding trays laden with Bloody Myrtles (bright pink, very sweet and something to do with cherries – about as subtle as the character they're named after but rather effective). There were a couple of sparkly flappers running around to take care of the business of tickets and names with a bit of extra pizzazz. Venues vary for each of The Novel Diner's events but this one was particularly enchanting and, set back from the river near a quiet park in Vauxhall, I would never have guessed that such a little gem could be awaiting us.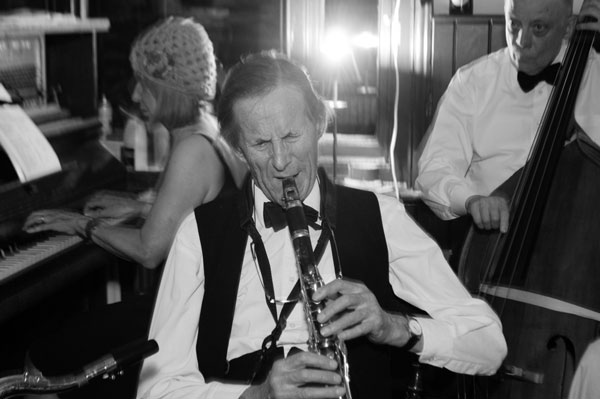 Everyone got into the spirit of the evening and guests belonging to our party were unmistakable as they sauntered up the path. One in particular looked just the ticket and turned out to be our very own Nick Carraway – Scott Shepherd, who has wowed both the West End and Broadway in Gatz (the eight-hour production featuring Fitzgerald's unabridged text) had somehow been sweet-talked into reading a little something for us. You could have heard a pin drop as he brought the words to life in his unassuming yet enigmatic manner. He then joined in the party too and, as I'm sure would have been the way in the book, became the subject of excited whispers amongst the guests, who couldn't quite believe that he was actually speaking to us.
"Men and girls came and went like moths among the whisperings and the champagne and the stars."
Guests happily mingled both inside and out, and I found myself chattering away to people I'd never met and who each had their own story to tell. There were for instance a bunch of American holidaymakers out to see what London had to offer; I can't for the life of me remember their names but we spent the entire dessert course engrossed in conversation. There were girls who arrived in gaggles but branched out as their cocktails diminished and fearsome-looking women with long gowns, slicked back hair and tapered cigarette holders whose smiles gradually widened at the same rate. There was a gentleman who, quite inexplicably, was in tennis whites and a rich banker who didn't seem to have come with anyone at all. Curiouser and curiouser, and great fun.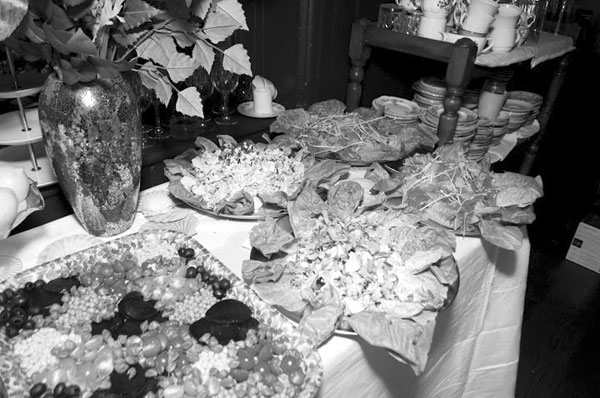 "On buffet tables garnished with glistening hors-d'oevre, spiked baked hams crowded against salads of harlequin designs and pastry pigs and turkeys bewitched to a dark gold."
Every dish on the menu was inspired by Fitzgerald's text and the result was charming. Starters were served in canapé form, and consisted of said pastry pigs, smoked mackerel pâté, and 'east and west eggs' (quails eggs with two delicious fillings, although the waiter wasn't too sure what they were). I could have done with a tad more sustenance given the flapperish flowing of bubbly that had taken us guests by storm, but there was a delightful novelty to it all, inspiring 'oos' and 'aas' as something new came our way. The main course buffet suddenly appeared in the room as a vibrant array of salads crammed onto the table with a suitably golden roast turkey and the aforementioned gammon joint studded with cloves. Waldorf salad, citrus salad, harlequin salad, mustardy potatoes and who knows what were ours for the grabbing. True to the text and beautifully put together, it was quite a spread and a surprisingly healthy one at that, although the type that you can pick at for hours before realising that you're completely stuffed. If not, the star-spangled cake and mammoth cheese-board for dessert would have done the job.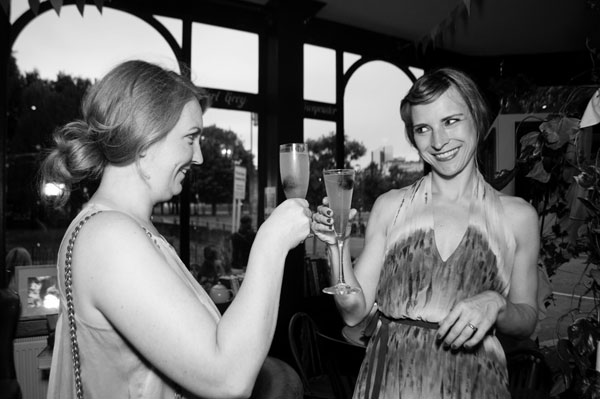 Food demolished, the swing band got into full, erm, swing and guests young and old gleefully jumped around to the oozing sound of trombones, clarinets and honky-tonk. The flapper girls from earlier ("confident girls who weave here and there among the stouter and more stable") got everyone up on their feet and taught us how to Charleston, so that we cheered each other on with giggles and roars, not caring how we looked. Moments like that were clearly orchestrated but not once did one feel cajoled or even awkward – simply ecstatic.
No one wanted to leave at the end of the night. If only one had such unending funds as Mr Gatsby himself, we could all have danced until dawn, but £35 for a party like that isn't half bad. This supper club took on an extra dimension. The evening was as easy-going as dinner at your best friend's house (with scrumptious home-cooked grub to match) and yet we were transported into another land and time completely. If the magic of a good book is the successful setting of a scene, then the magic of a good literary supper club must be the capturing and bottling of that. The Novel Diner popped the cork with imagination and phenomenal attention to detail. Organisers Mina and Claire managed to make everyone feel completely at home, yet spoilt and giddy with excitement at the same time.
Book worms, socialites or foodies alike will find something to revel in at The Novel Diner and its repertoire is certainly what you might call diverse – the next evening is based on American Psycho. Though terrified of that particular world being so effectively brought to life, I'm intrigued…
For more information and to book tickets, visit the website.