Steak is a powerful and composite entity – a steak is never just a piece of meat. I can think of few other foodstuffs that carry so much baggage, that have so much emotion and meaning coiled around them. Here we are discussing a slab of cow, but the conversation never stops there, not when there are so many other considerations to be made. Yes, we all know there's something primal involved, an element that relates to the inner caveman in us, something about the purity and simplicity of the process; but there's more too. Steak is an issue that divides nations, and indeed can define national pride. Talk to an Argentinian about food and there will nothing but Argentinian beef and Chimichurri on his mind, an Englishman might talk passionately about our wild, flavoursome grass-fed beasts, but if you really want to hear someone get over-excited about their t-bone, then it's got to be an American methinks.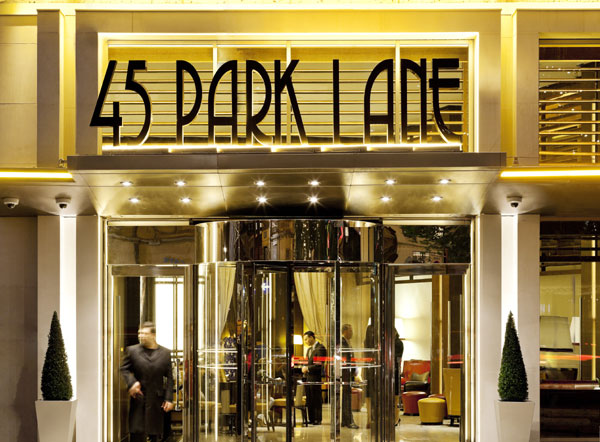 Wolfgang Puck is not an American, an honourary one perhaps, but he's certainly passionate about his steaks. Puck is something of a celebrity in the United States: he's fed more of the great and good than any living chef. Born in Austria in 1949, Puck served several apprenticeships in France, before moving to America at the age of twenty five in 1973. On moving to LA two years later he became a restaurateur in his own right and then went on to own one of America's most sprawling restaurant empires. Spago in Beverley Hills is his signature restaurant, and perhaps Los Angeles' most iconic dining room. It's the kind of restaurant that might feature (and almost certainly has) in a Brett Easton Ellis novel and the wine list is one of the finest in America.
The latest addition to Puck's restaurant group is CUT at 45 Park Lane, the first Wolfgang Puck restaurant in England. 45 Park Lane opened last year as part of The Dorchester Collection and I'm yet to see a sleeker-looking boutique hotel. CUT forms the downstairs dining room and fits the bill perfectly – Angus Steakhouse this is not. The walls are lined with Damien Hirst butterfly prints and the chairs are clad in thick purple leather.
The menu is that of a high-grade American steak house, with an added helping of composure and a number of subtle Asian touches. My guest begins with the latter – Big Eye Tuna Tartar with Wasabi Aioli. The tartar is a thing of unquestionable beauty. The meat is dark in colour and packed densely and precisely under a slightly ribbed disk of perfectly cut avocado. I opt for the extravagant charms of Australian Wagyu Steak 'sashimi.' The sashimi is more of a salad, but what a salad it is. Thin slices of heavily-marbled Wagyu beef sit amid pieces of crunchy radish and ripe tomatoes.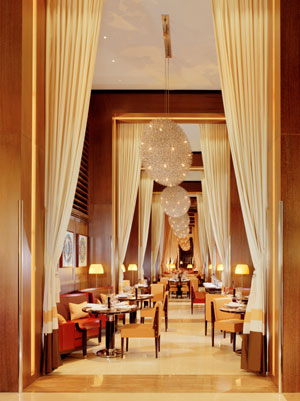 There's a great contrast in texture between the giving, fatty meat and bracingly fresh radish. The salad is dressed in a lightly spiced dressing reminiscent of Japanese teriyaki, which works well with the savoury qualities of the meat. Both starters are delicious and whet our appetites for the substantial job at hand.
Steaks come from three continents and are presented in various extravagant formats. USDA Prime Black Angus is the benchmark here, but we've also got British Casterbridge Angus and intensely marbled Darling Downs Australian Black Angus for those who yearn for the melting, buttery charms of Wagyu. I choose a huge USDA Prime Ribeye, which at 14oz is the largest steak on the menu. The main distinction between American and British meat is that the grain-fed American beef has a high percentage of fat (marbling) running through the muscle tissue, which helps to baste the meat in fatty moisture as it cooks. Ribeye is a fairly fatty cut anyway, so this ribeye is laden with moisture and beefy juices. The meat is lighter in colour than Scotch Angus, light purple meat that slices with ease. The flavour is marvellous, deep and musky, but sweet too, a characteristic that is so singular and only found in American beef. My guest enjoys three smaller cuts, American, British and Australian Wagyu, which make for an interesting comparison. After considerable deliberation, we agree that at this size format the American wins out; the British seems a little dry, the Waygu a touch one dimensional – the American in comparison has everything. Sides are sizeable, but not overwhelming as in some American steakhouses and are also delicious. A dish of creamed spinach with fried egg is particularly satisfying. The wine list is extensive and offers an encyclopaedic selection of great Californian bottles –I suspect it's the largest selection in London. We drink Duckhorn Cabernet Sauvignon, which is a fine partner for these extraordinary steaks. We finish up feeling utterly sated.
Cut at 45 Park Lane is in a league of its own in terms of American steakhouses in London. It offers an unapologetically extravagant experience, without succumbing to insanity and trying to ply its patrons with an overblown meal that leaves one feeling bloated and unwell, like some of the American steakhouses in London. There are no buckets of chips, no nine inch cheesecakes; Puck's restaurant manages to balance excess and elegance with great aplomb.