It's always a pleasure to dine à deux with one of the Arbuturian team, but that pleasure is increased a hundredfold when that person is Larry. One always knows what one's going to get of an evening; the rapier-like wit, the politesse that comes about from an expensive education, the attention to sartorial detail and the languid elegance that behoves any 21st century man-about-town. Our natural habitat is the smoking room, or the elegantly muted interiors of a stylish restaurant, where the conversation seldom rises above a polite murmur. It is not, perhaps, STK, a place that Larry described, accurately, as 'if Jessie J had opened a fine dining extravaganza.'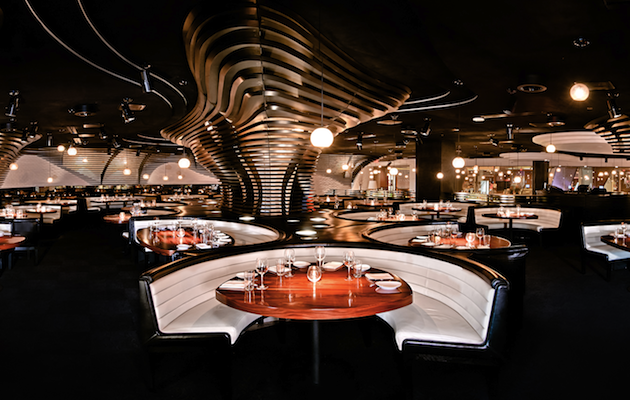 STK – the name perhaps lacks a certain originality – is situated snugly inside the new ME London hotel near Aldwych. However its spiritual forebears are less the likes of Hawksmoor and Rules – clubbable places decked out in brown leather – and more the sort of mega-restaurants that have been hugely popular in Essex and its Middle Eastern offshoot, Dubai. The décor is, to put it mildly, challenging for two gentlemen such as ourselves. There is a great deal of purple, and the sort of darkness visible effect that simultaneously makes it seem garish and murky. Larry and I exchange glances. This is not, perhaps, the obvious place for the two of us to be congregating on a warm Wednesday night. There is much shouting, and loud music, and raucous laughter. I fear that our conversation about the finer points of pre-Raphaelite art might have to wait until the walk outside. We order a couple of cocktails – a beast that proudly bills itself as 'not your Daddy's Manhattan' for Larry and a fierce little number that tastes in equal parts of cucumber and vodka for me, an aptly named 'cucumber stiletto'. Both are strong, and expensive. This sets the tone for the evening. We nod, in a manly, straightforward fashion, and peruse the menu.
However, a certain boisterousness of style can be forgiven if the food lives up to the (far from inconsiderable) prices. STK has looked around at the current vogue for large, gently resting platters of recently deceased cow, and has served up its very own twists on the human desire to eat plates of meat the size of one's head. We skip through starters at speed – Larry's tuna tartare is fine without being exciting, my blue gem salad is virtually inedible and to be avoided at all costs – and arrive at the piece de resistance, the section of the menu proudly labelled 'Grilled'. Here is where the action lies. There are three kinds of steak, divided up into 'Small' (would feed a normal, hungry person), 'Medium' (would feed a very greedy person or two normal people) and 'Large' (family of four territory). Larry and I balanced professional integrity, greed and a willingness to try new things and decided to share two of the second category, a sirloin and a rib-eye.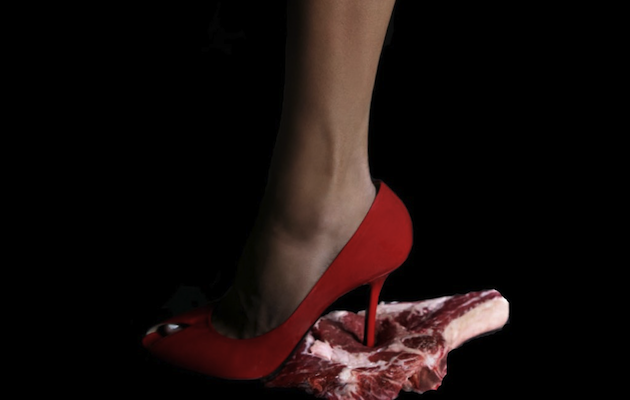 We were glad that we did. Although possibly not quite of the sublime standards of Hawksmoor, these were seriously good steaks. Using prime USDA beef, they have an impressively-sized flavour to them that's easily the equal of, say, Cut on Park Lane. We are charmingly upsold a variety of sauces and side orders, of which the truffled parmesan chips is the most decadent and therefore the best, and the obligatory mac and cheese ('rather a dirty mac, wouldn't you say?') was an artery-hardening glory. Washed down with a bottle of more than speakable Malbec, this was the very definition of what we'd wanted, and it transported us both into a very happy state for a quarter of an hour. Even the ominous presence of a nearby DJ – for it is a truth universally acknowledged that an expensive meal is always made better by having four-to-the-floor basslines crescendo in your eardrums – could not dull the moment. We were very pleased indeed by this.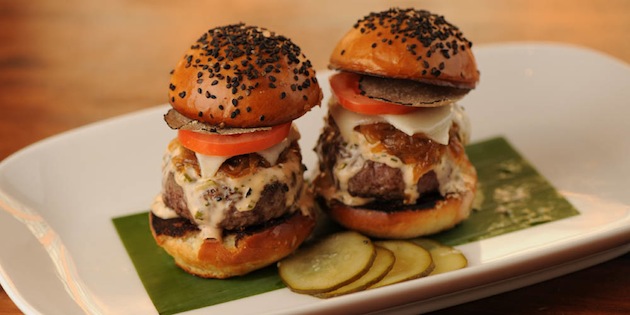 Pudding seemed an unnecessary extravagance after our carnivorous exploits, but unnecessary extravagance is, after all, what we're all about. We ended up sharing the STK ice, a mini ice cream cone sampler. We must have looked absurd, two grown men eating miniature ice creams, but thankfully none of our nearest and dearest were on hand to look pityingly at us, and they were quite speakable, in a retro way. Washed down with a couple of glasses of an obscure Scots whisky that Larry professed excellent – and he was right – it brought an unusual but enjoyable evening to a satisfying close.
On the way back across Waterloo Bridge, Larry took a leaf out of Wordsworth's book. Looking back at Aldwych, where the faint notes of music were beginning to subside, he inhaled and said "Dull would he be of soul who could pass by a sight so touching in its majesty". With which he turned to me, still slightly incapacitated with the treble whammy of wine, whisky and wittles, and smiled, the knowing smile of a man who has seen more things than he has cared to, and has come out a stronger person for it, "And dull would he – or she – be of soul who could pass by STK and not at least partially give into its purple-hued charms".
Reader, I most heartily concur.
[cgview id=116 num=8 size=150×150 showtitle=always lightbox=0]