I have decided this feature is going to be a turkey-free zone. Don't get me wrong – I absolutely love Christmas Day's rituals of cooking and eating; but what really rocks my festive boat are all the other occasions that lead up to and surround the big roast. Large or small, each and every one of them is a great opportunity to make merry with the best foods and drink that the season can offer.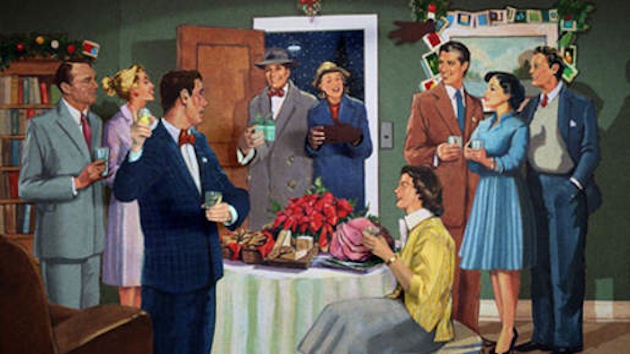 The day the house is decorated and the tree goes up is for me the real start of Christmas. An occasion that's incomplete without mince pies and a few glasses of something suitably special. There's a long history of drinks being amped up a notch at this time of year with different types of boozes and spices to create extravagant recipes more befitting the celebrations. Mulled wine is the obvious example that has deservedly stood the test of time. Especially good with an orange studded with cloves alongside the cinnamon sticks in the pot and a slug or two of sloe gin. Of all the mulling options (apple juice for the tee-totallers, cider for those who are pacing themselves) the best is, I think, the wassail – what's not to love about warm spiced ale that's ladled out of a bowl with roasted apples bobbing along on top?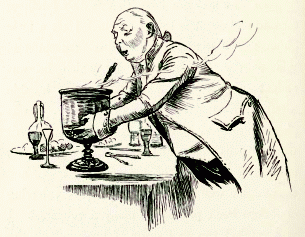 Christmas Wassail
6 small apples
an orange
13 cloves
150g soft brown sugar
2 litres ale
600ml dry sherry
a tsp each of ground cinnamon, grated nutmeg and ground ginger
1. Run a knife around the equator of the apples to cut through the skin and put them in a pot that's both oven and hob proof. Sprinkle over 3 tbsps of brown sugar and 4 tbsps of ale. Stud the orange with the cloves and add to the apples. Cover and bake for about half an hour at 180C until the apples are tender. Then take the fruit out with a slotted spoon and set aside.
2. Put all the remaining ingredients into the pot that the fruits were in and simmer gently for 5-10 minutes. Pour into your serving bowl and then put the apples and orange back in to float on top. A few cinnamon sticks would look good too.
Wassail meant 'Be in health' in old Norse and was proclaimed at apple trees to encourage them to bear more fruit before it became a toast – complete with floating cinnamon toasts – for families on Christmas Eve. They had the right idea. A day with such a magical buzz of expectation and anticipation is surely worthy of its own celebration. Like the French tradition I've rather fallen for of marking Christmas Eve with thirteen small and simple desserts which would be eaten on getting home after Midnight Mass.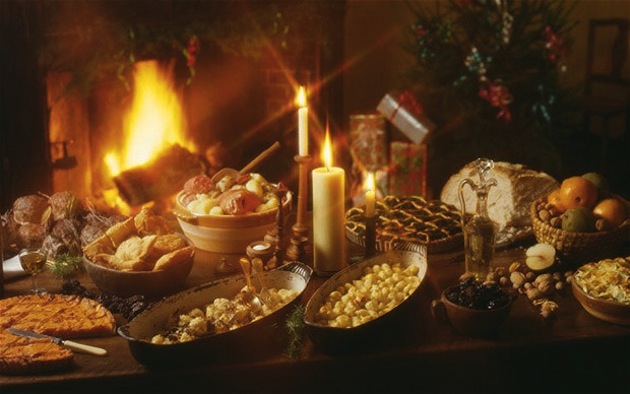 The idea is that they symbolise Jesus and the apostles. It's made up of bread; two types of nougats; and then raisins, hazelnuts, dried figs and almonds to represent monastic orders. The remaining six elements would vary across France from fresh fruits to quince jelly, prunes stuffed with marzipan, candied fruits, fennel seed biscuits, gingerbread, yule log…. The options are so varied I don't think there's any need to worry about being too literal in creating your Thirteen Desserts of Christmas. I think of this as an easy and elegant Christmas Eve nod to the origins of this ritual.
Fougasse flatbread would be good if you can get it. The nuts and dried fruits are easy enough. Then after that a trip to Pierre Hermé would take care of everything else with their jaw-droppingly exquisite selection of fruit jellies, marron glaces and marzipans with candied fruits.
The Christmas pudding is an occasion in its own right whenever you have it over the holidays. Unmatchable with glorious, flaming beauty. Yet for all its fabulousness, it's usually a good idea to give your guests a bit of a break before expecting them to launch into this dessert with any kind of gusto. That goes double on Christmas Day. There's little more dispiriting for the adrenalined-up Christmas cook than proudly marching into the room with your pudding held aloft in its blue flames and being met with over-fed silence.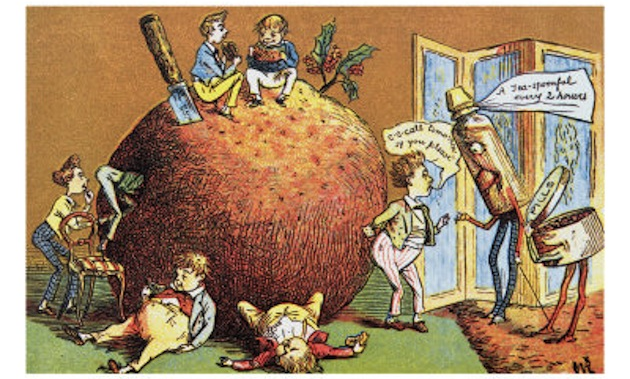 I don't just mean a lull in eating. I mean some respite for the palate of the kind that this sparkling clementine jelly offers. It's a great way to cook with this seasonal fruit and is rooted in the orange jellies that were and are a familiar part of Christmas fare. Particularly – for reasons I haven't yet got to the bottom of – in Yorkshire. The addition of champagne gives the jelly a very refreshing fizz.
Sparkling Clementine Jelly (For 6. Can be made up to two days ahead of time.)
25 clementines juiced to give you 600ml juice
5 gelatine leaves
300ml champagne
I know, that's a lot of clementines to squeeze. It is of course also available to buy ready-juiced.
Allow the gelatine sheets to soften in a bowl of cold water for a few minutes and whilst that's happening put 100ml of the clementine juice into a pan to gently heat up to a simmer and then take it off the heat.
When the gelatine is soft give it a good old squeeze to get the excess water out and then stir the gelatine into the hot juice until it disappears. Add the rest of the clementine juice and the fizz. Stir well and then divide between 6 small glasses. Chill until set – that'll take about 4 hours.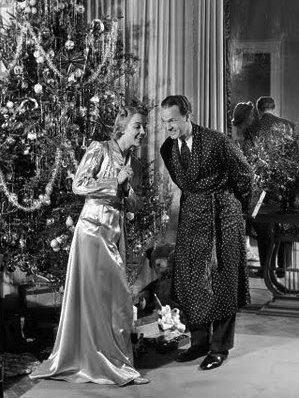 Sometimes the best occasions over Christmas are the unexpected, unplanned ones. For which my get-out-of-jail faithful stand-by is prunes in armagnac. A couple of bottles in supply can come in very handy as an after-dinner treat with the plump prunes nibbled and the armagnac sipped alongside; an instead-of-dinner treat when even the thought of more cooking seems impossible; an emergency dessert with ice- cream; or even an emergency gift. Agen prunes (thank you, Waitrose) are ideal for this. They're the tastiest and also the most succulent as they're semi-dried.
Soak 1kg of prunes overnight either in boiled water with a cinnamon stick and a few cloves or some tea. Drain the liquid off and divide the prunes between 1.5l worth of jars. Make a syrup with 250g caster sugar boiled for 2 minutes with 125ml water. Allow to cool and divide between the jars of prunes. Pour over enough armagnac to absolutely cover the fruit – you'll need at least a bottle for these quantities. Seal and chill for a fortnight before even thinking about using them.
Whilst I'm talking about prunes I just want to squeeze in a quick mention for Fortnums' heavenly tins of Agen prunes that are stuffed with prune puree. They'd make a great gift and come to think of it would be crackingly good as one of your Christmas Eve thirteen.
There. That's my festive lot. All that remains is to say is 'Have a good one' and I'll see you on the other side.