A kilner jar filled with what looks like lime green lettuce leaves has been placed in front of me. Popping it open, to my horror and delight I find an army of ants crawling across cabbage leaves, the odd ant or two stuck in globules of crème fraîche. Gasps of incredulity fill the Claridge's ballroom. One lady cowers behind her handbag, another swoons. It feels like we're stars in our own Bush Tucker Trial – are the aptly-named Ant & Dec going to leap out from behind the curtains and surprise us? It takes a minute to muster the gumption to pick up one of the ants and pop it in my mouth. When I do, I'm rewarded with a surprisingly pleasing taste of lemongrass, though it's tickly on entry and seems to take forever to journey down my throat.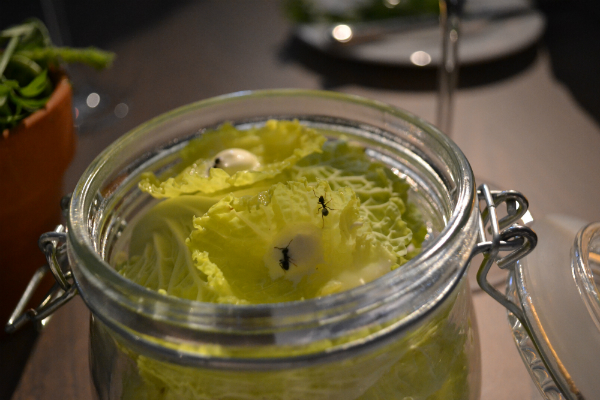 I'm not in the jungle, but at the hotly anticipated 'A Taste of Noma' pop-up at Claridge's. At £195 a ticket, I wasn't expecting my food to still be alive – I rather hoped René would have had the decency to slay it first, though the ants don't seem to have deterred diners; the 3,400 seats at the pop-up sold out in a mere two-and-a-half hours. Such is the fervour for a fleeting taste of the best chef in the world's food. Everyone, it seems, wants a piece of René Redzepi, or an indelible memory of his culinary prowess at least. His two-Michelin-starred Copenhagen restaurant Noma, an acronym for Nordisk Mad, meaning "Nordic food" in Danish, has been voted the number one restaurant in the world for the past three years at the World's 50 Best Restaurant Awards, bringing El Bulli's record four-year reign at number one to an end in 2010.
The great Dane's 10-day August residence at Claridge's alongside a troop of 33 chefs, eight of whom had been flown in from Noma, is London's third high profile celebrity pop-up, after Pierre Koffmann's stint on Selfridges' rooftop in 2009 and Thomas Keller's French Laundry incarnation at Harrods last year. Redzepi's inventive nine-course menu is built almost entirely around British produce. To prove how seriously he takes locally-sourced grub, the fruits of his foraging have been traced on a Condé Nast Traveller-style hand drawn map of the UK featuring mawkish illustrations of Scottish cows and Suffolk carrots, a copy of which is presented to diners on arrival, with only the oysters, black truffles and ants coming from abroad.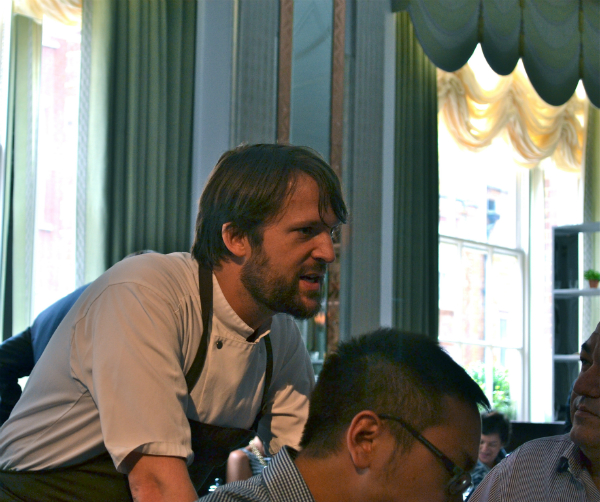 Claridge's' chandelier-filled, Ladurée-green ballroom serves as a suitably sumptuous setting for Redzepi's culinary theatrics. Bookcases featuring Great Expectations alongside the collected works of Barbara Cartland add a sense of bathos to proceedings. Having passed a slippery-looking Peter Mandelson in the corridor, I enter the ballroom, which is already buzzing with animated banter. There's a palpable sense of excitement in the air. My heart beats uncharacteristically quickly and adrenalin pulses through my veins. I feel as if I'm about to take an exam or begin a job interview. The anticipation of eating food prepared by the best chef in the world is almost too much to bear. Mercifully, my nerves are soon massaged by an ice-cold glass of Laurent-Perrier NV. Then the lights dim and the show begins. First out of the blocks is a plant pot filled with edible flowers and an arch of green stalks, which, when yanked, reveal carrots and radishes attached. Told to get down and dirty and use our hands, I feel like Peter Rabbit running riot in Mr. McGregor's garden as I delve into the pot and unearth handfuls of edible soil made from hazelnuts, rye, malt, beer and butter. Hands well and truly filthy, I'm charmed by the Heston-like nostalgia of the dish, which seeks to recreate the excitement of exploring in your own back garden as a child.
The curious gets curiouser when we're served the aforementioned ants. Having popped open our jars, fast-talking, fiercely confident Noma head chef Matthew Orlando from San Diego sidles up to our table and explains that this particular type of red ant had been selected after a rigorous tasting of 13 different varieties, as it shares a chemical compound with lemongrass. Orlando admits that, having managed to get 22,000 live ants through customs, they are running dangerously low on the critters and have had to send someone from London to Copenhagen on an ant-finding mission to bring more of the fragrant Formicidae back to Claridge's.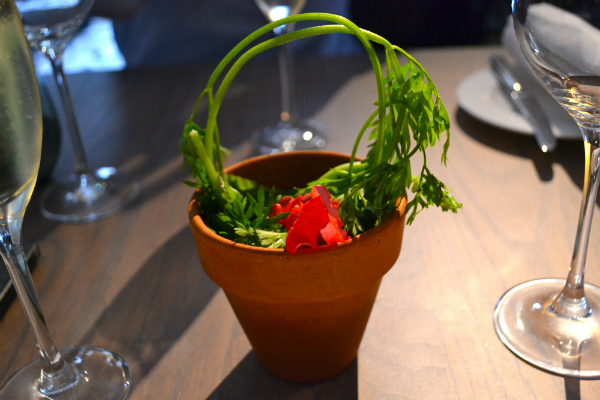 The following course, a refreshing blend of three teas served with crushed raspberries in a quaint bone china cup, seems positively prosaic in comparison, though its jewel-like ruby hue is painfully pretty, and the clotted cream for the scones covered with a roof of salty black caviar is indescribably good – high tea with a twist. As with the plant pot, we are advised to eat the next dish – beef tartare with a swoosh of pistachio green sorrel – with our hands. It smells of its colour, the subtle beef letting the earthy sorrel sing, while a sprinkle of juniper berries adds gin-like aromatics.
Sourdough arrives swaddled in a woolen fleece, its fluffy interior still piping hot. The accompanying "virgin" butter and creamy goat's butter are both indecently good. A pleasingly potent smell of truffle suddenly fills the ballroom, piquing my curiosity as to what's coming next. Before I'm privy to its identity, we're presented with a poached oyster gleaming in its shell beside a mound of turtle green samphire amid a bed of still-wet pebbles, which glisten in the light. Saline but fresh, the silky oyster tastes like a generous gulp of seawater. Never before has a dish transported me back to its origins so vividly.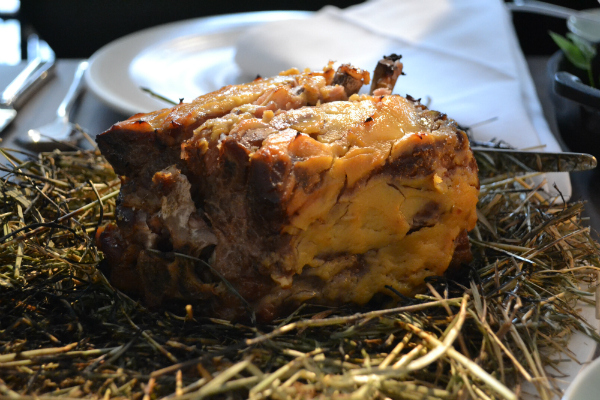 Pleased my senses aren't deceiving me, the truffle smell is explained when we're brought what looks like a tiny baked potato perched beside a black truffle oil slick. The potato turns out to be slow roast celeriac, and the dense truffle sauce, as black as squid ink, one of the most intensely flavoured and delicious things I have ever put in my mouth. The ensemble is comfortingly autumnal, like shoving your nose deep into the forest floor and breathing in a lungful of earthy air. The main event – Romney Marsh neck of lamb marinated for 24 hours in fermented pea miso, then cooked for a further 24 and served on a Biblical bed of hay – is achingly tender, falling apart at the mere sight of a knife, and unashamedly rich in flavour, the sweet, fatty meat served with cooling milk curd and crunchy vegetables smoked Noma-style on Claridge's roof.
Mention must be made of the wines, the majority of which are organic and biodynamic, in keeping with Redzepi's principles. Whites dominate the list, with a duo of Alsatian Rieslings from Josmeyer and Marc Kreydenweiss providing mouthwatering lime and mineral mouthfuls, and pairing particularly well with the poached oyster dish. A nutty Jura Chardonnay meanwhile, proved a playful match for the earthy celeriac and truffle, and the ambitious inclusion of a 2006 red from Provence producer Henri Milan served in jeroboam had the enchanting wild nature of a Northern Italian red.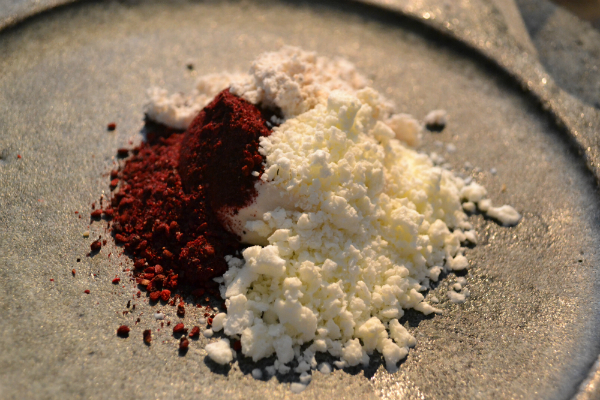 Deconstructed dessert, though clever, hits a low note of style over substance, the frozen blackberries lifeless in the mouth and the walnut ice cream beneath doing an unconvincing impression of itself, leaving me colder than liquid nitrogen. Luckily, Redzepi had one final trick up his sleeve: to sweeten the blow of the price tag, before you leave you are presented with a silver and red vintage toffee box. Inside is a pair of ready salted crisps dipped in chocolate and flecked with fennel seeds. The combination of sweet and savoury on biting is as heavenly as salted caramel.
Did lunch live up to expectations? Almost. At their best, the dishes are technically immaculate, charmingly playful and exquisitely presented, though no matter how tender the lamb's neck may have been, it's the ants that linger in the mind. Redzepi needed a talking point dish, and he got his headlines with the ants, which will serve as the enduring, tickly memory of his London tenure. As the name suggests, the Claridge's experience is nothing more than a taste of Noma – a snapshot of what this hugely talented chef is capable of at his Copenhagen flagship. It whets the appetite rather than satiating it.
Claridges, Brook Street, Mayfair, London W1K 4HR. T: +44 (0)20 7629 8860. Website.
noma, Strandgade 93, 1401 Copenhagen, Denmark. Tel: +45 3296 3297. Website.