It is honestly not as daft as it seems to be giving you a Christmas pudding recipe mere days before the 25th. Yes, 'Stir-up Sunday' has been and gone a small while ago. If you haven't already got a homemade pudding maturing in a cupboard somewhere you are indeed out of time to make one for this year. You are, however, in marvellous time to make your Christmas puddings for next year. Stick with me, folks.
The ones made on 'Stir-Up Sunday' at the end of November when the first weekend of Advent falls, have a month to grow into some depth. Every year when I make mine I always do an extra one to roll over into the following Christmas; and that one which is 11 months older is notably different in flavour, texture and colour than the month-old whipper-snappers.
The delicious Christmas puddings being served at The Spread Eagle in Midhurst are similarly aged for a year and it strikes me that Christmas pudding-making is an activity that's actually very well-suited to doing over the Christmas break. Simply stir together a load of ingredients, spoon into pudding bowls, and steam for several hours whilst watching 'Spartacus'. You home will be filled with the most marvellously Christmassy smells.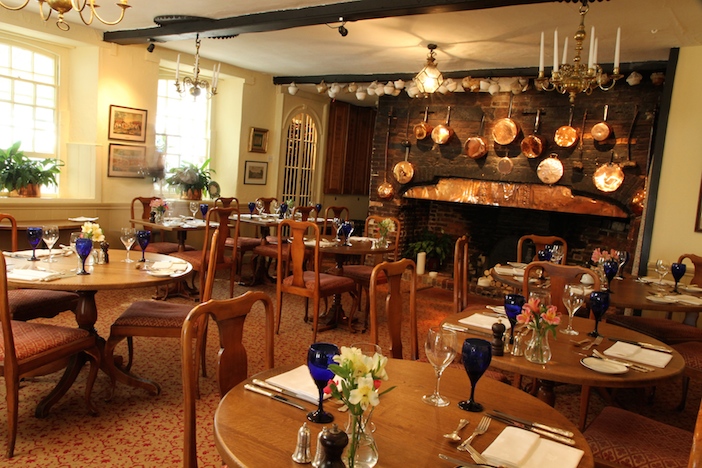 Those year-old pudds at the Spread Eagle are by no means the oldest ones there. The Spread Eagle has the loveliest Christmas tradition I've heard in a long while. Their guests on Christmas Eve are each given a pudding and have the option to either take it home with them or leave it at the Spread Eagle to collect on a future visit. Which is how its Dining Room has ended up with many Christmas puddings dangling from its (very) old oak beams by the fireplace. The oldest current pudding hanging up there at the moment is from 1954.
Those folks from 1954 must have a mighty good reason for not having been back to collect it. The Spread Eagle is one of the cosiest, properly old, properly lovely, proper coaching inns I have been to. I'd grab any excuse to make a return trip. While there it is worth asking the staff to tell you about the Spread Eagle's celebrity visitors over the half-millennium it has sat in the middle of the market town of Midhurst. Parts of the building are still existing from the 15th century; and its exposed beams, open fires and Princess-and-the-Pea-style four-poster beds are just delightful.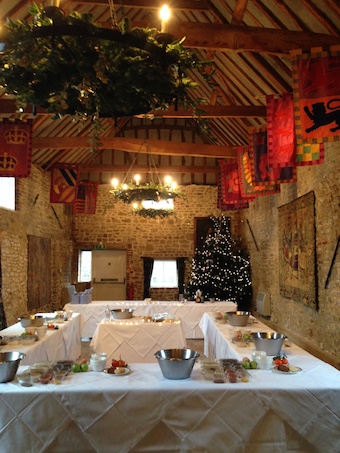 As is Martin Hadden, the Group Executive Chef of the Historic Sussex Hotels that this hotel is part of. Martin's Michelin-starred delightfulness was being very much appreciated by the locals at the Christmas Pudding workshop I went to and which was the reason for my visit. They do this every year and on the off-chance you are not going to be making your 2015 Christmas puddings in the next few weeks, I heartily recommend putting it in your new diary.
The two-hour or so class kicks off with the local vicar reading the section from the Book of Common Prayer that applies to Stir-up and Advent. Then, led by Martin, everyone mixes together the prepared ingredients and fills the pudding basins. Martin is an engaging host; chatting and giving some background to the history of Christmas puddings which I am not going to spoil. Let's just say that I think I know a lot about Christmas puddings and I learnt a couple of things that day.
Puddings made, everyone goes off for lunch by the end of which the puddings have been beautifully wrapped up by the Spread Eagle's elves for the workshoppers to take home. I carried mine aloft ever so proudly as I left; thoroughly charmed by the Spread Eagle and its luxurious festive warmth.
Spread Eagle Midhurst's Christmas Pudding (enough for five 2lb-size pudding basins)
225g breadcrumbs
55g plain flour
225g shredded suet
225g soft brown sugar
4 eggs
455g raisins
225g sultanas
115g dried apricots
115g candied peel
115g glace cherries
115g grated apple
115g ground almonds
zest of 2 lemons
zest of 1 orange
2tsp mixed spice
1tsp ground cinnamon
2tbsp black treacle
100ml brandy
140ml ginger wine or sherry
In a large bowl mix all the ingredients thoroughly together, cover the bowl and leave in a fridge for 24 hours for all the flavours to meld together. Three-quarter fill each pudding basin with the mixture. Place a disc of greaseproof paper on top and then cover with a lid or tightly wrapped cling film. Steaming time: a 2lb pudding will take 4 hours. Leave to cool, then store in a cool dry place. To reheat steam for a further 2 hours.
Stays at The Spread Eagle Hotel & Spa from £119 per night based on two sharing a standard room on a B&B basis. www.hshotels.co.uk. Tel: +44 (0)1730 816911.
The Spread Eagle Hotel's Christmas Pudding Workshop is £25pp. It will take place at the end of November 2015 in line with Stir Up Sunday.