The Westbury is one of Mayfair's more understated hotel addresses. Tucked away between the hedge funds and art galleries, next to a Lanvin boutique and away from the gaze of shoppers and tourists, it luxuriates gently, with a quiet confidence. The Polo Bar is a particularly good venue for a late night cocktail and the hotel's Japanese restaurant Tsujiki Sushi is, in my opinion, one of Mayfair's great insider finds. Yet it is the hotel's new fine dining restaurant, Alyn Williams at The Westbury, that the hotel is getting most coverage for at the moment, with the named chef recently gaining a Michelin star and winning the National Chef of the Year Award 2012.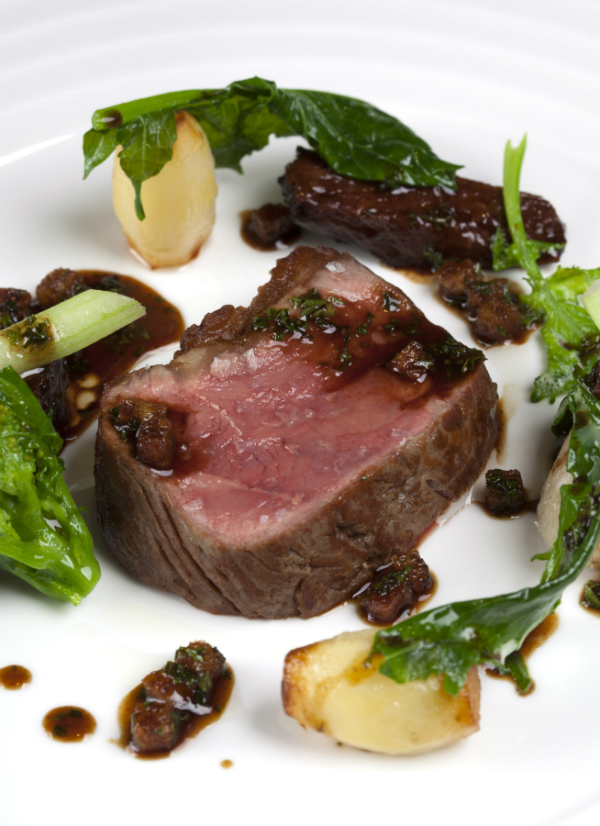 Alyn Williams is a chef who has proved his skill cooking at Michelin star level before, initially at Petrus and latterly as head chef at two-starred Marcus Wareing at The Berkeley. Alyn Williams at The Westbury is his first outing alone and it is fair to say it has been an eagerly anticipated arrival. Reports indicate that the restaurant previously residing here had become a little run-down and tired.  With this in mind, all efforts have been made to create a dining room of warmth, elegance and distinction and it seems as if these efforts have paid off.  The setting is understated, but with a latent sense of luxury, which is perfect for Alyn Williams' refined, carefully sourced and expertly constructed dishes.
Williams' dishes are unlike those of any other chef working in London at the moment. There are familiar characteristics, sure, but the shape of his dishes and nuanced touches of presentation are something of a joy to encounter. Attention to detail is paramount in this restaurant; a selection of warm breads come in a heavy wooden bowl along with two butters – salted creamery and an unsalted whipped mound with added Caraway seed. Our first course is a seasonal treat. Our visit to the restaurant has happily coincided with the start of truffle season, so several of the dishes we taste benefit from the added earthy musk of Tuber magnatum. 
Smoked hen's egg comes deep yellow and wobbling, with soldiers of sourdough filled with truffle paste – a hauntingly fine take on a child's breakfast dish. The next dish is a wonderfully stripped-back construction which articulately communicates Williams' skill and confidence: Broccoli three ways with almonds and green olive tapenade. There are delicate florets, verdant tender-stems and a silky, green cream. Chopped toasted almonds and an intense tapenade pull the dish together and help to complete an interesting range of textures. Here lies such inspired simplicity; it's a dish that few chefs could get just right. Cod with coco beans, parsley and luxurious shavings of white truffle is as calm and gentle as a dish could ever hope to be. The fish is of excellent quality, firm and gleaming, bolstered up by the lingering fungal suggestions.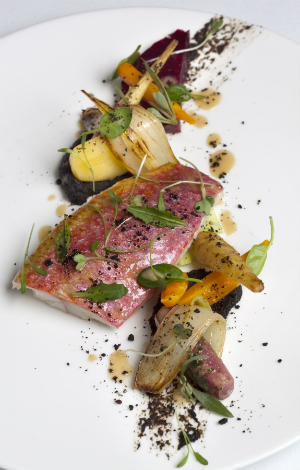 Glazed Gressingham duck is served with five spice and cashew nuts and is highly commendable in terms of flavour and proportion. When dining on multiple courses in this way, the worst thing is to feel over-burdened and bloated, and here the 'main course' leaves clear suggestions of exotic spice routes, along with room for pudding, which, helpfully is a huge homemade Rolo – better than the packaged sort, deep caramel with burnt sugar character – joyful.
Alyn Williams is a chef who clearly feels very strongly about the dishes he creates and becomes known for. His food is made with a hungry food lover's ebullience, but also with a clarity and respect for form that would please an architect. His own personal stamp lies on each of the dishes we sample; there is no sense of dilution, or of following the ethos of another chef – this food is very palpably his own.  This is, in my opinion, one of the most enjoyable tasting menus in London. His style is of clear and confident craftsmanship – long may it continue.
Alyn Williams at The Westbury, The Westbury Hotel, 37 Conduit Street, London W1S 2YF. Tel: 020 7078 9579. Website.