As we settle into our seats with their fraying edges and frail wooden armrests, we hear a commotion at the table behind us. Without proper warning a man suddenly falls backwards off his chair and rolls onto the floor. He's ruddy and broken looking. One suspects the pre-prandial sharpeners have morphed into lunchtime bottles, post-prandial whiskies, and now an early evening beer sits half drunk on the table. He's moaning gently; he seems docile, benign and adrift on a sea of boozy red carpet. In an instant the maître d', an older gent himself, stoops to collect our stranded hero from the floor and props him back in his seat. The maître d' looks over and smiles a weary smile, 'now there's a perfect Langan's moment'. The wobbly boozer is back at his beer, his comrades giggle. The restaurant seems to absorb it all dutifully; it brings to mind that WW2 slogan 'Keep Calm and Carry On'.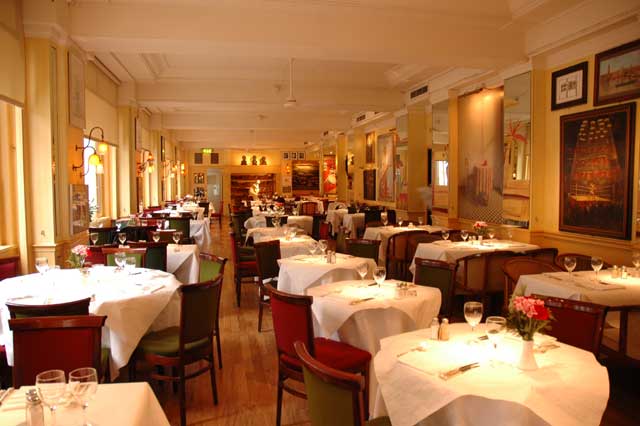 But what did you expect, I hear you say – this is Langan's. Peter Langan's legendary restaurant, the place that redefined London dining in the '70s and '80s. The original rock and roll restaurant, a place of hitherto unseen glamour. Langan's opened in 1976 and in an instant the way people ate out changed forever. A huge, cavernous and undeniably glorious room off Piccadilly that offered the perfect departure from the trials and tribulations of everyday life. This was before Marco, Nico and all those great '80s London chefs who pushed the new wave of fine dining in London, but Langan's, it could be argued, was the original destination restaurant, the place to see and be seen. At the time you could eat very smart, expensive French food, rubbish Italian food, or exceedingly dull English 'club' food. Langan's offered a little bit of everything, with added helpings of louche charm.
Michael Caine was a co-owner and the place attracted everyone from the Rolling Stones to Roger Moore via Grace Jones – then there was, of course, Langan himself. A complex, shambolic and difficult character, generally resplendent in a wine-stained white suit, Langan was Mine Host Extraordinare. A showman, a card.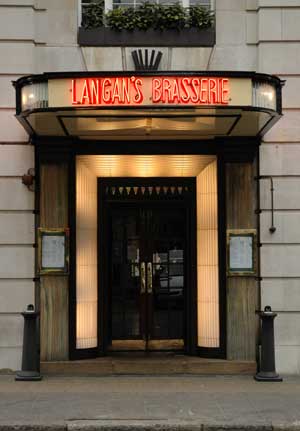 He would regularly entertain and then upset his esteemed guests in equal measure. Legend has it that he once interrupted Princess Margaret and her lover Roddy Llewellyn by climbing onto their table whilst they were dining…and then promptly fell asleep, sprawled out on the table. She never returned. It's said he called Ronnie Corbett a midget and threw many of his most famous patrons out for being boring. His binges were legendary, a character he quite clearly was, but in the end his carousing caught up with him and he left this mortal coil at the modest age of 47, leaving a restaurant empire and an impressive collection of modern art behind. He'd befriended many of the artists, you see – Hockney and Kitaj were both patrons, and Langan gleefully swapped works for meals, amassing a huge collection over the years.
Twenty-five years on, the restaurant is still going strong. Caine is long gone, but the other original partner, Richard Shepherd, is still around as chairman, along with a consortium of investors as back up. As you make your approach, past the Royal Academy, along Piccadilly, you can't help but spy the great big, red neon sign on the corner of Stratton Street and yearn for those crazy days of old. Inside the restaurant there is a genuine sense of ruddy faced, left-the-office-for-the-afternoon-never-to-return bonhomie that is rare in these dull days of enforced temperance.
We settle into our seats and survey our dining companions, a most extraordinary bunch. We're here for a 7.30pm dinner booking, but there is a strong sense that most of those around us have been here since lunch. I observe one table of venerable-looking gentlemen work their way through Irish coffees and then move back onto a bottle of pink champagne. The restaurant is packed, which is impressive for such a capacious room on a week night in early spring.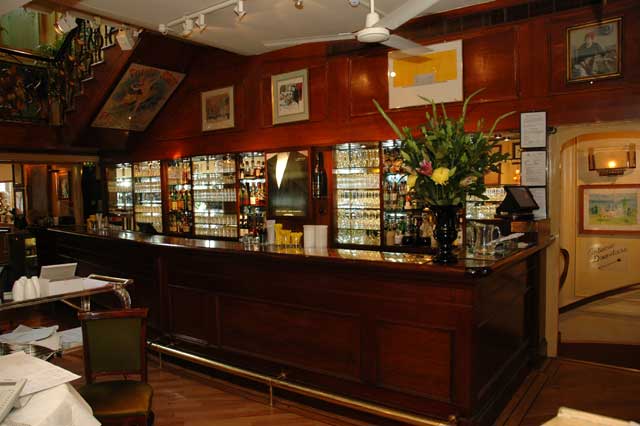 We assess the menus which still bear the iconic Hockney pencil sketch of Langan, Sheppard and Caine from thirty-five years ago. It all seems poignant now. We order the house red to quaff, it seems appropriate; this a place where vins de soif should take pride of place over Grand Cru Burgundies. The wine comes with the same distinctive Hockney doodles; it's Beaujolais, crunchy and sweet, deeply unfashionable today of course, but lovely in its own way.
The menu itself is unlike any other you'll find in England, let alone London. I wouldn't say that the dishes hail from another era (they do, but that's not quite it), it's more that the menu is peculiarly era and structure-less. For a start it is vast, I've never seen so many dishes on one menu – there are eighteen starters and sixteen main courses laid out, and that's before you've even looked at 'Daily Specialities' and 'Specialities'. It's all quite overwhelming. The menu offers up some true '70s classics: Parma ham with melon, duck liver pate and prawn salad, lettuce and cherry tomato. Main courses are meaty and unreconstructed – it's the kind of food my grandfather would have trusted. There's pan-fried medallions of beef with a peppercorn sauce, braised lamb shank and fish pie.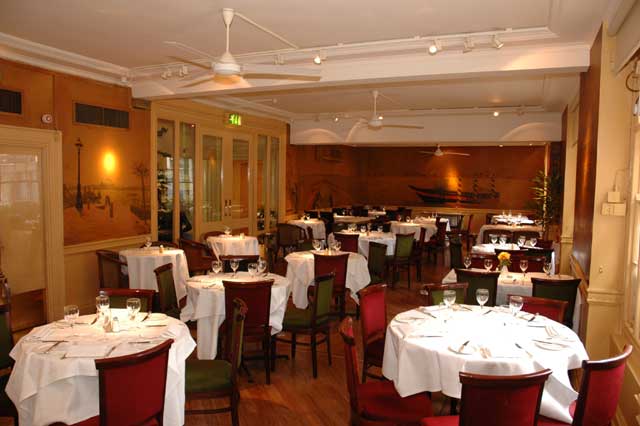 I choose a rather improbable sounding smoked eel rosti, whilst my guest chooses the goose rillettes. My rosti is cold in the middle and the salad comes undressed, with mean little chunks of vinegary beetroot. The officious waiter comes over to refill our glasses; he pours slowly and with purpose, nods and retreats.
Main courses are stolidly English. My friend has a good rib-eye steak that's cooked as requested and big on flavour. My breast of duck has been extravagantly salted and sits atop a jumble of creamy cabbage and bacon. It looks distinctly like something a mate with culinary aspirations might have cooked you c.1981 after reading a Robert Carrier book. I warm to it, not because of its deliciousness – at points it's almost inedible – but for its brazen irreverence. Nowhere else will you receive food this bad that's served with such flair! There's something bizarrely magnificent about it. The chips are actually very good.
We've moved on to the second bottle of red, and I must for honesty's sake admit we also had a bottle of the house white to wet our whistles on arrival. Things seem very merry, the room is packed, people are singing – dear god, there's a magician wandering around giving tableside shows. I've never seen anything like it.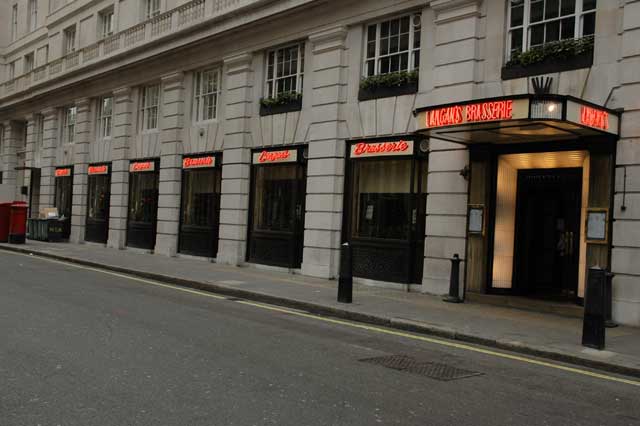 The salted caramel profiteroles come as a great, wobbling stack, along with a side-car of rich chocolate sauce. They're the best I've ever eaten, brimming with salty/sweet butter caramel cream and fluffy as hell. I think of the one other memorable case of me and a plate of profiteroles. I was eleven, I stuffed myself silly and proceeded to vomit them into my abhorrent step-grandfather's lap. His favourite restaurant in all the world was Langan's Brasserie…now the romantics among you must see something poetic in this fine arc.
Langan's Brasserie isn't really a place to go to eat great food. Apart from those Proustian profiteroles, the food is just about okay, but in a sense this matters not a jot. Langan's is one of London's last great institutions; it's almost a museum, one last flourish to days long gone, where lunch would go on forever and men could fall down drunk. The ghosts of the past sit in corners, with gin blossoms and paunches aplenty; will today's bon viveurs take on the baton?
Langan's Brasserie, 10 Stratton Street, Piccadilly, London W1J 8LB. Tel: 020 7491 8822. Website.