Being someone who takes immense pleasure in forensically studying a menu prior to visiting a restaurant in order to lock in my dishes and rule out any unwanted surprises, the prospect of dinner at Mayha – where there's no menu and not even a hint of what awaits online – was slightly unnerving.
The intimate, 11-cover omakase restaurant nestled between chic boutiques on Marylebone's Chiltern Street forces you to relinquish control, leaving you in the capable hands of head chef Jurek Wasio and his right hand man, Yuichi Nakaya. The pair worked at an earlier incarnation of Mayha in Beirut, which was destroyed in a chemical blast two years ago. Determined to revive the concept, Mayha 2.0 is set across two floors separated by a wrought iron spiral staircase – the dimly-lit basement bar serves a five-course omakase experience with cocktail pairings and an à la carte offering, while the curved walnut counter on the ground floor gives 22 lucky diners each night a front row seat to the action.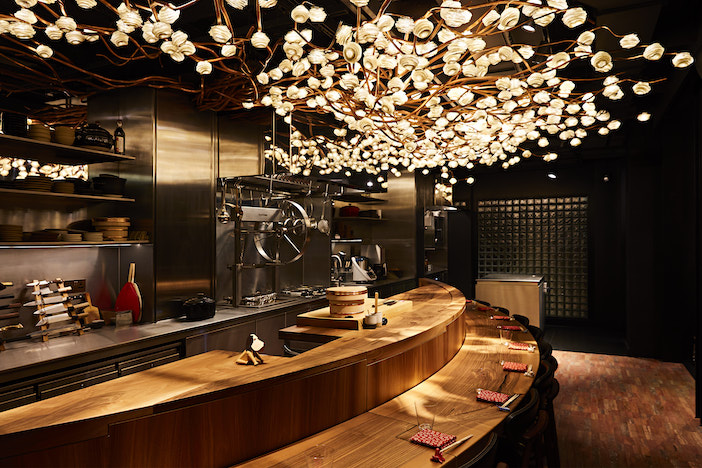 With just 11 seats available per sitting, a night at Mayha is part supper club, part chef's table. Everyone is encouraged to be punctual, and there's no making up for lost time if you're late – our dinner was something of a whirlwind that barely left a moment for reflection. I was the first to arrive, so got the pick of the seats. Watching the team doing their final prep ahead of service was like taking a seat at the theatre before the curtain went up. I felt privileged to be privy to this moment in the proceedings, as if we were all in on a secret.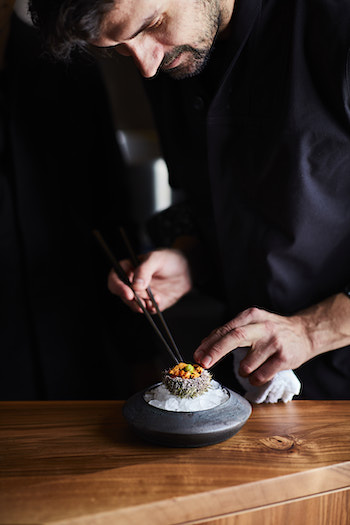 The central feature in the pared back dining room is an intricate light fixture evoking a cherry tree in bloom, with petals crafted from tiny paper lanterns. Napkins are scarlet and chopsticks rest on tiny ceramic creatures. Mine was a smiling fox. The playlist is a melophile's delight, flitting from Depeche Mode to Debussy via London Grammar. While a planner at heart, I was looking forward to the prospect of being surprised by the chef – in our wired world of ceaseless choice, the elimination of decision has become one of life's great luxuries.
Our feast began with a cleansing cup of warm crab soup sprinkled with lime zest, which got us off to a sprightly start. Soon to follow were dainty slivers of silky scallop sashimi dotted with salty caviar pearls and a bubbling almond foam. Its pure, clean flavour was one of the best things to have passed my lips in months. While its intensity of flavour won't be for everyone, I was pleasantly surprised by the invigorating briny hit delivered by a sea urchin served in its spiky purple shell. The taste was so rich and immediate, it felt like it had just been unearthed from the ocean.
The closest we got to fusion was a mash-up of fresh figs, mackerel, Parmesan and sesame, which worked surprisingly well though lacked the precision of some of the other dishes. Moving on to the meat of the matter, a trio of juicy, perfectly pink, salt-flecked venison slices came with the last of the season's fruits of the forest, rooting us in the earth before we dived back into the sea. Perhaps the biggest surprise of the night was a quirky quail dish served with kumquat and lime, which was wonderfully moist and tender, its skin seared to sticky perfection, and lifted by the sharp tang of the fruity sauce. Among the most enjoyable moments of the evening was being presented with a peeled plum resting on a bed of ice. Freezer cold and incredibly refreshing, it seemed to encapsulate Japan in one bite, and served as the perfect palate cleanser.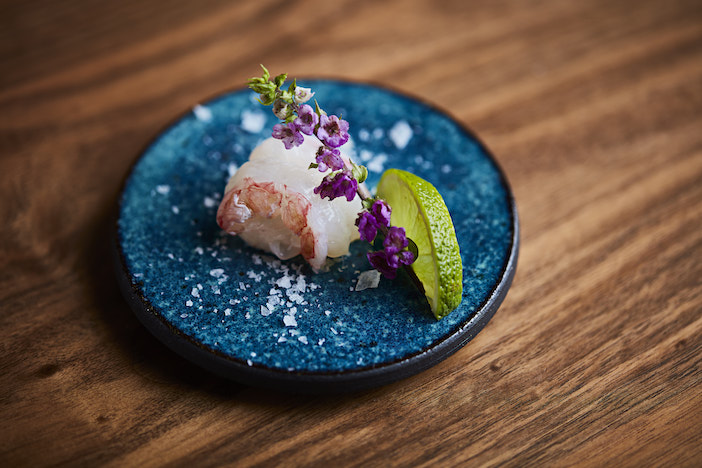 A night at Mayha is a game of two halves. Once the business end of the evening is wrapped up it's time for the more informal sushi session, which whizzed by in a blissful blur. This is the moment you get to kick back, chat to your fellow diners around the counter and marvel at the maestros in action as they cup little mounds of moist rice in their hands like baby birds, delicately placing slivers of pristine fish on top and anointing them with soy. It's how all sushi should be enjoyed – the still-warm rice highlighting the immediacy of it all, and a far cry from the sad looking frozen squares of sushi you find in the supermarket.
Everything about Mayha is deeply considered – the langoustines arrive on the night train from Scotland to ensure their freshness, while fatty Spanish blue fin tuna belly is topped with black truffle to dial up the earthiness. The tastiest morsel of the evening was the last bite I enjoyed – tuna neck sashimi lightly charred over hot coals, which was so outrageously delicious I had to close my eyes in the pure pleasure of it all. Wasio is a clever man – he knew he was saving the best until last, and that divine flavour bomb will live long in the memory.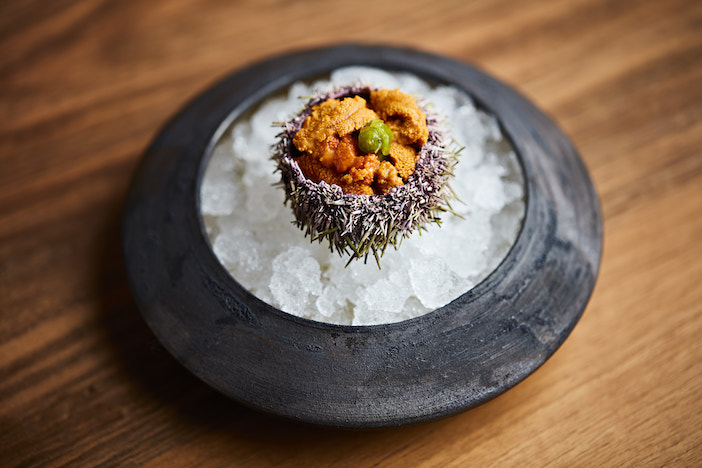 It's worth bypassing the wine pairings in favour of the expertly picked saké selection, which gets creamier and more complex as the meal marches on. The clean flavour of the rice wine is the perfect partner for the food, never overpowering it, but instead helping to highlight the purity of the flavours.
Costing £220 a head without wine, dinner at Mayha isn't for the frugal, but I defy you to find a more cosy, considered and compelling dining experience in London right now. I would have appreciated more time between the dishes to savour the flavours and reflect on the experience unfolding around me – no one wants to be rushed through such a special meal – but regardless of the slightly frenetic pace, this is understated Japanese fine dining at its brilliant best.
Mayha, 43 Chiltern Street, London W1U 6LS. Tel: +44 (0)20 3161 9493. For more information and to make a reservation, please visit www.mayalondon.com. 
Photos by Steven Joyce