Veteran American actor, comedian and director Mel Brooks reportedly stated "sex is like pizza, even when it's bad, it's good" and I am inclined to sort-of agree, although the focus of my attentions in this context falls on the pizza. Pizza is, in my opinion great in all its myriad forms; there is pleasure to be had in its cheapest, flabbiest charms. I was walking down Upper Street two Saturdays ago, starving, and suddenly a woman in an improbable red mac and cap combo ran up to me with a greasy promotional pizza box and thrust it open in my face. Meat-scented steam came rising up at me. At first, momentarily, I faltered – I'd never planned for it to go this way – but then I gave in and ripped off a thick, worryingly heavy slice. The taste is somewhere between heaven and hell, pleasure and pain. It hits the tongue and electric jolts sing through a hungry set of senses. Everything's here. Salt and fat and the sweet, soporific charms of a carb-crammed pizza pie. It is like chewing on a disk of cheesy, salt-flecked cardboard and it is glorious.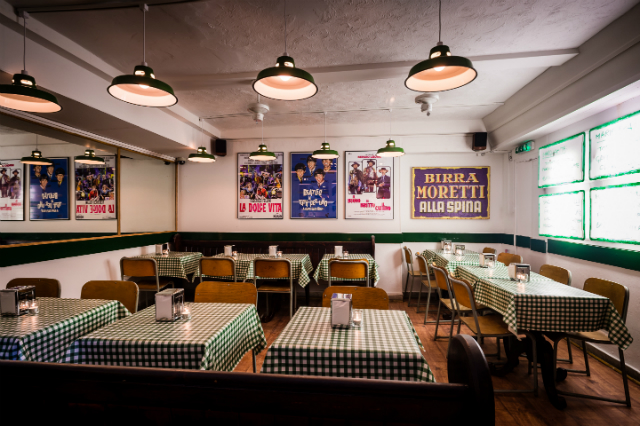 So then to Soho. The Pizza Pilgrims are two English brothers who know more than most about pizza. A few years back, the brothers set out on a gastronomic pizza tour of Italy, keen to hunt down the finest examples available. After heading out, getting fat and coming back with a raft of ideas and recipes, they set up a shop of sorts in the back of a van, selling cheap, excellent pizzas to foodies on the streets of Soho and at London's multiple food markets. The brothers achieved something of a cult following and finally managed to set up a restaurant proper on Dean Street.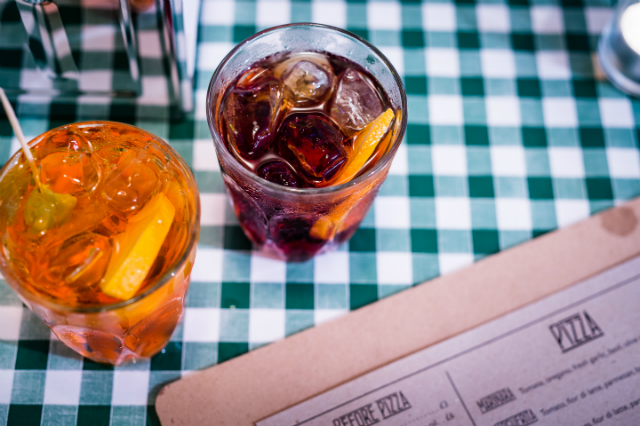 The restaurant sits directly across the road from Pizza Express – oh how this venerable establishment's owners must be quaking in their boots, for PP offers a modern vision, perhaps a superior product than the old timer could ever hope to! Upstairs is the oven, a thing of beauty, which must have been shipped in from ol' Napoli.
We descend to the main seating area which is light and airy; walls are clad in vintage Moretti and Nastro Azzuro posters. The tables are small and menus come in rustic brown paper that double up as table cloths, as is the way in these parts. I order a Negroni, which at £6 seems very reasonable, and it arrives plentiful and strong. We survey our brown paper. There are a few light starters; hot grissini with Parma ham for wrapping and panzanella salad both catch our eye. Then it is into the main action, the doughy delights these chaps are known for. We choose two and happily share the slices.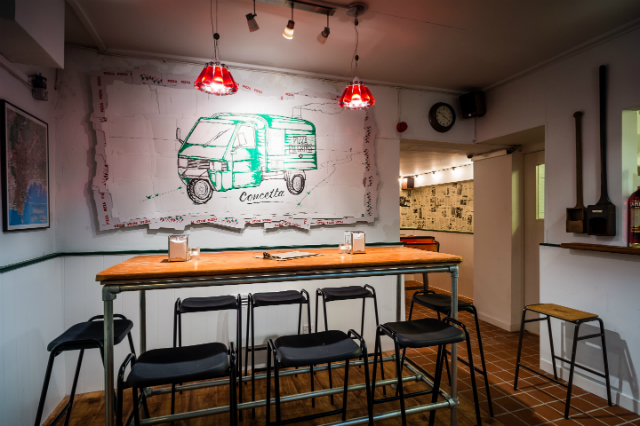 We opt for a classic, the Bufala, a simple margherita with a buffalo mozzarella upgrade and Salsiccia and Friarelli – a more complex arrangement involving fresh fennel sausage, wild broccoli and parmesan. Both pizzas are as fine as one might expect; the toppings on the Salsiccia and Friarelli are particularly excellent. We make quick work of them, discussing quality of dough in comparison to the famous sourdough at Franco Manca – we decide there's not much in it – these are damned fine pizzas, there's little more to be said. We finish up with a bracing lemon sorbet served in hollowed out lemons – rather old school.
At around £20 per head this is about as perfect a carb-fest as you can find in Soho. Nowhere in this part of town offers pizzas of such quality, in such convivial, charming surrounds. Poor old Pizza Express, there's a new kid on the block.
Pizza Pilgrims Pizzeria, 11 Dean Street, London W1D 3RP. Tel: 07780 667258. Website.