Now that we're allowed indoors, the prospect of dining outside during the wettest May on record might hardly sound like the most inviting prospect…but Londoners are nothing if not optimistic. Indeed, when has a little downpour ever put us off throwing open our doors when the mercury's climbing, eh?
So, with summer starting to peer round the corner, we're turning our attention to those all-important opportunities for dining en plein air – more so, in fact, knowing that we still need to be vigilant about you know what. And so begins the hunt for a favourite haunt.
As venues go, you can't get more emblematic than Sloane Square. Magnificent Edwardian red bricks are bookended by the rather more garish '30s curtain wall of the Peter Jones building and the vanguard of '60s cultural dissolution that is the Royal Court theatre. The square is the gateway to the perennially fashionable King's Road, so it always felt odd that its centre for so long felt redundant, too small to be a park, too noisy to be a garden, occupied only by the Eros fountain and the occasional recovering drunk.
That is until more recently; for the square itself has been appropriated by the various hospitality venues that dot its corners and it's this that now bring it to life, giving it a burst of continental café culture that makes any lack of European travel at least slightly assuaged for an evening.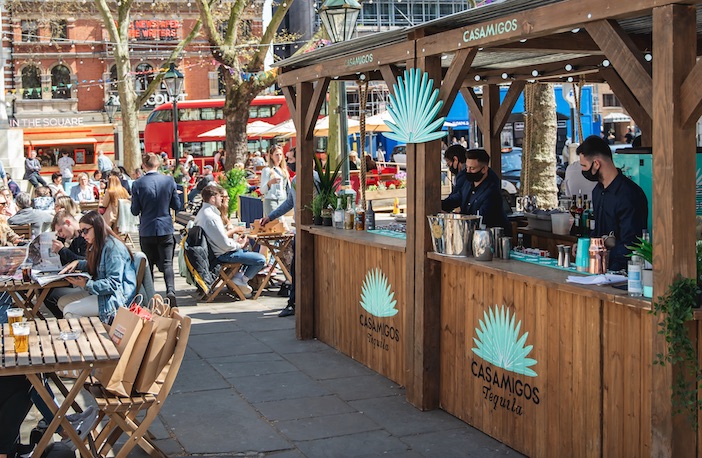 In its prime spot, right in the centre, is a pop-up from one of the Square's residents, The Botanist. It's a pop-up in the simplest sense of the word; folding chairs and tables sit socially-distanced, under cover of oversized Birra Moretti umbrellas, ample cover from any inclement weather, if not the unseasonable May chill. It feels makeshift with some rattan furniture and token set dressing but where it might lack the atmosphere of a venue, you feel absorbed in the space, unphased by the circumventing traffic, the buildings kept at bay by the soaring plane trees.
Its centrepiece is a solid oak bar and wood-fired pizza ovens, and this is where something seemingly haphazard becomes eminently desirable. Casamigos, of George Clooney fame, is certainly the draw here, the small-batch premium tequila supercharging the bar as mixologists turn out a fine menu of inventive cocktails. I dodge the cars in the moat of traffic, hopping onto the square and spot Simon already relaxing back in a blanket-covered chair, sipping something garish and pink from a plastic cup. "Try one of these," he tells me, "it's tequila's version of a negroni." It's a good starting point, too. The Mexicano is fuelled by Casmigos mezcal, strawberry Campari, Belsazar Rosé and blood orange, and kicks the proceedings off nicely. It doesn't take long to feel relaxed in spite of the chilly evening.
This being a pop-up the menu isn't extensive but it's no less than is required, offering plenty of choice between cocktails the mixologists are turning out, each one as enticing as the other and easily making one come back for more; we almost forget to order something to eat before our waitress returns to talk us through the menu.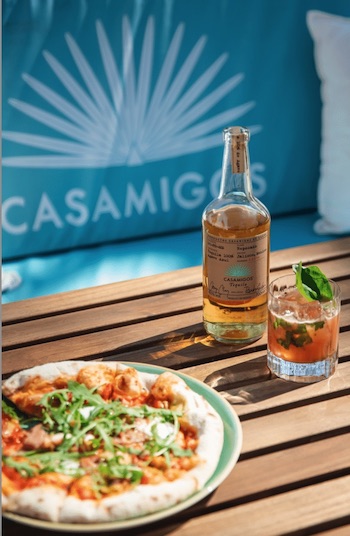 A simple choice of five pizzas, they're deftly done, if unceremoniously served in boxes, as if for take-away. What they lack in presentation, however, they more than make up for in satisfaction. Nothing like the gossamer-thin bases previously fashionable, the dough is light and abundant with enough texture to give something to chew on, and laden with soft, gooey mozzarella. Something about the Caponata drew me. A take on Italian ratatouille, its capers and olives gave a tangy, salty spin, it didn't take me long to destroy it entirely, before Simon wasn't yet halfway through his Gamberetti, their seafood option of garlic Atlantic prawns.
Where wine might have been a customary accompaniment – and it's a capable wine list – the Casamigos cocktails were too intriguing, particularly after our early salvo. The Cantartio Amigos of Casamigos reposado, pink grapefruit and lime juice, seemed just as suitable a companion to the meal, and we couldn't do the bar justice without one more, concluding with a fiery Casa Caliente of Añejo tequila, lime juice, strawberry, basil and green chilli that certainly left us wanting more.
For all the years I've walked through Sloane Square, always seemingly passing or diving into one of the bars on the corner (like The Botanist, no less), I've never really taken the time to pause and appreciate the setting. This, now, and through the summer, provides that opportunity, and what better way than with a bite to eat and a few fine libations to enjoy.
Bring on the summer!
Pizza on the Square is running now through to September. For more information and bookings, please visit www.thebotanistonsloanesquare.com.