The lobsters are, without doubt, the most generously proportioned I've ever seen. They sit in huge tanks in the centre of the restaurant, beautiful and languid in all their prehistoric glory. The tanks bubble away and the lobsters exist in a state of serenity, blissfully unaware that there's a small Chinese man coming towards them with a portable net in his right hand. In a moment, this net is to be dipped into the blue/green water, and that beautiful, baby pink and night blue female will be taken, snatched away for a nice hot bath.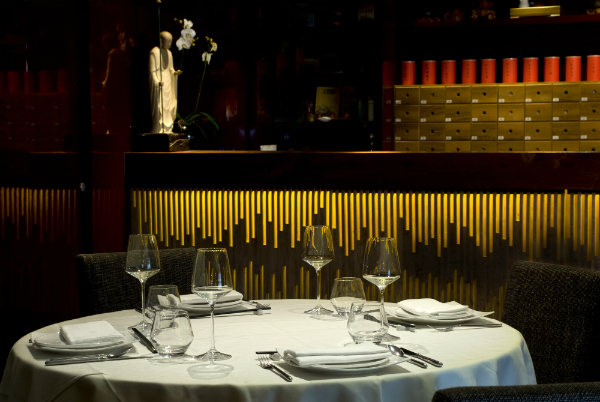 Outside the night is still warm for late September; the last, fleeting remnants of summer confuse the senses and lead one to forget that winter is just around the corner. Chinese men stand outside smoking with a harsh intensity. There is an authenticity here at Royal China Club (RCC); no aspect of the dining experience seems to be diluted for the Western customer. The cigarettes the men smoke are of pungent unfamiliar tobacco that wafts into the bar; the lobsters may be Scottish, but the sense of drama and incumbent cruelty in watching the lobster you've chosen be taken to its death is part of a different tradition – it reportedly took the restaurant several years to acquire the license for tanks which are the focal point of the restaurant, visually.
The bar is not busy when we arrive, but the barman is, it would seem, as it takes around ten minutes to catch his attention and order a drink. The bar is well-stocked with a decent range of gins. I select Hendricks while Sarah orders champagne. Hendricks sells itself as being an unusual gin, a curious libation, and I concur. With this in mind, I do the appropriate thing and request slices of cucumber to lift the flavours of the gin. Unfortunately, the barman thinks it's a good idea to serve my drink ungarnished, and with a rather mean measure of ice, so said ice promptly starts to melt. I ask for cucumber, rather nonplussed, and receive a slightly surly, 'I have to get it from the kitchen' as reply. An unusual start to a meal that is marked by impressive highs and surprising lows.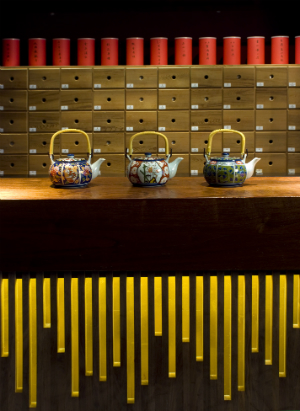 The restaurant is beautiful; as mentioned above, the lobsters' tanks form the central visual element and from there black lacquer and gold leaf fans out around the room. I've been informed that RCC looks to move away from the Royal China brand and position itself closer to the likes of Hakkasan and China Tang at the very highest end of Chinese restaurants in London and in terms of décor, the restaurant has succeeded – it certainly looks the part. The restaurant is busy with large tables of well-heeled Chinese businessmen and families; people seem to take the business of dining very seriously.
A waitress brings a small plate of pre-starters that look delicious, if unfamiliar. I ask what they are – she has no idea. She falters, lost for what to say. At this point an obviously more-senior waiter swoops in and informs us that she's new and has no idea what she's talking about. He then leads her away, only to re-appear smiling. It's a rather surreal, unsettling exchange.
Royal China, RCC's simpler cousins specialize in dim sum, but only serve it until 5pm. Thankfully RCC serves into the evening. This is dim sum of the very highest order. A mixed seafood selection brings with it manifold pleasures. The dumplings are profoundly delicate and texturally beguiling, with carefully concocted and well-seasoned innards.
At this point the wine arrives, but sadly it is the wrong wine. I point this out, but I'm informed that I'm wrong. I assert that I'm not wrong; the vintage and producer are both different from those stated on the wine list. The sommelier finally accepts that this is true, but then tries to assure me that this is the better, newer option. I point out that in wine terms, newer doesn't always mean better. Eventually, and for simplicity's sake, I choose a different wine, leaving the sommelier looking a little wounded. The second wine is excellent and comes as described.
The food that follows can only be described as divine. The roast duck is some of the finest I've tasted, deep brown, with lingering savoury notes, but a gentle sweetness that's extremely pleasing. Cod comes wrapped in palm leaves and coated in a brown, sticky braise of slow-cooked pork. The cod is fashioned into a parcel, that when opened offers forth intoxicating fragrance and deep flavour. There's a light, but well-proportioned dish of noodles with crab meat that completes the savoury dishes, leaving us replete.
We deliberate for some time over pudding, and eventually opt for the strangely-titled 'Birds' Nest Soup' – a dish that is, in truth, far stranger than it initially sounds. Birds' Nest Soup is a Chinese speciality and a dish shrouded in a certain amount of mystery – the soup is made from boiled birds' next which are formed from the solidification of regurgitated bird saliva. The soup is said to cleanse one's digestive system and allegedly improves libido. The flavor is relatively accessible, mildly sweet, pleasant and comforting. It is the texture that connoisseurs of this strange dish look towards, and I must say that it is truly unique; gelatinous and crunchy, but with a silkiness that remains in the mouth, long after the flavours have subsided. This is a rare opportunity to taste a dish with a true sense of specificity – there really is nothing else like this.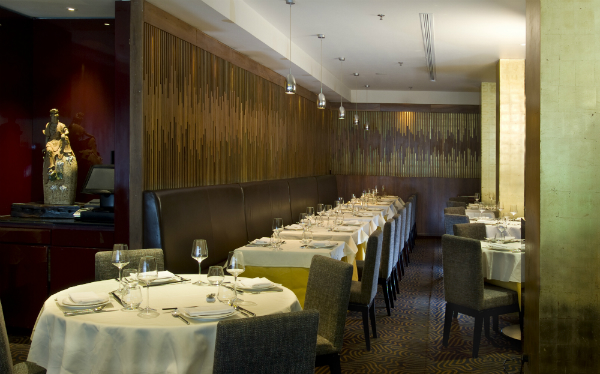 Royal China Club is a strange restaurant; the fact that we finish our meal with the singular charms of Birds' Nest Soup seems fitting – the experience of dining at this restaurant is unusual and will remain clear in the memory. There are real turns of brilliance in the kitchen – the food is clearly some of the best you'll find in a Chinese restaurant in England. At points however, the service is strange to say the least. There is a brusqueness combined with a sense of that the restaurant lacks a cohesive service structure. Certain members of staff are charming and knowledgeable; others are misinformed and at times seemingly untrained. Service in Chinese restaurants is often rather unpredictable and perhaps in this case it comes down to that question of authenticity – a friend recently informed me that brusqueness, or what might be interpreted as brusqueness by London standards, is in fact judged as efficiency in Hong Kong. Royal China Club presents what I see as being an extremely authentic dining experience – you just have to be in the mood for it.
Royal China Club, 40-42 Baker Street London, Greater London W1U 7AJ 020 7486 3898 www2.royalchinagroup.biz/