There's something familiar about the location of Rudy's newest outlet. As I walk up Wardour Street in London's Soho, I spot a glimmer of retro-type red neon over a glass-fronted building. I've been here several times before, but I can't place it.
The thought leaves my head as I enter. Rudy's is the first London outlet of a Manchester-based pizza restaurant. Not another one, I hear you cry. But read me out. It purports to offer 'authentic Neopolitan pizza'. Don't they all? Yes, and another 'but' – and it's a big one: it's recently been voted as the 5th best in the Europe. Fifth might not normally represent the apogee of acclaim but considering the number of pizza restaurants in London, let alone Europe, let alone Naples, these are some laurels. It's a bold assertion, perhaps even hyperbolic, and clearly one that raises fetters of coyness with the manager when I reiterate it. "It's a tough claim to live up to," she protests, diffidently. But the queues round the block in Manchester and Liverpool would support the accolade.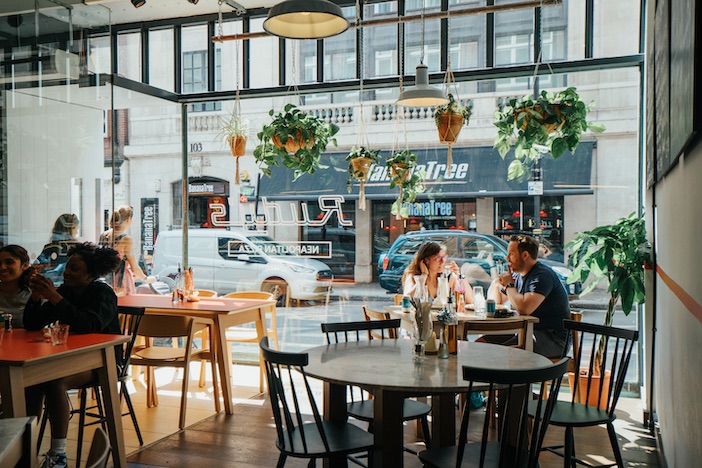 Inside, it's bigger than I expected, that nagging thought from earlier still rattling around my brain as we're shown to our table. And it's more contemporary than expected. I was anticipating a cosy wood-panelled Napoli trattoria; all red gingham, black and white photos and overflowing candles in empty wine bottles. But there is little in the way of décor (admittedly it was still 'opening'), nothing particularly conducive, nothing to differentiate it in personality from any other pizza joint save a totemic blue and gold-striped mosaic oven behind the counter. But none of this matters. The pizza is terrific.
I never thought I could write more than about five words to describe pizza. Pizza is pizza, no? In the immortal words of Stephen Baldwin in the much maligned '90s classic, Threesome, "it's like sex. Even when it's bad it's still pretty good." But, having eaten in Rudy's, I can vouch with some certainty that not all pizzas are created equal. No, sir. It is, as you might expect, down to a few, simple principles, and simple ingredients, done well.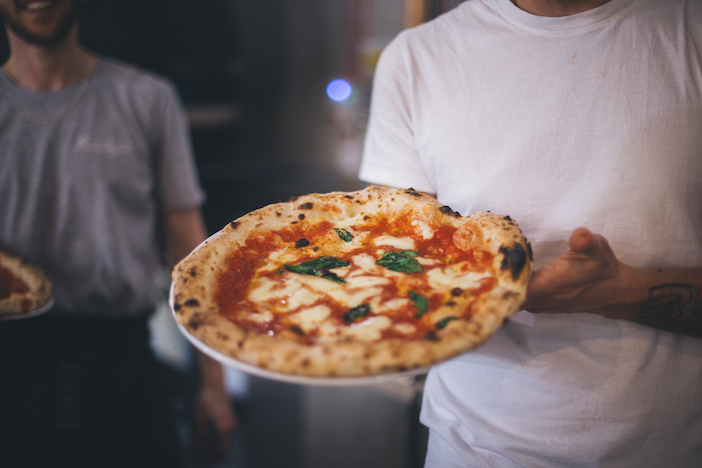 As I tuck into the charred crust Calabrese, flame-red nduja sausages almost indistinguishable from the marinara sauce, it's light, chewy, soft, sloppy (I'm still talking about pizza, Stephen); everything you might expect from Naples itself. Put it this way, if you've seen Richard E Grant's Italian episode of his series, Write Around the World, this is as close I've come to experiencing what he must have as he tucked into his margherita.
But it doesn't end there. The menu sets itself apart from other pretenders, too. Sure, there are Capricciosa and Carni, but others are simpler, more rustic; the Tarantina, a 'white' pizza (one of several with no marinara sauce), dressed only with anchovies, capers and kalamata olives. Clearly not for the faint-hearted. And similar twists on sides, such as the former fashionable Cacio e Pepe turned into a salad.
More's the point; the wine. We opted for Chianti, of course, settling on their special, Il Balzo, on the confident recommendation of the manager herself. She'd encountered it at a tasting, and met the vintner, an octogenarian who treated winemaking as a passing vocation. Again, often simplest is best. It was the sort of wine you try casually, and nod at the som, expecting nothing particularly noteworthy – but this stops your conversation to comment on.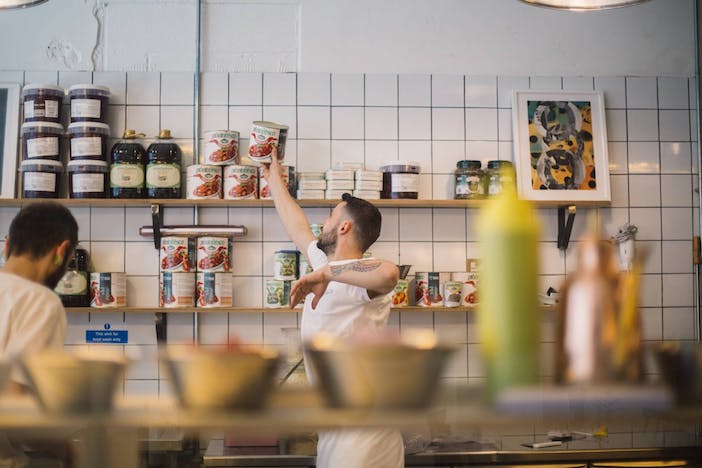 As we wrap up, that thought pops into my head again. "What did this used to be?" I ask the manager on the way out. "Wahaca," she replies. Of course. The room takes on a whole new look as I recall the countless meals in years gone by. There's no secret nor shame that restaurants close, it's the fickle nature of food fashion – among other things – but I do hope Rudy's lasts. In a fierce battleground, this is its first London outlet, and it sounds like they're approaching it carefully. Each venue is treated like its own, avoiding the blight of chains, unlike its predecessor. More importantly, rather than open in London and get swamped, it's found form establishing itself elsewhere. And, when there are queues round the block and it's conquered the north, only then does it take on the capital. It's a sensible tactic, and I do hope it pays off.
Until I make it to Naples, or its four leading rivals across the continent, I know where I'll be going for my next slice.
Rudy's, 80 Wardour Street, Soho, London, W1F 0TF. For more information, including menus and details of other venues, and for reservations, please visit www.rudyspizza.co.uk.