Ghee-splattered jeans and starched, white cuffs that bear the deep, indelible stains of turmeric-laced mishaps. These are just the temporary scars that the uninhibited curry-lover has to bear. Curry appreciation can be a heaven or it can be a hell: a minefield of ups and downs, of agonies and ecstasies, so finding the right curry is essential.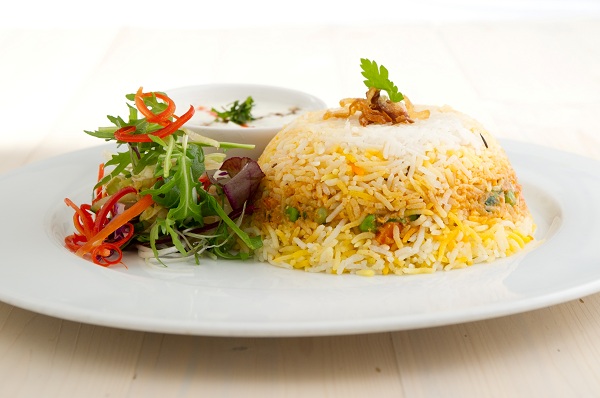 In the old days it was always post-work and besuited – absurd really; a suit is not what you should wear when taking on a curry. Brick Lane was my original mistress and still, on cold, windswept nights, those gaudy shop fronts draw me in with their playful come-hither charms. Before long, though, I'd wise up and move further east. We'd queue for hours, trailing round the block like hungry Oliver Twists at the fragrant workhouse of Tayyabs. We'd wait and wait and wait, getting steadily sloshed on an endless supply of BYO Polish lager, then stuff ourselves senseless on tandoori lamb chops and the delicious, ominous charms  of the 'dry meat curry', saag aloos and huge, buttery, pillow-like naan breads. What was yours would be mine and mine yours; all would get thrown around the table as part of the lovely madness that descends upon the curry house after a certain hour.
Few meals approach these well-delivered curries when it comes to sensual pleasure and gastronomic glee. Be unmistaken however; you make your choices and you must live with them. These nights are fearful too. The best curry experiences are akin to a long night at a rave. There's excited anticipation, followed by the joyful abandon and celebratory shared experience. It is only later that you know the grinding, inevitable repercussions are on the way. Later, there're the night sweats. The meat sweats. The god-damn cumin sweats. I remember those wild, hot nights of writhing around in self-imposed, spice-ridden agony. Nights of gurgling, burbling lunacy, one's body speaking its own indecipherable language.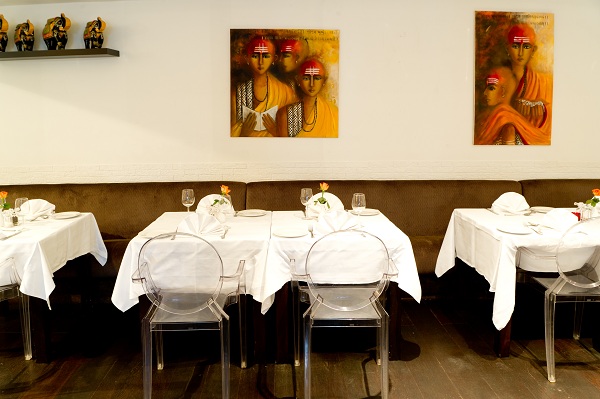 There aren't many stand-out Indian restaurants in the Fulham/Earl's Court area, so Seasoning Restaurant & Lounge may have the opportunity to clean up. I wouldn't have spotted the restaurant, had I not bothered to cross the road at the right moment and assess my surroundings a little more closely. Initially I thought it was some kind of exotic furniture emporium – brightly lit and with a mélange of gaudy Christmas decorations in the window. The menu draws me in, though: well-priced and with an intriguingly broad range of delicacies from all over the subcontinent. The dining room is all clean lines and modernist design; there are white leather banquettes and clear Perspex chairs. This a world away from the classic, comforting curry house staples of chintzy flock wallpaper and faded prints of 'old India'. One wall is dominated by a glass wine display unit; the others display some alarmingly bad 'modern Indian art'. It seems clear that the owners are going for the 'minimal' look, but in effect it's a little sterile and at odds with the food which is big, generous of flavour and at points quite superb…
The restaurant doesn't focus on the cuisine of one particular region or culinary tradition, instead it aims to take the best of various traditions and bring them together in some kind of harmony. The menu is not even concerned with sticking to traditional Indian dishes. The manager explains that there is more of a focus on the Northern states of India, where the influence of Nepalese and Chinese tradition flavours the richly spiced and aromatic meat dishes. Another welcome and refreshing characteristic of the menu is a profusion of tasty and carefully composed vegetable-based dishes. I don't just mean the standard, greasy bhajis and samosas. We begin with an earthy, piquant walnut sheek kebab and some precisely-seasoned potato and chickpea cakes that sing with a flavour that shouldn't reasonably be expected from such humble ingredients. Tandoori lamb chops are very good, they're a little more reticent than the aforementioned Tayyabs version, but once again there's great attention to detail when it comes to the combination of spices – each flavour speaks for itself and could be picked out from the crowd.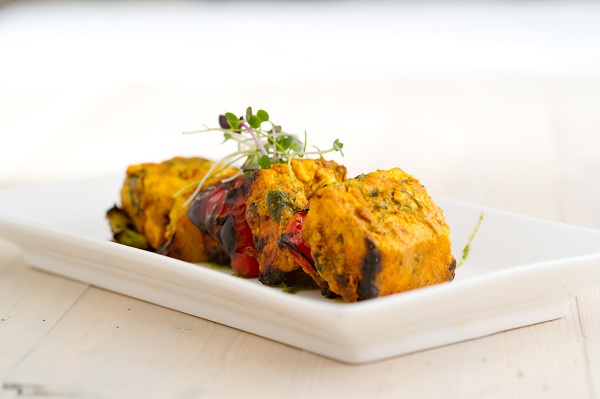 A wealth of curries follows; a festival of consumption begins. There's a startlingly good lamb shank, a signature dish that has been marinated in rich, fiery spices before being cooked for an eternity. A lovely balance between hot, sweet spices and earthy notes gives this dish a commendable complexity. Tandoori king prawn makhani is a well-known construction; here the prawns are mammoth and cooked with precision. Seasoning's rendition of Barbary duck breast hails from the Chettinad region of India, an area known for its spicy cuisine and beautiful architecture. Thankfully coconut milk and coriander help counter-balance the heat, allowing us to press on through and finish up happy and replete.
Seasoning is a restaurant to visit for those West Londoners who enjoy the fully charged, emotionally engaging curry experience, but can't face the long journey to the curry heartlands of the East End. The setting is bizarrely modern, but once you've settled into the clear Perspex chairs, manifold pleasures lie within. The restaurant and its cuisine walk a fine line between pleasure and pain. The dishes manage to pack a fully-fledged, hedonistic punch, without leaving you broken. Care and skill in the kitchen ensure that flavour exists independently, without the insistent, cloying trinity of excess salt, fat and clumsy, antisocial spicing. This is a place that champions the flavours of obscure districts of India and the surrounding states and presents them in a smart and beguiling manner – in this instance, I suggest you go West.
Seasoning Restaurant & Lounge, 84D-86 Lillie Road, Fulham, London SW6 ITL. Tel. 020 7386 0303. Website.