'First catch your hare' is the famous, apocryphal statement that is often misattributed to Hannah Glasse as the beginning of her recipe for Jugged Hare in her legendary 19th century text on gastronomy – The Art of Cookery. I would suggest catching your hare would be quite the challenge; these are wild, earthy, mysterious bests. Anyone who reads our food pages regularly will know that I have a rather intense relationship with the genus lepus, you can read about it in detail in my earlier piece Something's Flesh. I must, however, turn to the irrepressible, late, great Jennifer Paterson, of Two Fat Ladies fame, for the best quote on the pleasures of hare, I found this gem whilst flicking through their 1996 book, simply titled Two Fat Ladies.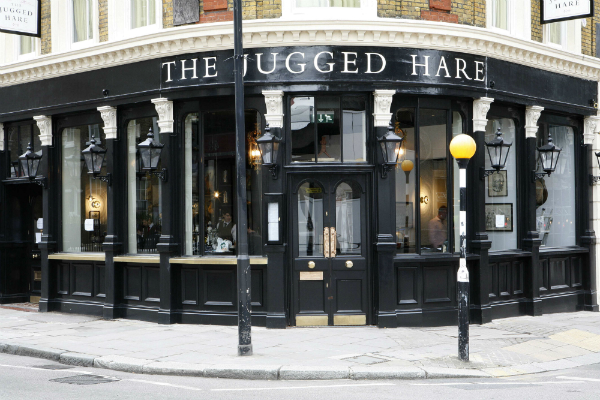 "The hare is a curious creature, steeped in mystery and affected by the moon. It is swift-footed and possesses fearfulness and Aphrodisian lasciviousness, qualities which are conspicuous in any self-respecting satyr; hence it is much admired in the olden days of gods and heroes and was meant to keep you sexually attractive for days after consuming its flesh. Try it out for kicks – why not!"
The Jugged Hare is a new gastropub/restaurant that has been opened by brothers Ed and Tom Martin, landlords extraordinaires, who have brought endless gastronomic pleasure to discerning Londoners in the form of various high-end gastropubs such as The Gun, The Bontanist and The Cadogan Arms. The Martin brothers know exactly what they're doing and created an instant hit with The Jugged Hare when it opened this spring.
We arrive on a rainy Wednesday night and are surprised and rather perturbed to find it absolutely heaving with city boys in black tie. The Jugged Hare's location on Chiswell street, spitting distance from Moorgate, means that it benefits from the great throng of moneyed, be-suited types who do their days' work in these environs. As I say, the bar is packed and we have to carefully weave our way through to the dining room, which, whilst very busy, seems like an oasis of calm after the entrance. The room is beautiful, and benefits from attractive natural features – the low vaulted roof helps provides atmosphere, as does the bustling open kitchen. As I've said, the Martin brothers are clever chaps and they've nailed the vibe so precisely that this place cannot fail to appeal to ruddy, moneyed City types who work on these streets, but yearn for the feel of the great country inn. Taxidermy lines the walls: hares, stags and myriad other furred and feathered game, as do countrified prints of hunts and more game. The waiting staff are clad in tweed – which, I must say, looks uncomfortable and is perhaps one step too far; veering toward ridiculousness.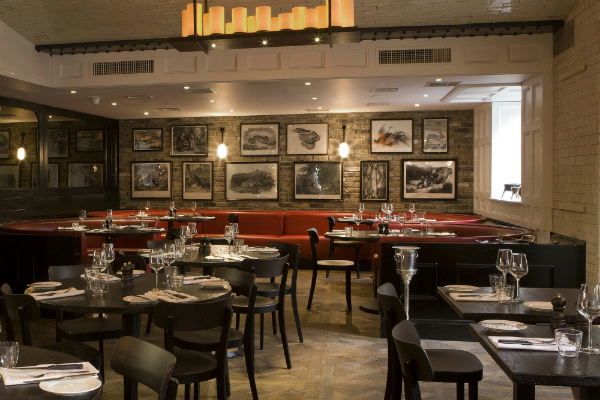 Wine is clearly a focus here, particularly fine wines. Gleaming Enomatic machines that dish out small, tasting measures of venerable Burgundies and mature claret line one wall – you get the sense that hefty expense accounts still play a part round here. The food, as you might imagine, appeals to those with carnivorous tastes. The name gives it away, but game is king at The Jugged Hare. We're lucky, as our visit coincides with the start of game seasons proper. We start with meaty, on-trend comfort food. I select pigs' trotter with ox tongue on toast – or 'foot and mouth' as the waiter affectionately dubs it and Sarah chooses braised pig cheeks with deep fried snails. Both dishes are very pleasing, both are have sticky, savoury qualities and both work well with our vinous accompaniment which hails from the Southern Rhone. My only criticism would be a lack of generosity, the concept of portion control seems relevant here, the dishes are faultless in one sense, but perhaps therein lies a problem – they seem a tad too self-aware and manicured to be properly affecting.
Red-legged partridge features on the board as today's special, so I go down that seasonal route, whilst Sarah does the decent thing and orders the Jugged Hare – Jennifer Paterson would have been delighted! The partridge is a text book assembly of this seasonal bounty at its best; simply presented with cress, game chips and pâté. The lean bird suffers naturally from drying out, but the chefs have done well here and made a decent, offaly gravy to provide the needed moisture. I would have preferred a plate to the flat, wooden board which looks good, but which allows the juices from the bird to spill over the edges. The unmistakable musk of braised hare is potent in its jug. The dish arrives in different receptacles: a jug, a bowl, another bowl for cabbage. There is a certain joy to be found in the assembly of the components parts and the hare is well cooked; it's singular flavour unmistakable, imprinting itself in the sensory memory bank, my only issue with the dish is a certain reticence in the saucing, it doesn't cling to you in the way I wish it might, I wish it were darker, danker with more of the ferrous tang of blood. It's too accessible.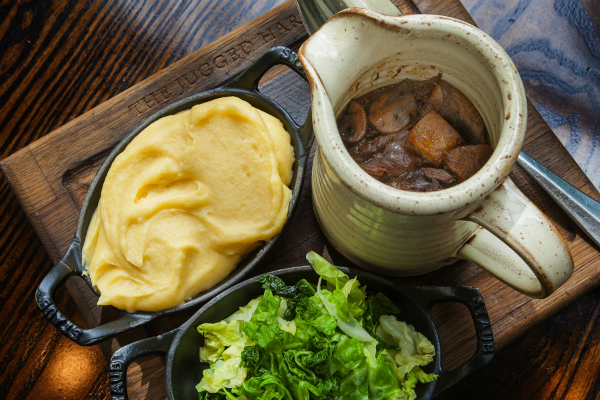 Puddings follow a similar format. Caramel ice-cream is perfectly well-made, but seems a tad lacking in drama. The caramel is sweet and sumptuous, but lacks that bittersweet edge that leads to great caramel ice-cream. The burnt cream is more like a heavy chocolate mousse, but very feels like a very good way to end a meal.
The Jugged Hare is probably the best place to eat around The Barbican/Moorgate, it serves very reliable dishes to a discerning, sophisticated group, who know what they like and are prepared to pay for it on their doorstep. The menu is well-constructed and broad enough to appeal to most palates and I must say it is particularly interesting in game season. The offering of wines is impressive too, although the finer wines are restricted to those with extensive budgets, there are few bargains to be had. I enjoyed my meal at The Jugged Hare a great deal, but I would have to say that the restaurant is perhaps lacking a sense of veracity. The set-up did not feel particularly organic; I felt that the management was consciously working hard to create a particular look, feel and taste and in doing so, they have created a restaurant that feels a little too polished. Parallel to my comments on the eponymous dish; I wish The Jugged Hare were a little darker, a little danker, a little more ragged about the edges.