Happiness can sometimes prove elusive, yet it seems ripe for the picking the moment you arrive at Pythouse Kitchen Garden in Wiltshire where you can enjoy a field to fork restaurant with glamping experiences that allow you to switch off and appreciate the simple and arguably more important things in life. Arriving on the most perfect summer's day in good time to enjoy a leisurely lunch prior to checking into their Shepherd's Hut where we were staying overnight, one inhalation of the pure, flower-scented air took me right back to the earliest part of my childhood living in this sleepy county. Our Cavalier King Charles Spaniel, Clemmie, who, like most dogs loves nothing more than exploring a new garden, was in her element zig-zagging up and down paths and clambering to sniff the wild flowers.
Like all mums and dads we have learnt how to enjoy a quiet lunch through experience, and with Clemmie sufficiently tired out, we headed to the tented terrace of the rustic, yet unutterably charming restaurant. Open for lunch Wednesday-Sunday and serving their fabulous homegrown and foraged produce, it's exactly the kind of place you always hope to find in the English countryside, yet rarely do. Instead we always seem to pass a series of run-down pubs you need only take one look at to know won't serve good food. You're probably unlikely to stumble upon Pythouse Kitchen Garden due to its remote location unless you're a very lucky hiker, but word has grown exponentially thanks to almost everyone who visits recommending it to their friends and family, not to mention a series of positive ravings by food critics, all of which has been enough to make many hungry diners drive a considerable distance out of their way, through miles of gloriously lush and maze-like hedgerows, in order to experience one of the country's most unique and unpretentiously spectacular culinary gems.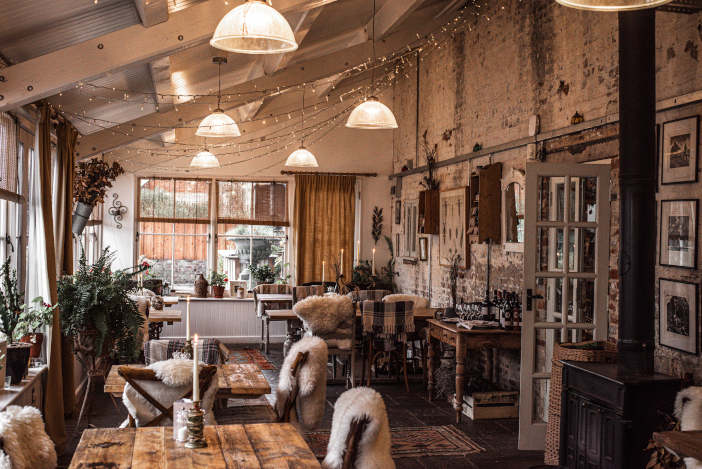 Head Chef Darren Broom, who originally hails from Devon, and gained classical training with Marco Pierre White and Michael Caines, elevates the lovingly-grown ingredients to something truly miraculous. He certainly takes running this restaurant to far greater lengths than most chefs with a larger team, working with Head Gardener Annie Shutt and developing seasonal menus that highlight his passion for these surroundings and all that this bounteous corner of England offers. From foraging in the hedgerows and woodlands, to fermenting, butchering, curing, preserving and cooking over a woodfire, Darren's many and varied skills have put the Pythouse Kitchen Garden restaurant on the South West food map. Limited seating in the conservatory dining room and covered terrace means that bookings can be hard to come by and are often made a long time in advance, so too for their popular long-table monthly suppers.
Lunch is centred around the main courses cooked on the fire but commences with the most beautiful sharing course of homemade herb-baked potato bread with Ivy House clotted cream butter and an intense English chickpea whip with home-pickled vegetables. You can also choose further small plates, such as the unmissable Homewood Dairy halloumi with hot honey and flowering thyme or Real Cure Company of Dorset charcuterie plate – but make sure you save room for the main event which is served with a generous selection of salads and vegetables straight from the kitchen garden. My Chalkstream trout featured a wonderfully singed and crispy skin atop the softest flesh, on a creamy and garlicky risotto-style medley of peas, broad beans and lettuce with nduja. Husband was equally besotted with his skirt steak of retired Wiltshire dairy beef with grilled asparagus and smoked hollandaise, and we fought it out over the sautéed new potatoes with garden herbs and wild garlic capers, the vibrant heritage tomatoes with nasturtium vinegar, golden oregano and smoked rapeseed oil, and courgettes with chilli, lemon and garlic. The seasonal flavour journey of Pythouse Kitchen was complete with a Sprigster (their own alcohol free botanical infusion) soaked sponge with elderflower, English strawberries and clotted cream.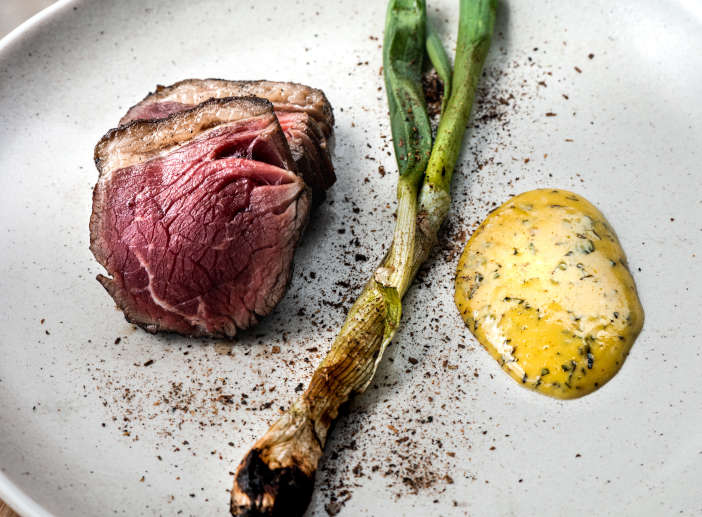 The creativity of the team is never more evident than with the creation of the award-winning botanical infusion Sprigster, made with homegrown fruits and sprigs grown here, including a base of distilled grain vinegar, hops, rhubarb, fennel seeds and fiery ginger, finished with a Discovery Apple reduction and English spring water. Developed by the gardeners, cooks and foodies who work here and understand the flavours Mother Nature offers up all year round, along with countless health benefits, this hugely quaffable, all-natural and vegan-friendly drink, with absolutely no added sugar, is designed to be served with soda or premium tonic water as an aperitif or as a food pairing due to its flavour complexities and dry finish. If you want to bottle Pythouse Kitchen Garden and take it home, now you can.
It's been a long-held dream of mine to spend the night in a Shepherd's Hut, and they don't come any more whimsical than that belonging to the south-facing Pythouse Kitchen Garden. Located on the edge of the walled garden, the corrugated green hut comes with its own alfresco canopied dining area, outside firepit and private piping hot shower. Inside you'll find a comfortable double bed and fresh linens, a wood-burner to keep you cosy on cooler days and plenty of cushions and blankets to 'snuggle up' as the sign over the bed encourages. You'll also find playing cards, books and magazines (Country Life seemed apt) along with lanterns, fairy and tea lights to enhance the already magical atmosphere come nightfall, something we had to wait a long time for given that we were approaching the longest day. I was surprised to find electricity and a bedside table lamp and that English essential – a kettle, with fresh milk, tea, coffee and hot chocolate provided, along with a jar of marshmallows for the compulsory toasting over an open fire. I was starting to feel like Felicity Kendal in The Good Life and stopped myself complaining about the trek through the garden to the car park to access the outside lavatory. It wasn't ideal when you have a call of nature in the middle of the night, but on the plus side it was another opportunity to admire the stars and thankfully they have plans to install one closer to home.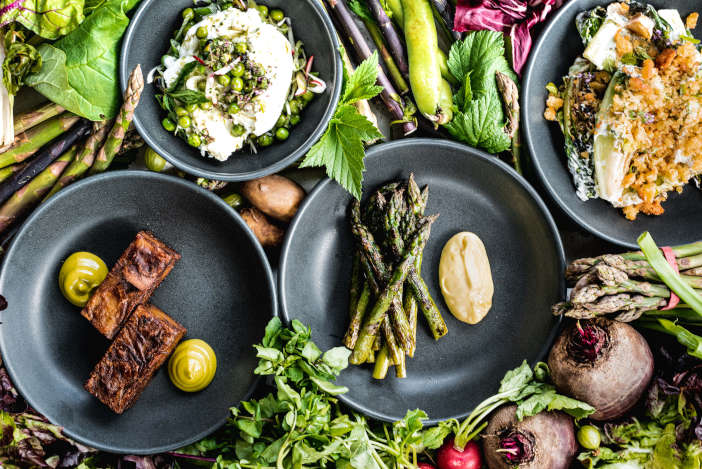 The enchanting Glamping Village located in the orchard at the bottom of the walled garden was empty during our midweek stay so we had the joy of having the entire place to ourselves – our only neighbours the cows and sheep in a nearby farm, with the merry-sounding birds and occasional owl overhead to bid us welcome, how do you do? and goodnight. The six large bell tents, all with comfortable beds and fresh linen, are popular with couples, families and larger groups who can hire the entire 'village' for a special occasion. Romantically lit with light bulbs strung through the trees, the glampers have a covered dining area, kitchenette, breakfast and cocktail bar, WCs and hot showers.
To say we spent a peaceful night in the Shepherd's Hut would be an understatement thanks to being awoken only by the natural light, buzzing bees and birdsong, and following a continental breakfast of granola and pastries with homemade jams (the fruit came from just a few metres away) in the conservatory, we rolled our sleeves up in the Pick Your Own flower garden before reluctantly making our way back to the city armed with a fragrant bouquet of wildflowers as a souvenir of our blissful 20-hour escape. A brief yet enduringly memorable retreat, I long to return to the Shepherd's Hut in the autumn when, wrapping myself up in knitted woollen scarves aplenty, I can immerse myself in the burnished copper hues of this precious landscape and wallow in the intoxicating scent of crackling log fires and singed marshmallows.
Pythouse Kitchen Garden, West Hatch, Tisbury, Wiltshire SP3 6PA. The Shepherd's Hut is from £110 per night based on 2 sharing, including breakfast. For more information please visit the website.